After approximately five minutes of rest, it's time to start talking about next season.
By Kevin Alexander | Photo via Norwich City FC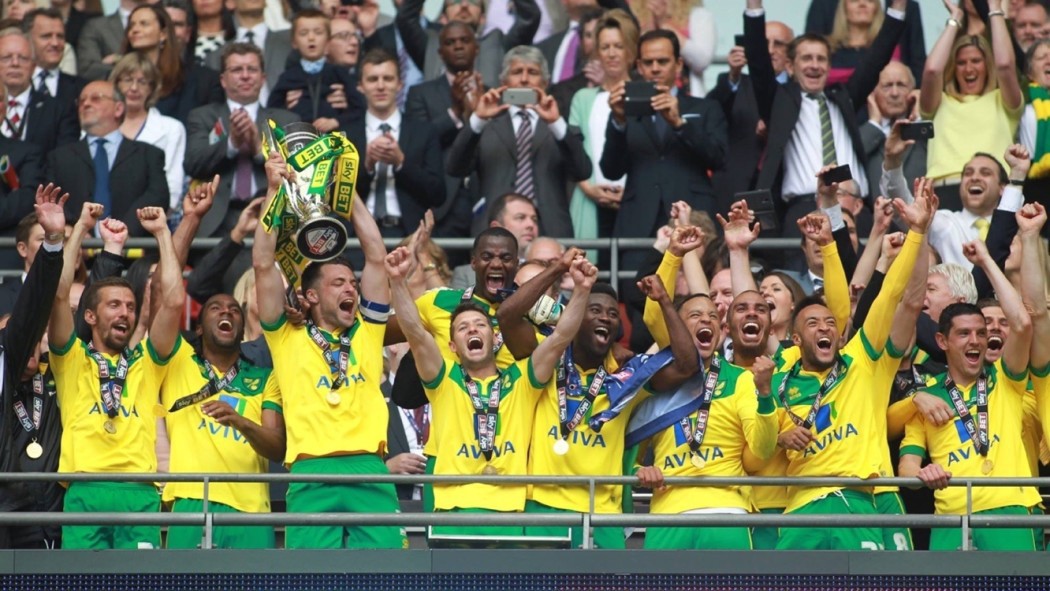 The Championship is famously difficult to escape — 24 teams, a 46 game schedule, inevitable away games at Middlesbrough — so those who manage to secure promotion to the Premier League must be properly lauded. To that end, I spent the last 48 hours watching an alarming amount of YouTube clips and reading translated Russian interviews in order to help you better understand the three teams coming up. And as you'll soon see: we are all Bournemouth now.
Norwich City
"Let all tonight then drink with me
To the football game we love,
And wish it may successful be
As other games of old,
And in one grand united toast
Join player, game and song
And fondly pledge your pride and toast
Success to the City club." — from Norwich's song On the Ball, City
Proving you can't keep a good canary down unless you're in a mine shaft teeming with dangerous levels of methane or carbon monoxide, the boys in green and yellow defeated Middlesbrough at Wembley to secure their return to the EPL after only one year in the Championship. They did it thanks to 33-year-old Scottish manager Alex Neil, who took over in January and led them to 17 wins in their last 24 matches, despite having yet to finish his UEFA pro-licence, which requires 202.5 guided learning hours in classes like "building a brand," "understanding finance," and "communicating with third party talent identification and recruitment agencies."
Chance of staying up: 65%
Like well-off suburban women who frequent pilates classes, Norwich has a strong core of players who've already played in the EPL, so they're not going to be starstruck when Robert Huth asks them for change to get a Nestle Lion from the vending machine. Their four top scorers are all in the 27–28 age range, meaning they've got experience, but not so much experience that they're actually just 2014 Kevin Phillips. Norwich also has the option of getting Ricky van Wolfswinkel back off loan from Saint-Etienne, and a big part of my life in 2013 involved making Ricky van Wolfswinkel jokes. So do the right thing there, Citizens.
Ownership:
Norwich's majority stakeholder is Delia Smith, essentially the British version of the Barefoot Contessa lady, having sold 21 million cookbooks including the rather scandalous sounding How To Cheat at Cooking (1971), and the even racier Delia Smith's Book of Cakes (1977).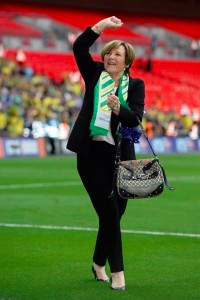 From everything I've read, Smith's board is smart and won't make irrational decisions with the $200 million windfall the club's expected to get from TV and commercial revenue, but they should look to two teams going down as test cases on what not to do. Burnley hardly spent any of its money, choosing to invest it in capital improvements to its facilities, whereas QPR threw it around as if on some sort of high-rolling footballer casino binge, laying down £28 million in transfer fees alone for the likes of Leroy Fer, Steven Caulker, Sandro, and whatever-word-is-the-opposite-of-game-changer Jordon Mutch. Lesson being: split the difference.
Players to pretend you'd already known next year:
Cameron Jerome, F: It doesn't matter if you think his last name should actually be his first, the English striker who has spent time at Stoke, Cardiff and Birmingham City was the leading scorer for the Canaries with 20 goals in league play this year. He's got pace and power, and loves the ball over the top so he can use his speed and body to gain possession. I also saw that when he was 19 a scout ranked him 8/10 for "bravery", so there's that.
Bradley Johnson, CMF: Years ago, American soccer blogs were abuzz with the fact that Bradley Johnson had an American grandfather. Once they realized that alone doesn't really help you become a citizen, they stopped being abuzz. Meanwhile, since 2011, Johnson has been one of the most consistent Norwich players through the central and left midfield. This year he led the team in fouls committed, yellow cards, red cards, and was its second leading scorer. He's like a better Craig Gardner AND allegedly used to be a member of a motorcycle stunt group called the Imps when he was 11, something Craig Gardner would never have done.
The Most Disjointed English headline related to their victory:
The agony and the ecstasy! Stephen Fry celebrates as Norwich City return to the Premier League… after claiming his 15 year cocaine habit did not cause physical harm. (Daily Mail)
A.F.C. Bournemouth

"We hate Brighton and Hove Albion
We hate Reading too (they're shit!)
We hate Pompey and Scummers,
But Bournemouth we love you."
Having just spent the last eight minutes searching for some way to work popping cherries into this sentence ("Cherries popping into the Premier League?"; "Cherries' Premier League cherry popped?", EH?!?), I will admit failure and just say that the team with the nickname of that tiny fleshy stone fruit will be in the Premier League for the first time in its 116 year history. Like Norwich, they have a young manager in Eddie Howe, who is only 37 despite having already managed for seven years.
But unlike Norwich, in 2008 Bournemouth was ranked 92nd out of the 92 Football League clubs and started the season in League Two on -17 points. According to an interview in the Telegraph, Howe was told that the club would "cease to exist if we went down." But they did not go down. And their rise since should be part of soccer lore, like Hereford's Ronnie Radford beating Newcastle in 1972 on a 40 yard strike, or me training with Southampton's U-19 squad for two days in 1999 before being called "not at all fit or good."
Chance of staying up: 50%
I spent the greater part of the last 24 hours watching Bournemouth play, and have already decided that they will be my new Burnley for next year. Cinderella stories rarely have Premier League skill sets, but Howe has them playing a pretty attacking style with linked passes. They're also not afraid to play old school Stoke-style punt-and-pray over the top of the defense if the opposition tries to cheat up the field and pinch. With Bournemouth officials already making it clear they're not increasing stadium capacity past its current 12,000 (part of it involves the fact that part of their stadium is on, um, old trash dumping grounds or something), that tight atmosphere should play to their advantage, and also make going to a game in Bournemouth one of the most intimate places to watch Robert Huth tackle people from behind.
Bournemouth will be one of the most intimate places to watch Robert Huth tackle people from behind.
Having said all that, it's going to be hard for them to get the necessary depth to compete day in and day out. Their goalie situation (assuming they can make Artur Boruc's transfer permanent, and keep Lee Camp) is sorted out, but the Cherries need a striker to pair up with Callum Wilson, a winger opposite Matt Ritchie, and some depth in defense. If they were QPR, the solution to this would be easy: take £28 million, stuff it into one of those giant circus cannons, and fire it into the air. But as far as I can tell, from both a logistical and legal standpoint, Bournemouth not QPR.
Ownership:
Russian "petrochemical tycoon" Maxim Demin bought 50% of the club for about £850,000 in 2011. He has apparently given no interviews in English since purchasing the club, and English papers like to say that it's unclear whether, in terms of wealth, he may be just a "corner shop owner where Chelsea oligarch Roman Abramovich has a department store." But he appears to be hands-off in letting Eddie Howe run the show, and he's been willing to spend (including outbidding Norwich for Callum Wilson).
Players to pretend you'd already known next year:
Callum Wilson, F: There is a chance that Bournemouth will make a financial decision and sell off the 23 year old Wilson to one of the big clubs (allegedly Tottenham is very interested) before the start of the season, rendering this moot, but there is a reason for that. Wilson has Flash-esque pace and crazy energy, as if he used the Game Genie to keep his turbo working the entire 90 minutes. That sort of speed creates tons of chances in front of net, and he put away 20 of them. It would be brutal to see him go. SAVE HIM, MAXIM!
Matt Ritchie, MF: He's a Scottish international now, and has played with Dagenham & Redbridge, whom I always like to mention because they sound like an old-timey cigarette brand. He had 15 goals and an incredible 19 assists from the wing position, which shows how easily he's able to get down the sideline and whip the ball into the box. Oh, also: that total means he played a part in more goals than any other player in all four tiers of English football this year. Don't sell him to Tottenham, Maxim.
Watford FC
"Watford,
Watford,
Watford, Watford,
Watford, Watford, Watford, Watford,
Watford, Watford, Watford, Watford…." (repeated ad nauseum)
Elton John's team is back. Somewhat amazingly, I might add, as the Hornets managed to finish in second place in the Championship despite going through FOUR managers in a season, and — at least from what I've read — are not going to renew current manager Slavisa Jokanovic's contract for next season. So yeah, while it would be nice to know who will be managing the team as they make their way back into the EPL for the first time in eight years, that remains speculation. I can tell you somewhat confidently that it won't be Eddie Howe though.
Chance of staying up: 25%
I'm sorry. I wanted to give the Golden Boys a better chance. And who knows — maybe the Pozzo family will hire an Italian talisman to guide them through the season, someone who will wear extremely well-tailored suits, and ride a Vespa to Vicarage Road and promise not to play any form of catenaccio, by far the worst type of soccer ever. But seeing how we don't know what will happen, or whether they will get strong guidance, and a pragmatic plan, and at least one Elton John fundraising concert, all I can do is look at the current squad, and wonder how many of the 20 foreign players on the first team roster will still be there next year, ready to ask Robert Huth if he'll trade jerseys after a game.
Ownership:
Players are seen more like chess pieces and they rarely develop long-standing places in any side
The team is owned by the Pozzo's, an Italian family who used to manufacture industrial equipment before selling off the business in 2008 to focus exclusively on soccer. They own three teams (Udinese, Granada, and Watford), and have developed quite a reputation for finding diamond-in-the-rough players through their extensive scouting network, purchasing them cheap, and selling them off for wild profits. With three clubs in their network in three top European leagues, they're able to move players around, fitting them with the right clubs, and share the wealth. This might explain why, as it stands right now, Watford has four Italians in their top 20. But the frustrating flip side to this strategy is that players are seen more like chess pieces and they rarely develop long-standing places in any side, which means fans don't develop affections for them, and purchase their third color jerseys late at night after having a few too many oaky Chardonnays.
Players to pretend you'd already known next year:
Troy Deeney, F: The exception to my whole rule on players moving around, Deeney has been with Watford since 2010, and is the first player in the Hornets history to score 20 goals in three consecutive years. He also spent two months in jail in 2012 for his part in an assault, but moved on from that to become the captain of the team, and give great quotes like "I used to have a proper fat face, like a chubba-chubb." and "I didn't do any youth teams, I was out dating girls."
Odion Ighalo, F: The Nigerian international scored 20 goals in only 22 starts. Manufacturing plants would die to have that efficiency! Though it should be noted by whomever ends up coaching this squad that only one of those 20 goals was scored when he came on as a sub. So start the damn man.
FAQ:
Is one of the grandstands named for Elton John?
Yes. Yes. Yes, it is.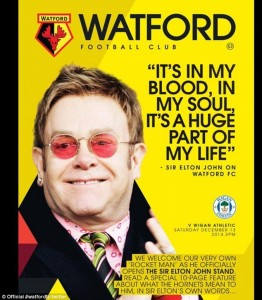 Elton John Song That Should Be Played At The Beginning of Watford's Return to the EPL?
"The Bitch is Back"
Elton John Song That Should Be Played If Watford Gets Relegated Again?
"And The House Fell Down"
Contributors
Howler
TAGS
WELL, IT DEPENDS ON WHAT YOU MEAN BY "FREE."
Enter your best email for full access to the site.