In the age of the GIF, Jerome Boateng is the latest world class player to have a stellar career wiped away in one infamous moment.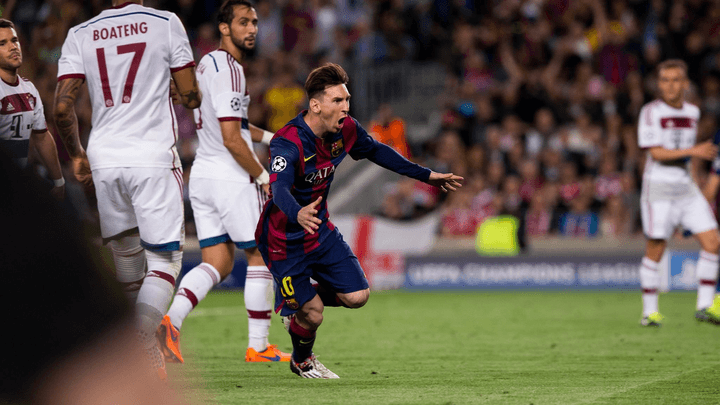 By Ogo Sylla | Photo via FC Barcelona
[M]any things can happen in the course of a 90-minute soccer game, but a single second can last an eternity and follow a player for the rest of his career.
This is exactly what happened to Bayern Munich's Jérôme Boateng when he came head-to-head with Barcelona's Lionel Messi in the 80th minute of Wednesday's Champions League semifinal first leg.
Messi sprinted towards the German center-back, feinted inside, cut-back outside, and darted past Boateng. As if blown away by an invisible gust, the German World Cup winner tumbled to the floor, leaving Messi with an unobstructed route towards Manuel Neuer's goal. The Argentinian rushed forward, casually lobbed the keeper, and wheeled away having scored Barcelona's second goal.
https://vine.co/v/eZF2n7OHYFe/embed/simple
Just last summer, Boateng helped Germany win the World Cup in Brazil, and did so against Lionel Messi's Argentina. His man-of-the-match performance will henceforth be eclipsed. It is little more than an afterthought after this recent humiliation. The ensuing flurry of memes will be responsible for this revisionist narrative of Boateng's career. Social media — and especially Twitter — has become the soccer fan's favorite medium to watch, talk about, and enjoy soccer. Twitter is the millennial's virtual stadium, where millions congregate to exult, celebrate, and — in this particular case — mock. Boateng attempted to put on a brave face. On Twitter, he reminded those deriding him that there has been plenty about his career worth celebrating, rather than fixating on his momentary misfortune.
Word! 👌 pic.twitter.com/juwJ5T5d98

— Jérôme Boateng (@JeromeBoateng) May 8, 2015
Boateng's point is well taken, but his position causes a problem.
A forward can make a mistake, but will always have the recourse of scoring an incredible goal or performing an impressive skill to expunge that gaffe. But there are always exceptions: France's Zinedine Zidane (the headbutt on Marco Materazzi) and Italy's Roberto Baggio (the missed penalty against Brazil) were some of the rare offensive players who saw their careers redefined by a single moment.
For defenders, it's never easy to overcome a viral mishap. Despite being a treble winner in 2012–13 and a World Cup winner, that fall will forever define Boateng's career.
Many a defender has been victim of meme-shaming as Boateng has.
Luis Suárez's nutmegs against David Luiz in Barcelona's 3–1 Champions League quarterfinal victory over Paris Saint-Germain welcomed a deluge of memes at the expense of the PSG defender for instance. Barcelona's Carles Puyol's split, before Angel Di Maria's heel-chop and step-over combo, in a 2013 Copa del Rey semifinal clash, was just another such occasion.
In a way, social media has affected the way soccer fans evaluate and remember players. Everything becomes permanent, etched in cyberspace for all eternity. It is thus a cruel fate when one moment can come to define a player's career.
The tragic career arc of Frédéric Weis should send a shudder down Boateng's spine. After Vince Carter "posterized" him during the 2000 Summer Olympics, fans began to view him in a new, unflattering light. That moment all but erased memories of Weis' French League and Cup championships and his four French League all-star appearances. After "Le dunk de la mort," Weis never returned to those heights.
https://www.youtube.com/embed/4StvCXBdzcQ
In limited circumstances however, social media can be a defender's salvation. It is not always that one moment comes to define a defender's career as an epic failure; it can instead have the reverse effect.
Sergio Ramos' 2012 Champions League semifinal penalty miss against Bayern Munich was followed by all sorts of trolling. Ramos waited two years before finally securing redemption in the form of the stoppage-time header that sent Real Madrid on their way to La Decima. After his comical penalty miss, that header has ensured that the Real Madrid defender's legacy won't be remembered as as internet joke.
Ramos illustrated that change in perspective well in a recent tweet, invoking a quote from Michael Jordan.
#HalaMadrid #JuntosAPorLaUndecima pic.twitter.com/JkKLPhWJa1

— Sergio Ramos (@SergioRamos) May 6, 2015
In Barcelona, Messi issued a reminder that soccer, despite having 11 players to a side, often revolves around moments of individual brilliance.
"If Messi is in top form, no defense can stop him," Pep Guardiola said in his pre-match press conference. "There is no system to stop Messi. He's too good."
Despite the indirect words of support from his coach, Boateng stuck out as the inverse of Messi's brilliance. He represents the other individual, the one whose bumbling ineptitude cost his team. In the annals of soccer, Bayern's 3–0 loss will go down as little more than a footnote. It is the German's infamous head-to-head with the world's best player that will be crystallized in fans' memories.
Would it be unfair for this one moment to blot out what will and already has been a glittering and trophy-laden career? Possibly. But next time, Boateng would do well to heed Ray Wilkins' advice: #StayOnYourFeet.

Contributors
Howler
TAGS
WELL, IT DEPENDS ON WHAT YOU MEAN BY "FREE."
Enter your best email for full access to the site.