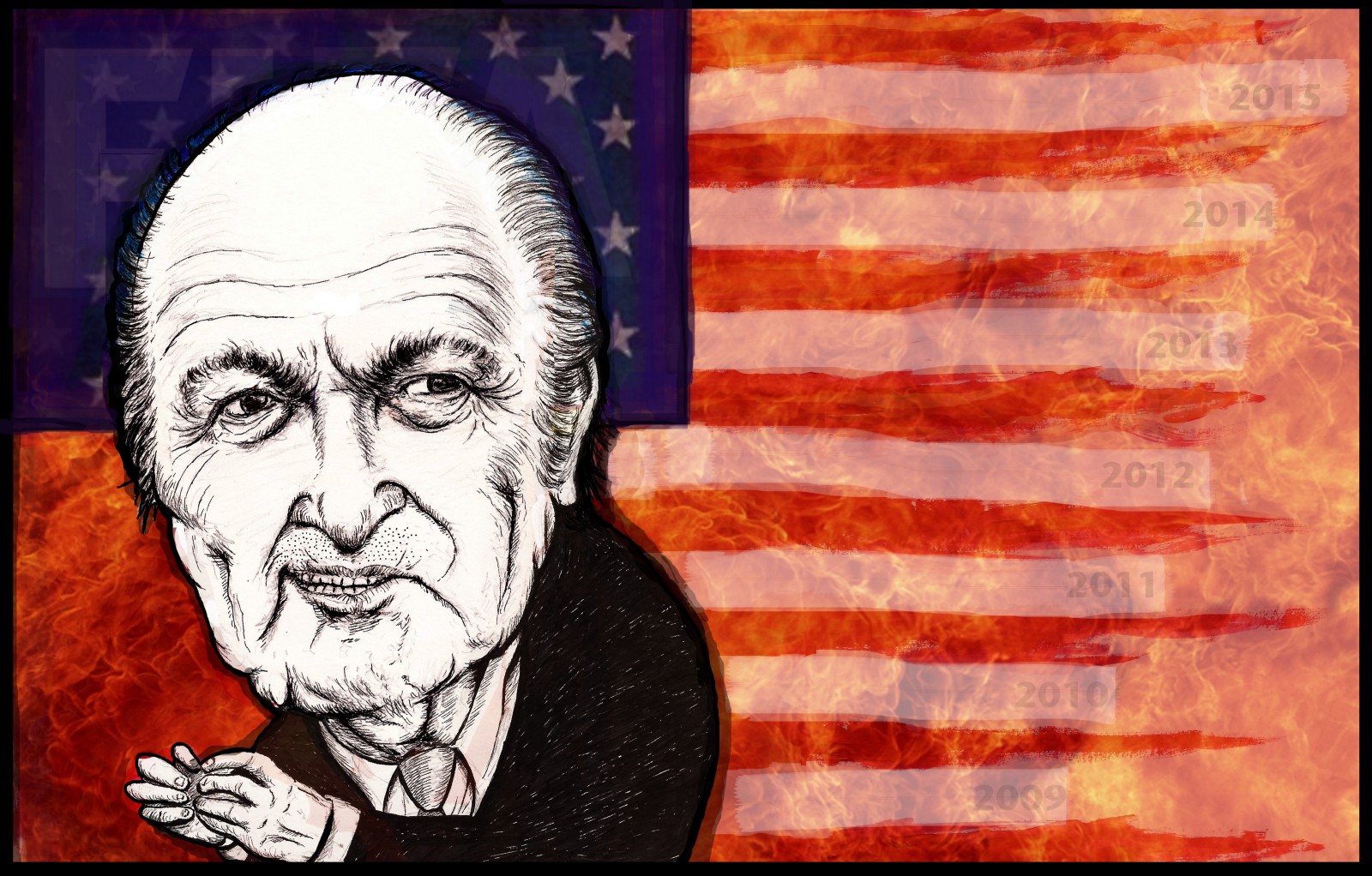 The media bonanza around FIFA's scandal highlights soccer's unceasing march into mainstream America.
By Mike McCall | Illustration by Devin Dulany
[P]lenty of ink, words and maybe even the occasional fist have been devoted to the debate of when soccer will truly "arrive" in America. Perhaps it already has, or maybe it won't until some day in the future when soccer walks into a Kardashian-hosted party in a paparazzi-dazzling outfit, snaps a selfie with Taylor Swift and Drake, then pounds (American) beers with Matthew McConaughey. Or maybe it's a dumb debate in the first place.
This much can't be argued: progress is being made. Year by year, soccer takes on a more prominent role in our nation's consciousness. And along the way, there are moments that stand out as clear markers of how far the sport has come.
By that measure, this week deserves a place on the timeline of soccer's growth in America.
Depending on how you look at it, Wednesday's news that the U.S. Department of Justice indicted 14 defendants — including FIFA officials — on charges of racketeering, wire fraud, and money laundering could be a good or bad thing. The events signal either the start of a massive and sincere clean-up job or a brief ray of hope that will, sadly, fade into the impenetrable darkness of Sepp Blatter's shadowy operation.
But regardless of the result, it's clear that our nation cares. The Justice Department cares enough to pursue the case, and Americans care enough to click on any and everything FIFA-related.
The FIFA scandal is like a litmus test for soccer's relevancy, and it came back positive.
According to Google Trends late Wednesday night, "FIFA corruption" ranked №1 in the U.S. for the day, with four times as many searches (200,000+) as the next most popular items, which included Bristol Palin's canceled wedding.
If news of a 164-page indictment can pull quadruple-Palin numbers, then maybe soccer has arrived after all.
The New York Times led on the story and didn't let go. A glance at their home page Wednesday night showed blowout coverage: four articles and an infographic, all at or near the top of the page. FIFA stories also held the top three spots on the Times' most-viewed list, and two more plus a graphic dominated above the fold in Thursday's paper.
With page views raining from the sky like Qatari oil money, seemingly every media outlet followed suit. Wired, a website primarily focused on technology, featured FIFA at the top of the page and as its "most popular" post. TMZ got in on the action, along with countless other sites and the national TV news reports. The story blew up on Twitter as a top trending item, ESPN carried Attorney General Loretta Lynch's press conference live, and sports radio shows from coast to coast made it a point of discussion.
• • •
[P]erhaps America's interest in FIFA will fall out of the news and land in a pit with Malaysia Airlines and Ebola, but even that would be beside the point. From the perspective of the game's growth, all that matters is that people outside the soccer bubble have the capacity to care. The FIFA scandal is like a litmus test for soccer's relevancy, and it came back positive.
Compare that to 2011, when Chuck Blazer's back-stabbing of then-CONCACAF President Jack Warner barely registered on the national scale. Those same two were involved this week, and it's a safe bet that far more Americans learned their names this time around. It's not the most ideal way to grab headlines, but it's all part of America's on-going soccer education, and fall-out like Vladimir Putin turning the issue political and a bomb threat at the FIFA Congress ensure the story isn't fading away.
Call it one giant leap for the U.S. Department of Justice; one more small step for soccer's growing influence in America.
Like FIFA, that sentence is backward and misused. But it also sums up a week when legal proceedings helped highlight a sport's unceasing march into mainstream America.

Mike McCall is a Howler web editor living in Jacksonville, Fla. He tweets under the handle @mikemccall and can be reached at mike@howlermagazine.com.
Contributors
Howler
TAGS
WELL, IT DEPENDS ON WHAT YOU MEAN BY "FREE."
Enter your best email for full access to the site.