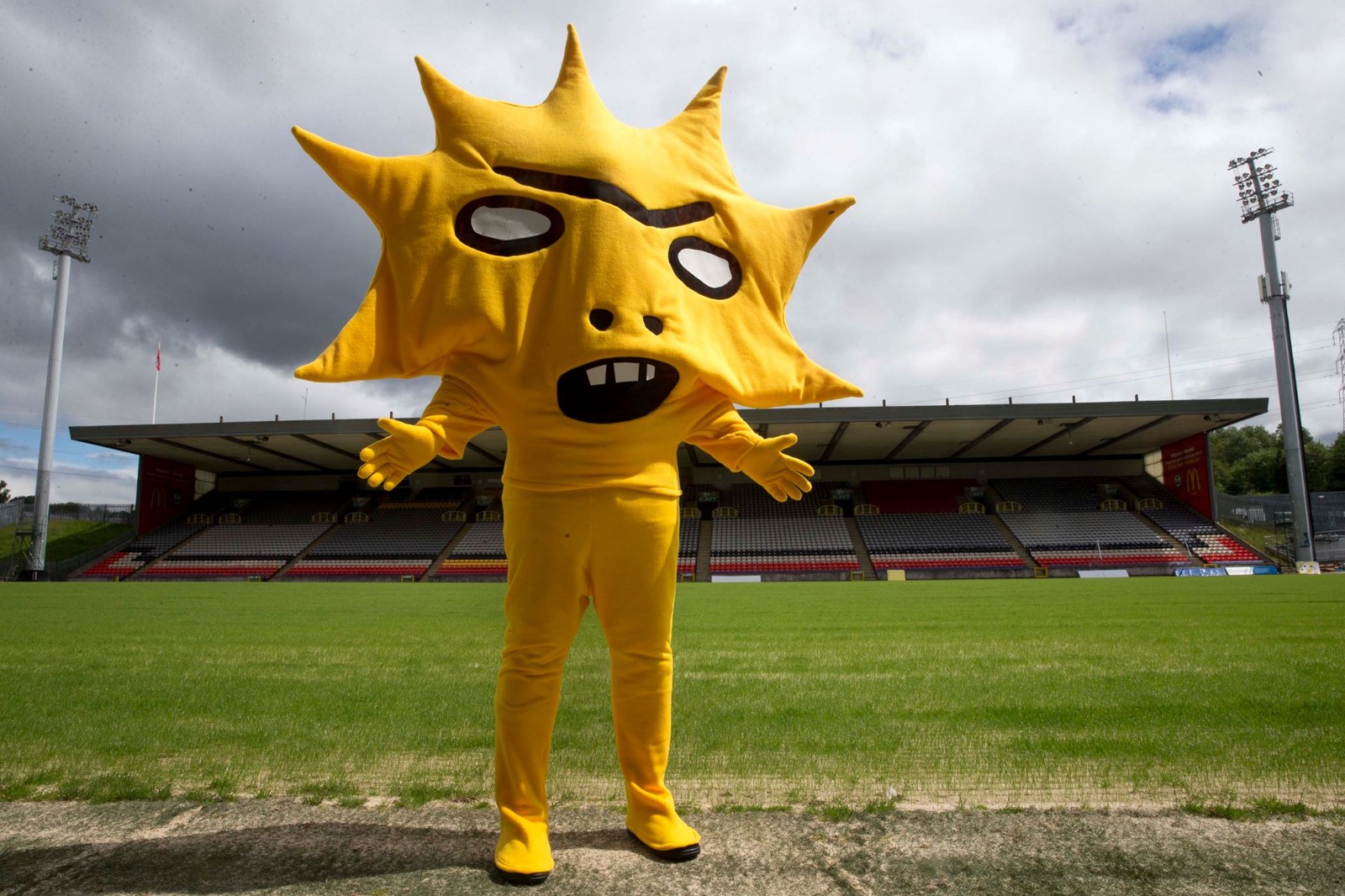 If mascots can inspire, Partick Thistle FC's new mascot, Kingsley, wants to inspire you to look open-eyed at the world and recognize the meaninglessness of existence
By Wes Burdine | Image via Partick Thistle FC
[P]artick Thistle FC, the Glaswegian football club best known for not being Rangers or Celtic just unveiled its new mascot, Kingsley, and finally football has a mascot for adults. The mascot, which appears to be a post-apocalyptic devil thistle, was designed by the award-winning artist David Shrigley whose work is playful, haunting, funny, and frightful. It makes you feel like a kid for whom Maurice Sendak's work resonated on many more levels than with a normal, well-adjusted child.
It makes you feel like a kid for whom Maurice Sendak's work resonated on many more levels than with a normal, well-adjusted child.
The Jags' new mascot replaces the safely cartoonish Jaggy MacBee, who himself replaced a purple toucan named Pee Tee. Elsewhere in Glasgow you can find other cartoonish talismans: Celtic's Hoopy the Huddle Hound and Rangers' Broxi Bear.
The history of Glaswegian football is a story of sectarianism and social conflict. The pitches of the Ibrox and Celtic Park are stages for [sometimes] safely acting out the conflicted divide between Catholic and Protestant. But lost in the historical binary has been the other major Glaswegian football club, Partick Thistle. The sleepy third wheel of Glasgow carries little of the sectarianism of its two bigger rivals. The team has even been nicknamed the "cuddly toy" of Glaswegian football.
There is a stark contrast, though, between the actual cuddliness of Hoopy the Huddle Hound and the real social problems that surround football. And the team that largely eschews the sectarianism and racism gives us Kingsley, the frightening thistle with a unibrow and goofy teeth. There is nothing cuddly about Kingsley.

In a new ad campaign, Partick Thistle has attempted to counteract its cuddly reputation by declaring the club "Not so cuddly anymore." Added to this branding shift is Partick's recent partnership with the Californian investment firm Kingsford Capital Management. The firm's owner, Mike Wilkins, was inspired to sign the six-figure partnership with the club after meeting Kingsley's creator, David Shrigley. The investment is part of a larger visual rebranding that will apparently include the club's jerseys. (Just imagine what Shrigley could do with a jersey.)
The "Not so cuddly anymore" campaign at first looked like an attempt to be taken as seriously as Celtic and Rangers. But the Shrigley-inspired silly nightmare rebrand seems to indicate that rather than trying to be like the other big boys, Partick is asking, "Who wants to be serious?" Screaming angrily for and against players on the pitch is an ultimately meaningless (albeit very fun) effort. Why not just embrace it as such?
With its blank eyes and inbred face, Kingsley allows fans to rally behind their own bizarre selves and embrace outsider culture. Partick Thistle can finally drop the cuddly cloak and unveil their terrifyingly weird selves.

Wes Burdine lives in Minneapolis, MN, and co-hosts the du Nord Futbol Show. He is also the co-publisher for Byline Press. Wes tweets under the handle @MnNiceFC.
Contributors
Howler
TAGS
WELL, IT DEPENDS ON WHAT YOU MEAN BY "FREE."
Enter your best email for full access to the site.