Home
Dirty Tackle
Jamaica player's explanation for Messi selfie makes perfect sense
Jamaica player's explanation for Messi selfie makes perfect sense
June 22, 2015
https://www.gettyimages.com/
Immediately after Argentina beat Jamaica 1–0 in the final round of the Copa America group stage, Reggae Boyz striker DeShorn Brown ran to grab his phone and took a selfie with Lionel Messi.
https://www.youtube.com/embed/tfdRxCwrulc
Brown later explained that this was something he planned out before the match. And his reasoning was sound. From Sky Sports:
"I had thought about it before the match so that's why I took (the phone) to the bench. As soon as (the match) finished, I took the picture," Brown said.
"Messi is the best in the world, a star, and that's a photo I'll have as a souvenir all my life."
It might not be the most professional move, but it's better than teammates squabbling over Messi's shirt and when you might only have one chance to play against one of the greatest of all time, you have to take the picture when you have the chance.
As Brown said, that picture is the souvenir of a lifetime. If I were him, I'd show it to everyone I met and tell them all that Messi was the one who asked for the picture since we both scored the same number of non-penalty goals in the group stage (I would then ignore them when they asked how many goals that was).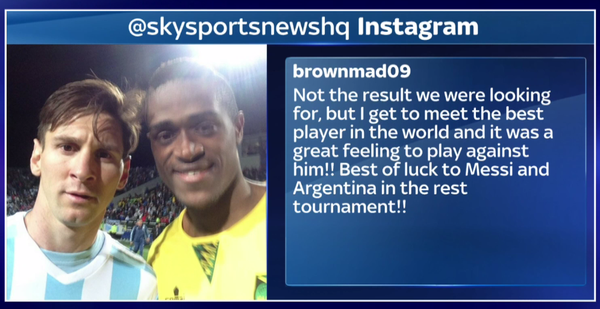 To his credit, Messi took the request as a compliment, even though he wasn't thrilled about how the game played out.
"He surprised me. On top of that I was annoyed about how the match had gone despite our win … but when I saw the phone I realised what was going on. It's really nice when a colleague asks me for that," Messi said.
Meanwhile, Brown's teammate, Wes Morgan, showed off his own souvenir haul on Twitter.
Great experience playing in the copa America, couple weeks off then on to the gold cup #jamaica pic.twitter.com/YJDkEm7Fkt

— Wes Morgan (@Wes5L1nk) June 21, 2015
And that's about as successful as you can be after your team lost all three of their Copa America without scoring a single goal in the tournament.
Contributors
Howler
TAGS
WELL, IT DEPENDS ON WHAT YOU MEAN BY "FREE."
Enter your best email for full access to the site.