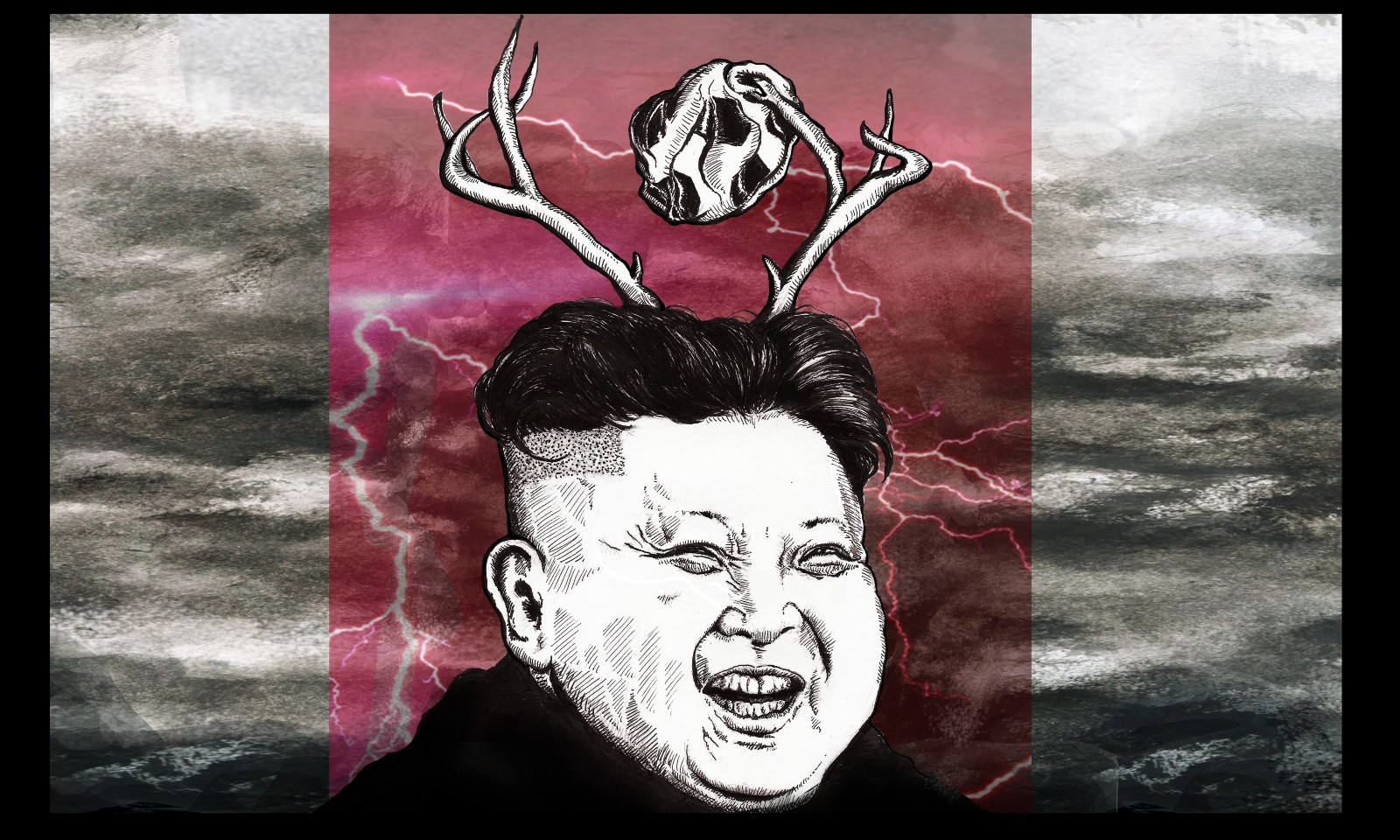 The most bizarre story of the Women's World Cup is of the team that won't be there.
By Rob Kirby | Illustration by Devin Dulany
[I]n the shadows of this summer's Women's World Cup, there lurks the tale of the team that won't compete at the tournament, North Korea. The demise of Team Hermit Kingdom, which is tied for eighth in the FIFA World Rankings, dates back to the 2011 Women's World Cup and centers on the convergence of an alleged five-victim freak lightning strike and the use of musk deer gland — which just happens to show up on FIFA drug tests as straight-up steroids — as a cure for said lightning strike. The doping scandal made headlines as the worst at a major soccer tournament in 17 years, since Maradona's enriched-ephedrine sample at the U.S. 1994 World Cup. But then North Korea plays fast and loose with certain rules, or for that matter, intellectual property rights. North Korean history books say Kim Jong-il invented the hamburger in 2004. He named it Double Bread with Meat.
After North Korea's loss to the United States in its second group stage match of 2011, two players tested positive for steroid use. The number then grew to five. North Korean officials, who had made no previous mention of any relevant meteorological abnormalities, hastily clarified that there was a simple, reasonable and logical explanation: a month before, a large number of the team had been struck by lightning on the training ground in North Korea and turned to the traditional lightning strike cure of musk deer gland — never steroids. FIFA remained dubious. The international body banned North Korea from the 2014 Asian Cup and the 2015 Women's World Cup. In addition, four players received bans for 18 months, one for 14, and the team doctor for a whopping six years. Even after the ban, however, the team still ranks among the world's best even while being denied ranking points by missing out on tournaments. They won the 2014 Asian Games, defeating 2011 Women's World Cup holders Japan, 3–1.
FIFA had never encountered the excuse of musk deer gland as a lighting strike cure before, and it understandably sounded like one of the lamest justifications in sports history. Strangely, the first medical report sent from North Korea detailing treatment of the lightning strike didn't even mention musk deer gland — terrible supporting evidence when the accused chose said gland as its principal defense.
It's hard to make a case that a country with this kind of rap sheet deserves a place on the game's biggest stages, but we do lose a certain entertainment factor without the North Koreans.
"The extract of musk deer gland is a tonic used for sports performance enhancement and to help prevent injury," says acupuncturist and Chinese medicine expert Dr. Jonathan Wald, AP, of Gulf Coast Acupuncture Physicians in Sarasota, Fla. "There are definitely hormones that could trigger a steroid positive test in all sorts of animal secretions — depends, though, if what the doctor gave them was actually musk deer gland or mixed with something else." He continues, "The herb, in addition to being a tonic, is also used for shock and unconsciousness, but it contains androstane, which is a steroid, and the doctor should have known that was a banned substance. It is a good cover story for an excuse to use the herb as a performance enhancer."
To put the incident in context, North Korea has claimed the dog ate their homework before. On April 1, 2009, the North Korean men's national team lost 1–0 to its hated neighbors in South Korea, on whom it regularly threatens to unleash a "sea of fire." Four days after defeat, the North Korean FA put out an official statement, outright accusing South Korea of sabotage by food poisoning. Several North Korean players had experienced "serious vomiting, diarrhea and headache" since the dinner before the match, and in North Korea's estimation, "it was beyond all doubt that the incident was a product of a deliberate act perpetrated by adulterated foodstuff."
The statement went on to allege that the "seriously biased" Omani referee intentionally disallowed a North Korean goal and "the Japanese refereeing supervisor tacitly connived" in the "theater of plot-breeding and swindling." The statement indicted South Korea of running "the whole gamut of evil doings in violation of the noble idea of sports and betraying its fellow countrymen." North Korea demanded an apology from South Korea and official rebuke by FIFA. Neither was forthcoming.
The fiascoes and finger-pointing carried on to the North Korean men's laughable showing at the 2010 World Cup, for which they qualified despite all South Korea's and the foreign referees' nefarious plots. According to ESPN.com, head coach Kim Jong-hun claimed he received "regular tactical advice during matches" from Kim Jong-il "using mobile phones that are not visible to the naked eye," invented by the North Korean leader himself. The tactics imparted through the invisible headset failed horribly. North Korea conceded the most goals of the tournament, for a total of 12 in three straight losses.
Kim Jong-il and his propaganda machine had wisely decided not to show the opening match against Brazil live, for fear that the team would be trounced. However, after a respectable 2–1 loss to Brazil, broadcasters relaxed restrictions and green-lighted the next match against Portugal, the first foreign soccer event ever broadcast live in the country. (News footage had edited the Brazil match to show the North Korea goal but neither of Brazil's, as one does in an authoritarian state — a 1–0 victory!) Portugal slaughtered the team 7–0. The state recoiled by canceling the time slot of the final group stage match, but the horse had long since bolted from the stable. Censors merely shielded the public from a comparably mild 3–0 loss to the Ivory Coast.
In pre-tournament exuberance, Kim had showered gifts such as refrigerators, cars and televisions upon players — even new apartments. Abject failure meant the end of that, however. Placed on a stage of shame at the People's Palace of Culture back in Pyongyang, the team weathered a hailstorm of six hours of verbal abuse from 400 students and government officials. Kim Jong-il had charged them with "betraying the trust of Kim Jong-un." Each of the players had to then reprimand the coach individually in turn.
Rumor had it the state then sentenced the coach to hard labor. FIFA sent letters to investigate but later dropped the matter. The concerns, however, were not without merit or precedent. When North Korean judo champion Lee Chang-soo lost to a South Korean opponent in 1990, the state forcibly relocated him to work in a coal mine for his treason. Lee defected at a Spanish tournament the following year to ensure it never happened again, relocating this time to South Korea.
Cryptically, after the 2014 Asian Games in October, women's coach Kim Kwang-min declared that new supreme leader Kim Jong-un had given the team tips that "even experts were unaware of," according to Yonhap News, South Korea's largest news agency. Had authorities learned nothing? Asian doping police should have been on high alert for illicit tiger bone wine, bear bile and cobra milk venom supplements, but no.
• • •
[I]t's hard to make a case that a country with that kind of rap sheet deserves a place on the game's biggest stages, so it may be for the best that they're left at home. But we do lose a certain entertainment factor without the North Koreans and their musk deer glands, invisible phones, food poisoning and post-tournament gulags.
And above all, it's a shame that a nation with a genuinely talented team must further isolate itself through an unwillingness to compete on a level, lightning-free playing field.

Rob Kirby lives in Phnom Penh, Cambodia, is an editor at CultFootball.com and writes for ESPN, Vocativ and others. He Tweets at the handle @Tyrannosoccer.
Contributors
Howler
TAGS
WELL, IT DEPENDS ON WHAT YOU MEAN BY "FREE."
Enter your best email for full access to the site.