What just happened?! Netherlands v USA
June 6, 2015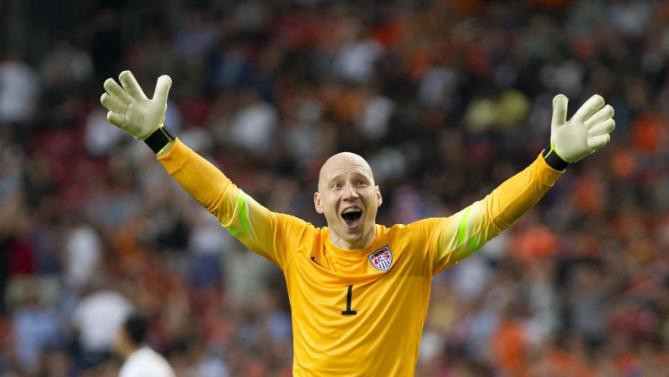 The US came back from 3–1 down to beat the Netherlands for the first time ever in a friendly at the Amsterdam Arena that was roughly equivalent to a derailed train crashing into a helicopter. Before getting into the match itself, there are two key pieces of information that need to be stated.
1. Since Guus Hiddink replaced Louis van Gaal after the Nethelands finished third at last summer's World Cup, the Dutch have decided that defending is morally wrong.
2. The US have been blowing leads by conceding late goals like that's the object of the game.
So with that established, here are some match facts:
-Three of the match's seven goals were scored off a deflection.
-A brace from Klaas-Jan Huntelaar and a goal from Memphis Depay gave the Netherlands a 3–1 lead in the 53rd minute.
-The Netherlands seemed to be under the impression that friendlies only last 60 minutes.
-The United States' first two scorers, Gyasi Zardes and John Brooks, each had just one international goal before this game, and their second two scorers, Danny Williams and Bobby Wood, had zero international goals between them before their decisive tallies in the 89th and 90th minutes, respectively.
-Jurgen Klinsmann is both incredibly lucky and made of magic.
-Michael Bradley was the Man of the Match and once again proved why he's so important to the US.
-Guus Hiddink should be sacked and jailed, possibly in the reverse order.
-The Netherlands must next face Latvia in an important Euro qualifier with this shambles bouncing around in their heads.
-This might have been the latest strike in the FBI's attack on FIFA.
-Nothing makes sense in life.
https://www.youtube.com/embed/caRd0biVHakhttps://www.youtube.com/embed/QJdYhsEGEWs
Contributors
Howler
TAGS
WELL, IT DEPENDS ON WHAT YOU MEAN BY "FREE."
Enter your best email for full access to the site.