About the USWNT Parade
July 10, 2015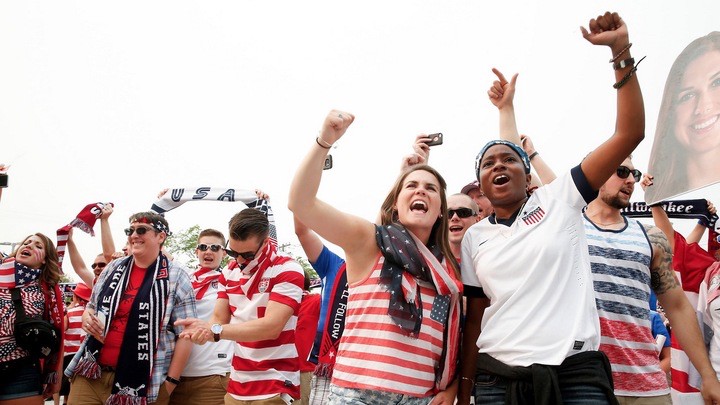 Is it possible for the US women's national team's World Cup victory parade to have multiple floats without detracting from their achievement?
By George Quraishi | Photo by Jasmin Shah
[T]oday, the U.S. women's national team will parade through New York City's Canyon of Heroes in celebration of their recent World Cup win. As a number of outlets have reported, the last time a female athlete received this honor was in 1960. The long wait since Olympic figure skating champion Carol Heiss Jenkins's parade only adds to the significance of what is already an historic event. Men's sports teams are routinely honored in this way, so it's fitting that the U.S. women will be, too.
There have also been tweets — oh, have there been tweets! — from people upset that the New York Red Bulls and NYCFC, two men's soccer clubs that play in Major League Soccer, will have floats in the parade. The U.S. women won the World Cup, the thinking goes, so why should these men's teams participate?
It's a valid point. Women's sports get very little coverage and attention. The U.S. team earned their recognition and shouldn't have to share the spotlight. Besides, what did those men's teams win? N-O-T-H-I-N-G, as not a few people pointed out.
I have a slightly different read, which I articulated, poorly, in this tweet:
Let's take a breath and try to figure out a way to make peace with the idea that soccer parades should be inclusive rather than exclusive.

— Howler Magazine (@whatahowler) July 9, 2015
This upset a fair number of people, who pointed out that it's not a "soccer parade" but a parade to honor the U.S. women. That's true. The whole thing is going to cost $2 million, and New York City isn't spending that much just to say "Yay, soccer!"
At the time, I thought that one of the primary reasons we should try to slow down the outrage machine was that we knew very little about the details of the parade. It turns out that the Red Bulls' float will feature four girls from the team's regional development program as well as Anna Rose Rubright (a local goalkeeper who has participated in the Special Olympics), Marguerite Ferrell (the Red Bulls' senior manager of coach recruitment and education), and Molly Brady (the team's social media manager). I know, I know: what a bunch of jerks.
Yesterday I spoke with Phil Walzak, a senior advisor to Mayor Bill DeBlasio, and I'd be lying if I told you that it didn't feel a little funny to call New York City Hall and say, "Hi, I'm calling about the controversy over the soccer parade." Excuse me, U.S. women's soccer team parade. But if a parade is worth $2 million, it's worth taking seriously here as well. Parades are a form of entertainment as old as human civilization. The people in power, from way back in antiquity to all the way up to right now, have used parades to broadcast the values they think are important.
This makes a parade to celebrate the achievements of women an especially good thing, because our society devalues women in lots of ways. We pay them less than men for the same work. We limit the decisions they get to make about how to maintain their health. Our media denigrates female sexual agency and autonomy at every turn. We elect women to public office in much smaller numbers than men. We have a terrible record on curbing crimes that disproportionately harm women, like rape and domestic violence. We co-opt their parades after they win the World Cup.
Why is New York hosting this parade, anyway? That's one of the questions I put to Walzak. He spoke for a bit about "heroes" — astronauts, military veterans, people who do great things. The city honors those types of people, and "a team winning a global competition of a sport so fervently followed by so many people," he said — there are "a lot of layers of significance and meaning."
A parade is nothing but a projection of significance and meaning. When people show up at a parade, they're signifying that they find something meaningful.
Significance and meaning. That's all a parade is — a projection of significance and meaning. When people show up at a parade, they're signifying that they find something meaningful. People also do this by choosing, in this case by paying, to be in a parade. There will be a number of floats trundling through Manhattan today. Walzak read me a list that contained EA Sports FIFA '16, Nike, Trident Gum, Ritz Crackers, NYCFC, the New York Red Bulls, and Sky Blue FC, the NWSL team that plays in New Jersey. All three soccer teams, he says, are paying sponsors of the event. According to Walzak, the city is covering three quarters of the cost of the event. Starting on Tuesday night, people at U.S. Soccer and MLS began calling in their own sponsors to help raise their target of $450,000. If a brand pitched in, it gets a float. (EDIT: According to Walznak, the New York Cosmos were not paying sponsors but did appear on another list of local soccer community organizations. He didn't have details on whether the team declined to buy in or hadn't been invited.)
Does this entitle them to steal the show? Not at all. But they'd have a hard time doing that no matter what. The men's clubs, remember, are paying to participate because they're not as popular as the women for whom the parade is being held. Nobody is going to misconstrue today's parade as being thrown in honor of the Red Bulls any more than they'll come away thinking it was all about a video game, or some crackers. When more than 25 million Americans tune in to watch you play soccer, they know who you are. Part of the reason NYCFC, the Red Bulls, and Sky Blue are paying to be involved is because it's the only way they're going to put their own name in front of that many soccer fans in their hometown.
You can see their involvement as a cynical marketing ploy or a laudable display of solidarity. In either case, their participation will be explicitly subordinate to that of the 25 members of the U.S. women's team that New York City comes out to see.
This is not to say that I think the worry that the presence of the men will overshadow the world champions is illegitimate. Jennifer Doyle, the most interesting liberal feminist soccer-loving professor I know, told me that fans of women's soccer can be defensive because the achievements of women players are so often erased or co-opted by the soccer establishment. That's a real concern, and we should try not to let that happen to this group of players by remembering not just the epic tournament of Carli Lloyd but some of the other nuances that made the last month so much fun: Julie Johnston and Becky Saurbrunn, possibly the best center-back pairing at a World Cup since Fabio Cannavaro and Marco Materazzi, or Morgan Brian's breakout performance. These players should become as much a part of the lore of American soccer as Joe Gaetjens and Paul Caligiuri.
There's another argument against the participation of the men's teams. I've seen it all over Twitter. Here's one example:
https://twitter.com/kevinmccauley/status/619200756835614725
This is most definitely true. And yet it's a terrible reason to exclude the less successful, but more male, soccer teams. In the editor's letter of the most recent issue of Howler, I wrote that the women, by filing a lawsuit against FIFA over the use of artificial turf, have "shown themselves to be leaders in the fight to improve our sport."
I still think that women's soccer is a beacon in a sport that has become weighed down by corporate interests and their bags of money. Women's soccer is more progressive, more inclusive, and the argument that the U.S. women's team is somehow diminished because male soccer players are paying to catch some of the light reflecting off their big chrome hub caps — that seems like something worth arguing against. Just not in a tweet.

George Quraishi is the editor of Howler. He tweets under @quraishi. Jasmin Shah is @jasminshahphoto in Instagram.
Contributors
Howler
TAGS
WELL, IT DEPENDS ON WHAT YOU MEAN BY "FREE."
Enter your best email for full access to the site.