Home
Dirty Tackle
Al Pacino tells Argentina's national team how much he loves them ahead of Copa America final
Al Pacino tells Argentina's national team how much he loves them ahead of Copa America final
July 2, 2015
https://www.youtube.com/embed/Xov2rQgkDIA?feature=player_embedded
Today in unexpected messages of support, we have Al Pacino expressing his love for Argentina ahead of their Copa America final against Chile.
This makes a whole lot more sense when you know that Pacino is dating actress Lucila Sola, who is from Argentina and has apparently gotten the Oscar winning actor to watch her national team play.
"I love the way you play, I love to watch your approach," Pacino says in his recorded message for the team. "I get excited along with my wonderful girlfriend Lucila Sola. We watch you and we love you and I get really happy when I see you play. It's always a pleasure for me. I'm very excited to even be talking to you. It's thrilling for me to talk to you. And to let you know how I appreciate how wonderful and great you are as players."
But while Argentina have Michael Corleone and Tony Montana on their side, Chile apparently have ET. At least, according to satirical paper The Clinic, who featured the character on their cover, implying that Lionel Messi should prepare to get anally probed, even though Chile's Gonzalo Jara has been suspended two matches for doing just that to Uruguay's Edinson Cavani earlier in the tournament.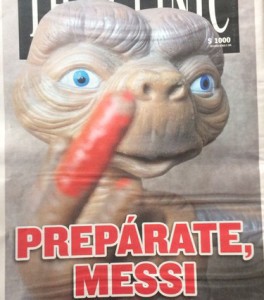 Clearly, Argentina have the edge in the celebrity endorsement department.
Video/image via Globo
Contributors
Howler
TAGS
WELL, IT DEPENDS ON WHAT YOU MEAN BY "FREE."
Enter your best email for full access to the site.