Home
Dirty Tackle
Steven Gerrard and Frank Lampard are first two players named to MLS All-Star team despite never playing in MLS
Steven Gerrard and Frank Lampard are first two players named to MLS All-Star team despite never playing in MLS
July 14, 2015
https://www.gettyimages.com/
MLS has announced the Fan XI and league commissioner Don Garber's two selections for the league's All-Star squad, which will face Tottenham Hotspur in this year's All-Star Game on July 29. Of those 13 players, only two are guaranteed spots on the teamsheet — the bossman's picks. Who happen to be a couple of guys who have never appeared in an MLS match as of their selection and have spent the last 15 years proving they can't play together. Yes, the LA Galaxy's Steven Gerrard and NYCFC/Man City's Frank Lampard.
The Fan XI, which includes 10 players voted on by fans and one "More than a vote" winner based on goals scored in FIFA 15 (seriously), was a big television reveal before the U.S.'s Gold Cup match against Panama. Here's how that turned out…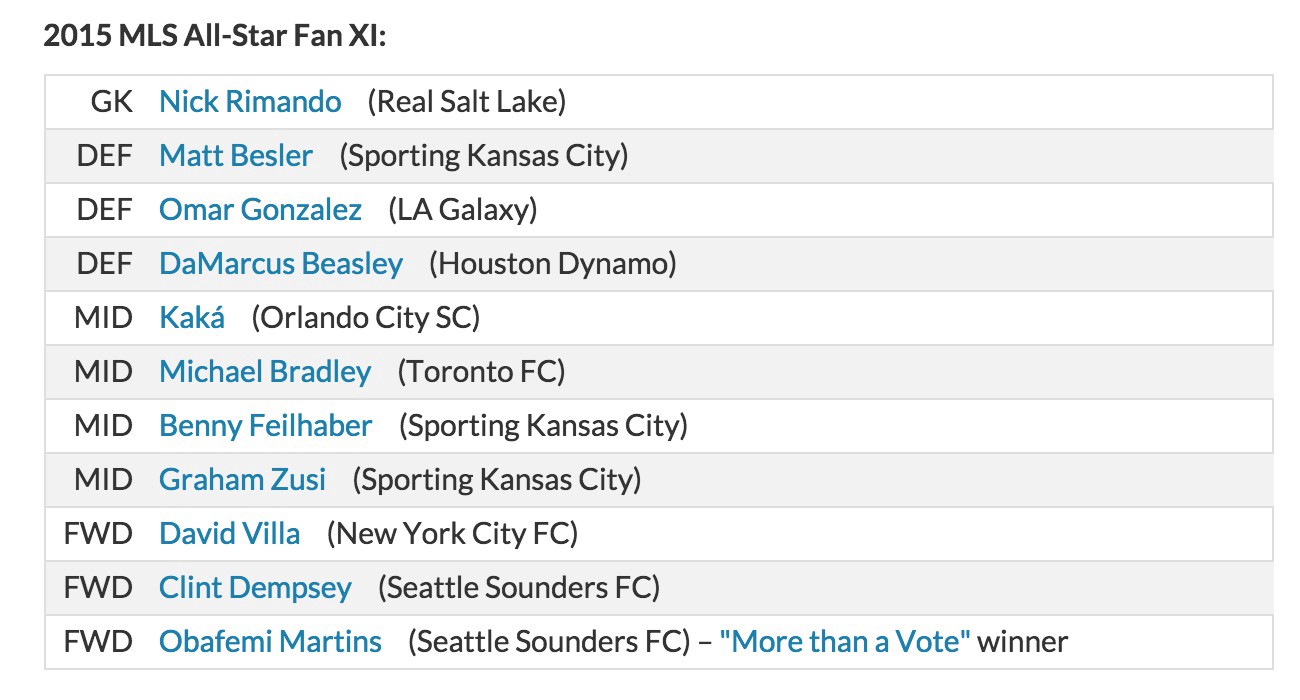 Naturally, the fans went with players who have performed exceptionally well this season, or have regularly done so in years past. Though this included big names who are new to the league like Kaka and David Villa, it meant that the likes of Gerrard and Lampard were excluded. But since they are both marquee names that the league paid big money to acquire, Garber used his power to shoehorn them into the squad.
And if you read the fine print in the announcement of these 13 players on the league's website, Gerrard and Lampard are the only two who will definitely be in the team that faces Tottenham. The fan picks will only be "taken into consideration." Because who really cares what the fans think, right?

By that logic, why not include NYCFC's Andrea Pirlo or possible Galaxy signing Gio Dos Santos? Or maybe Cristiano Ronaldo or Lionel Messi since they've played the same number of MLS games as Lampard and Gerrard, too. Or maybe Toronto's Sebastian Giovinco, who got out of his Juventus contract early so he could start the MLS season on time (unlike Lampard, who extended his Man City stay and made his club and the league look like liars) and has performed brilliantly well ever since. Or the league's reigning MVP (and former Spurs player) Robbie Keane.
While the likes of Giovinco and Keane will probably still be on the team through the coach's picks, naming the commissioner's picks first raises the question of whether the All-Star Game is a reward for the league's top performers and the fans who have supported them or just a midseason showpiece/cash grab for MLS. Normally, All-Star Games are a reasonable mix of all three, but Garber seems to be putting his executive decisions above all else here.
Contributors
Howler
TAGS
WELL, IT DEPENDS ON WHAT YOU MEAN BY "FREE."
Enter your best email for full access to the site.