The USWNT Parade Was Great. It Still Shouldn't Have Featured MLS.
July 12, 2015
When male achievement is the ideological baseline, we should be wary of even the most well-intentioned plans.
By Evan Davis | Photo by Luke Malanga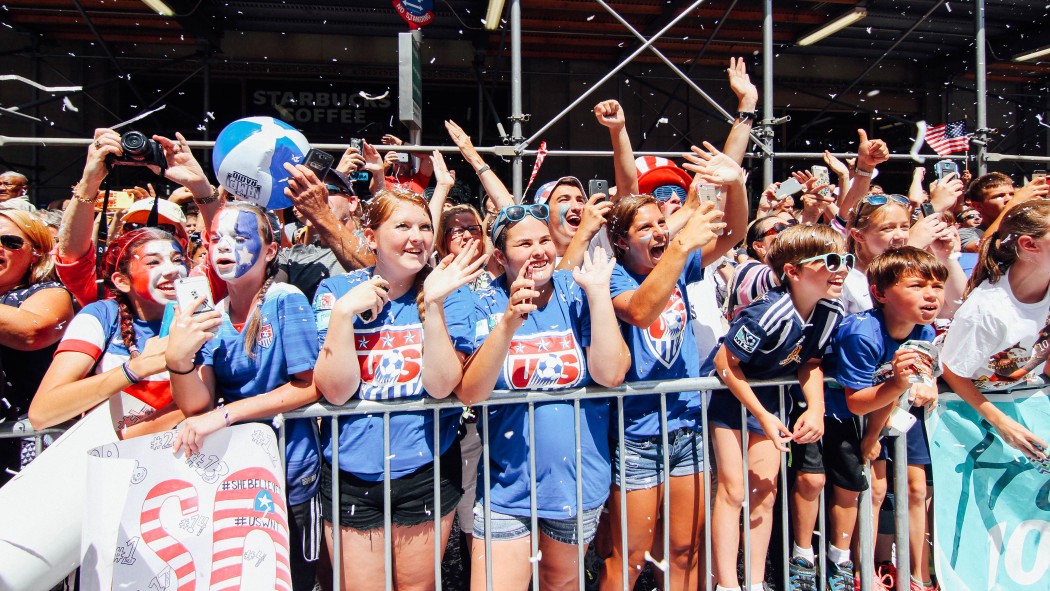 [L]ast week was a great week to be an American. The U.S. Women's National Team returned home with their third World Cup victory, and the nation went bananas. There were TV interviews, rallies in Los Angeles, and to cap it all off, an historic New York City ticker tape parade in their honor. Well, mostly in their honor.
On Thursday morning, word went out that local MLS teams New York City FC and the New York Red Bulls would be part of the USWNT's parade celebration. Twitter exploded. At the time, it seemed like Red Bulls and NYCFC players would be on the floats, which seemed like scene-stealing madness. Why the hell would they be there?
Just before the parade kicked off on Friday, Howler editor George Quraishi wrote a sober, thoughtful reflection about the parade controversy. He reported some of the facts about MLS's involvement that had not yet been widely circulated, and took the "outrage machine," as he called it, to task for fanning unnecessary flames. I appreciate George's entreaty for nuanced discourse, but I feel that there are still some salient sticking points that should be addressed.
First, George notes that the Red Bulls' and NYCFC's floats would not use any of their first team players, but rather, as was later reported, "The Red Bulls' float will feature four girls from the team's regional development program as well as Anna Rose Rubright (a local goalkeeper who has participated in the Special Olympics), Marguerite Ferrell (the Red Bulls' senior manager of coach recruitment and education), and Molly Brady (the team's social media manager)." That's awesome. But as Soccer Gods' Kevin Brown correctly noted, the timing of the Red Bulls' decision is unclear. If they made the call after the controversy erupted, it looks like damage control. The official MLS line smells like four-day-old fish, and I'm not buying it, especially since neither the league nor the team actively promoted the presence of the individuals who ended up representing them on the float on Friday.
The goodwill MLS might have earned from who they ultimately put on their floats quickly evaporated when commissioner Don Garber was allowed to give a speech at the ceremony after the parade. It was nice that he gave a shout-out to the National Women's Soccer League, but why was he there? What did he add that NWSL commish Jeff Plush couldn't have said better? Why were NYCFC Director of Football Operations Claudio Reyna and Red Bulls Sporting Director Ali Curtis on the dais? Was it to show support, or was it to draw as many eyeballs to their franchises as possible? For Quraishi, it doesn't seem to matter. "You can see their involvement as a cynical marketing ploy or a laudable display of solidarity," he writes. "In either case, their participation will be explicitly subordinate to that of the 25 members of the U.S. women's team that New York City comes out to see." It's all good so long as the men get to sit at the women's table and don't hog too much room.
That's what this is really all about: Men getting some attention during a celebration of women's accomplishments they had nothing to do with
That's what this is really all about: Men getting some attention during a celebration of women's accomplishments they had nothing to do with, no matter what their post-facto involvement or level of support may have been. If the USMNT had won the World Cup last year (HA!), the NWSL would not have been part of their ticker tape parade, even though Quraishi's believes they should have been. He seems to think that such a counterfactual is "a terrible reason to exclude the less successful, but more male, soccer teams" from the USWNT's celebration. I couldn't disagree more strongly.
Male achievement is an ideological baseline. It's normative. Celebrating the great things men do is expected, even automatic. For women to be acknowledged for equivalent accomplishments in America, no matter the field, is an uphill battle. The MLS minimum salary is now $60k/year; The NWSL's is $6,842. The USMNT earned $9 million for losing in the Round of 16 last year; The USWNT will earn $2 million for winning the World Cup. The women's national team head coach earned only 8% of Jurgen Klinsmann's salary in FY 2013. And I thought this country rewarded winners.
In a few months' time, the USMNT, Red Bulls, and NYCFC will still be generating (modest) headlines and making lots of money. The women's game won't get this kind of attention until the Olympics next August, and even then it will have to jostle for column inches alongside swimmers and gymnasts. Maybe we can celebrate Megan Rapinoe without being reminded of Dax McCarty.
Parades are symbolic events to honor major human achievement, like being launched into space, or the Mets winning the World Series — you know, things that almost never occur in real life. The content of said parades, as George rightly notes, carry symbolic weight. Even if a bunch of worthy people rode on a Red Bulls float without drawing the spotlight away from the USWNT, all I saw was a league and two teams taking advantage of some free press. It's nice that their financial support helped make the parade happen; they could also have just cut a check and walked away. The fact remains that MLS's inclusion in this event bears its own symbolic weight: Men's soccer in America gets to drink from the well of the USWNT's success. Turn it around, and the women would never be given the same privilege.
Don Garber is like that guy you let DJ the house party because he bought the booze. Then he only plays his mixtape. #USWNTParade

— Ives Galarcep (@SoccerByIves) July 10, 2015
Evan Davis is a stand-up comedian and proud Toffee living in New York City. His writing has been published in Film Comment, The Velvet Light Trap, MUBI Notebook, and The House Next Door.Follow him on Twitter and Instagram @ProfessorDobles. Luke Malanga is a regular contributor to Howler. Follow him on Instagram.
Contributors
Howler
TAGS
WELL, IT DEPENDS ON WHAT YOU MEAN BY "FREE."
Enter your best email for full access to the site.