Like a plot ripped straight out of "Workaholics", three software engineers take on Donovan, Ching, and Holden.
By Phil West | Photo by Carlos Barron / Austin Aztex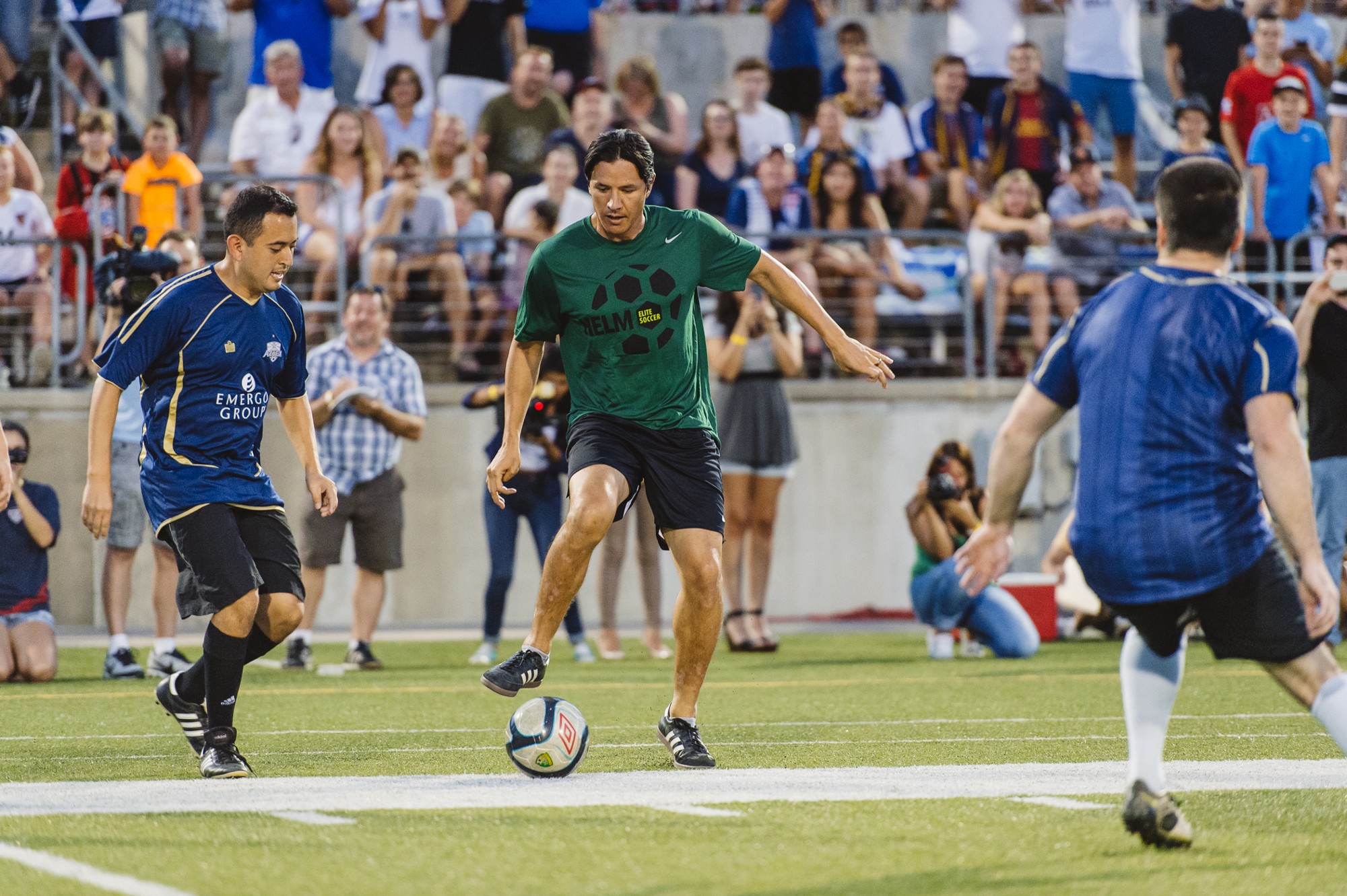 [I]t's a typical summer Saturday evening in Austin, meaning that sunset will merely nudge temperatures down from triple digits to the 90s. It's not even remotely ideal soccer weather, but that's not dampening the excitement of the three HomeAway software engineers preparing to play a pick-up soccer game in front of more than 5,000 people.
They're part of the halftime show at a USL match between the hometown Aztex and the visiting Portland Timbers 2 at Kelly Reeves Athletic Complex, a high school stadium at the suburban fringes of Austin serving as the team's temporary home while the downtown high school stadium they usually play in undergoes repairs from Memorial Day floods. Their opponents are a primary reason so many have found their way to Kelly Reeves: Landon Donovan, Brian Ching, and Stuart Holden — three US Men's National Team legends — are together in Austin for their inaugural HELM Soccer camp, and to raise money for the Aztex Foundation, the chance to go 3 v. 3 in a 10-minute pickup game was put up for auction.
The first day the online auction went live, 27-year-old David Sumera bid a dollar. When he went to check it again, it was up to $575, and that's when he called in Eloy Perez and Stephen Carpenter (friends, co-workers, and former indoor soccer teammates) for backup. They pledged to put in as much as $400 each, and their final bid of $1100 won them 10 minutes of the most surreal pickup soccer game they'll ever play.
The charity aspect of the game is in line with what HELM aims to do — Donovan said that when the three of them started HELM, they wanted it to be "more than kids running around and kicking a soccer ball." Their vision encompasses the values that make up the HELM acronym — humility, education, leadership, and motivation — as well as a desire to raise money for local charities while they're in town, and, in a sort of Johnny Appleseed spirit, doing so in towns without MLS franchises. (There's currently a Twitter campaign to bring them to Grand Rapids that's caught their collective eye.)
Donovan said that when the three of them started HELM, they wanted it to be "more than kids running around and kicking a soccer ball."
The camps themselves aren't just about drills — Ching noted that one of the weekend's best sessions involved Ismail Elfath, fresh from refereeing the MLS All-Star Game, who fielded questions about bad calls he's made in the past and how one recovers from those unfortunate moments.
On a grassy patch by the south end scoreboard, several minutes before halftime, the software engineers meet the soccer legends for a pre-game kickaround. Friends are there with cameras capturing the moment, and someone from the HELM team is documenting via Periscope. They make their way to the field (with Carpenter quipping "Ready to start some careers tonight?"), the PA announcer introduces each of the legends with their impressive USMNT caps and goals totals, and they all pose for more photos. Immediately after that — perhaps with everyone not quite ready — Holden starts off the game by racing down the right flank and dinking a shot that caroms off the small goal's right post.
Perhaps because the software engineers are wearing Aztex jerseys and the HELM team has opted for Timbers green, or perhaps because nearly everyone loves an underdog, the drum-wielding Aztex supporters immediately, vocally take the challengers' side. It takes everyone the first 90 seconds to navigate the 20 yards between goals and to get into a proper rhythm, and not surprisingly, the HELM guys find it first, with Donovan dribbling past what appears to be his opponents' attempt at a parked bus for the game's first score after a few near-misses. The challengers miss a tantalizing opportunity when Carpenter lofts a perfect pass to Perez in front of goal and his feet get tangled around the ball and he can't get off the shot. (We've all been there.) All of the legends get in on the scoring action, setting each other up with the sort of telepathy that comes with people who have played together a while. It's quickly 4–0.
In talking to the three of them before the game, it's clear Team HELM seeks a balance — they don't want to out-and-out embarrass the challengers, but pride dictates they don't want to lose either. Donovan, in particular, is cognizant that his opponents are paying a significant sum for the experience — so while the HELM team is literally putting on a clinic, they're also giving the challengers enough space to show what they can do.
And as it turns out, they're not completely hapless — especially Carpenter, who played college soccer at Austin College (a liberal arts outpost near Dallas). He manages to outsprint everyone in an up-by-four-goals reverie down the left flank, surefoots a shot in for their first goal, the crowd erupts, and the scoreboard operator inadvertently makes it 4–2 rather than 4–1. Game on.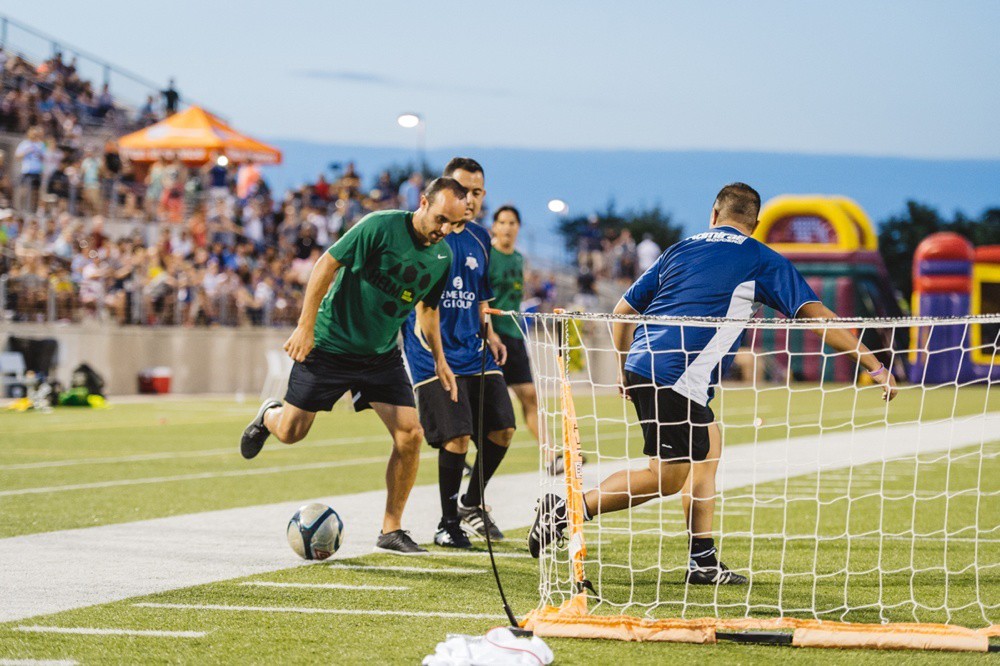 Carpenter and the HELM team trade goals, and then Holden lofts a beautiful, arcing shot from 15 yards out that's definitely on its way in for goal number 6; Donovan puts a toe on it, a la Brek Shea in the Gold Cup '13 final, to leave no doubt. A minute later, Sumera tries his luck with a full-field rainbow, which is the last of anything that the challengers try. Perez noted after the game, "We were winded after two minutes," and the game, of course, is going a full ten, as they're getting what they literally paid for.
Holden chips in a shot for good measure during the final 10-second countdown, and the legends win 7–3 (or 7–4, if you believe the scoreboard). As it turns out, this is also Holden's 30th birthday, so the PA announcer lets the crowd know, a cake is produced, and Holden is suddenly serenaded by 5,000-plus fans, with Donovan playing conductor to the crowd.
After the game and some memorabilia signing — including the HELM team's sweaty game-worn T-shirts — the software engineers are buzzing from the experience, calling it "once in a lifetime," marveling about how fast their opponents thought and moved, and talking about playing together again. Sumera, who is actually rehabbing a knee injury from several months back, assesses that it was worth the cost and the ancillary emotional effects of an auction going into four figures.
The HELM guys are also clearly happy. It's the first time the three of them have played together in front of fans since August 10, 2009 — the U.S.-Mexico World Cup qualifier in Mexico City, in which the U.S. jumped to quick 1–0 lead on Charlie Davies' 9th minute goal (assisted by Donovan) and momentarily stunned the formerly-unstunnable-by-Americans Azteca crowd before eventually succumbing 2–1.
"It's always nice to have a bit of a laugh and compete for a good cause," said Holden magnanimously, adding, "The crowd was really into it; I felt like they were even against us," though, of course, not as against them as the last time they were together on a field.
Really, though, the sentiment from the masses was that the crowd was for Sumera and Co., and the everyman they represented. Having combined the wherewithal to bid on the chance, the courage to do it in front of so many others, and the sweat and effort to keep the outcome respectable, the trio had earned the adoration of the crowd. It was no small consolation.

Contributors
Howler
TAGS
WELL, IT DEPENDS ON WHAT YOU MEAN BY "FREE."
Enter your best email for full access to the site.