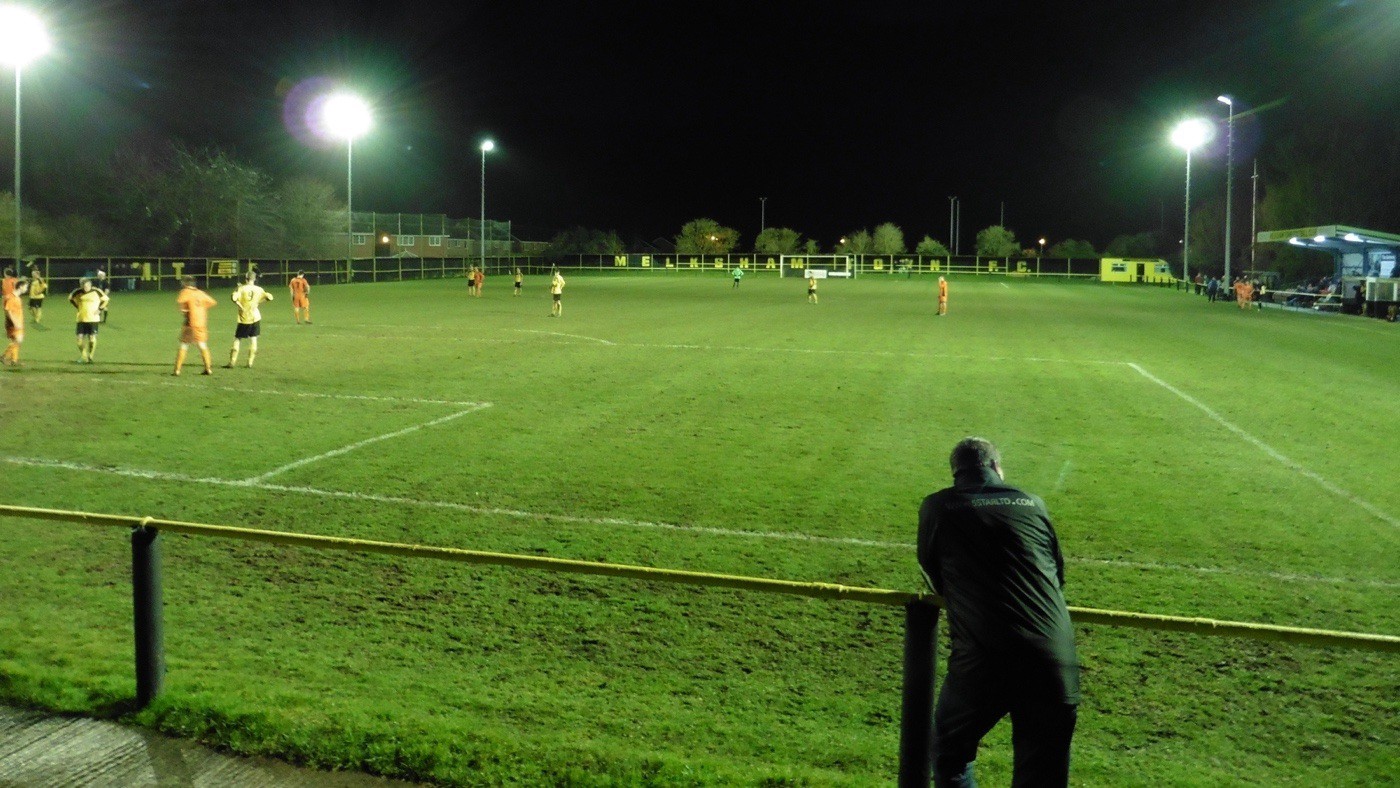 Looking for nihilism but finding fleeting happiness in non-league football
By Sam Patterson | Photographs from the author
[R]usted bathtubs sitting in the open air belong in slasher flicks, the altar of a psychopath luring summer campers to their premature deaths. They do not belong in the darkened parking lot of a soccer club in southwestern England, where I was on a blustery, rainy March night. For avid BBC watchers maybe two sides of the same coin, but I parsed my way around the rusty bits impatiently. No Leatherface or tetanus for me.
Welcome to non-league football, where you pay money to watch amateurs toe-punt a ball around a beaten pitch when you could be watching a quality product indoors. Case in point, that evening I should have been knocking back pints at the pub and watching Manchester United and Arsenal duke it out in the FA Cup quarterfinals.
So why not? Sure, there's the familiar trope about 'soccer for soccer's sake,' a noble undertaking untainted by professional soccer's greed and corruption. It can be that happy refuge from clickbait traffickers bombarding you with transfer rumors and photos of a club night gone awry.
England, the birthplace of football, and thus, of shit football.
It's a nice sentiment, and more or less what I'd told my father before we set off for England, the birthplace of football, and thus, of shit football. But in truth, I wanted to see edge and nihilism, the kind of stuff explicitly suppressed by the Premier League, even if only to replicate Bill Buford's experience thirty years earlier. I wanted to understand why anyone would walk past England's rusted bathtubs to support predictably poor Victorian relics. It's non-league.
I had no answers as I stepped past the tub toward the grounds of Melksham Town Football Club. All I knew was that the Black and Yellow, their crest a smug moose befitting a police lineup, would be battling Gillingham Town in the Western Division Premier League. For those not following at home, that's England's ninth tier, the amateurs and sixteen-year-olds.
My first moments of the 'Melksham experience,' an hour earlier, looked fortuitous for a grungy, stabby, kind of evening. The thirty minute drive from Bath had been drab and still, as my father navigated the left-hand side of a road flanked by six-foot tall hedges. Only the orange glare of road lamps or his high-beams punctuated the dark.
The ground gave off the same vibe. A pair of chipped white pillars off the town's main artery keyed us in to the stadium's parking lot. The lot was close enough to the pitch that I could have hopped one gnarled chain-link fence and joined Melksham's box drills. But pop isn't a jumper, so he wasn't going to entertain casual gate-crashing.
So we turned the corner and stepped around the rusted bathtub to hand five pounds admission to a retiree sitting inside the ticket booth. You or I would probably call it a shack, but he didn't pick up on my thoughts. Instead, my foreigner's accent earned us an explanation of the context, almost an elegy for better times long gone.
The Conigre, our retiree explained, had been Melksham Town's ground for 95 years. This was its final night game. In just five days, Melksham Town would play its final home match at the ground. The Black and Yellow would then vacate its patchy home for a field across town that charged lower rent.
Melksham sat three points clear of the table and should have been thinking about the joys of a trophy. Instead, they were trying to piece together next season's accommodations.
For a club founded in 1876, being evicted so unceremoniously seemed like a real dick move. Melksham sat three points clear of the table and should have been thinking about the joys of a trophy. Instead, they were trying to piece together next season's accommodations. Their self-appointed Director of Finance later confided to me that the team was actually guaranteed not to go up. Any new ground they could find and afford would not meet the FA's criteria. There wasn't any anger to accompany this, no hooliganism to protest it. They were resigned to their fate.
I continued out to see the rest of the compound. A small covered grandstand split an away section from the home supporters' end. In the clubhouse adjoining the home end, twenty middle-agers and senior citizens lingered in small groups, dividing their attention between a bar on one end and a wall-mounted TV on the other. The FA Cup pregame festivities played at full volume.
The folks in the clubhouse sported polos and jeans or smart jackets. No tattoos or switchblades or knocked out teeth to see here. This football was just clean diversion. As the barmaid, who doubled as the club's gear vendor, poured me a pint of something called Black Rat, she playfully explained the club's significance. It was a social gathering spot, she said, a community center where the scrawny teens and balding adults on the pitch had lived all their lives. The people coming to see them were siblings and friends (English "mates"), parents and girlfriends (American "mates"). Everyone was on a first-name basis. The clubhouse doubled as the neighborhood pub. To lose both at once seemed even crueler.
Melksham Town Football Club was a medium for community interaction, as much about the soccer as Oprah's Book Club was about the book. I stepped onto the touchline a moment before kickoff to join the twenty people standing under a tin roof who looked like they had actually come for the live soccer. They didn't seem to care that much. While Melksham Town's black and yellow clashed physically (and aesthetically) with Gillingham Town's tangerine orange on the pitch, the crowd atmosphere was bingo night at the rec center. The Melksham manager's gruff screams of "do your job, for fuck's sake!" elicited only looks of embarrassment or cacophonic guffaws from the spectators.
Gillingham Town went ahead on fifteen minutes thanks to a beautiful fluke. After a Melksham defender headed a ball to the top of his box, one of Gillingham's players volleyed the clearance into the top corner, aided in no small part by a staggering deflection. The ball would have otherwise zoomed out of the compound, like a botched tennis service return. The goal was greeted with a moment of cheering before the spectators went back to their polite discussions about the FA Cup or the half-time raffle. Good saves and cheeky efforts could punctuate their chatting, but only temporarily.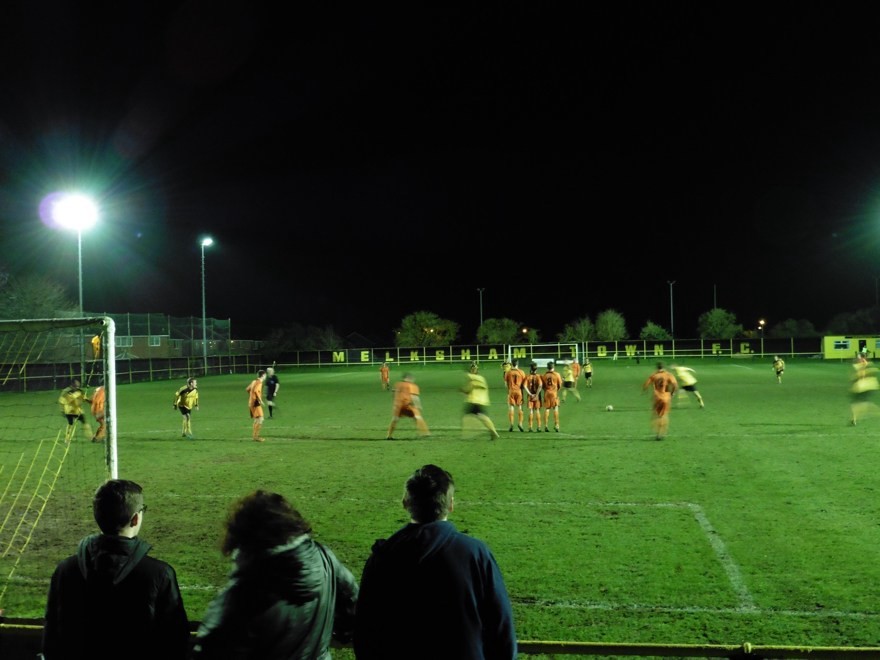 Not even the parents of players could fully stay with it, and unlike American rec league parents, their kids actually had professional aspirations. A Gillingham Town father had arrived late (he also couldn't find the damn compound) and wandered into the Melksham end by mistake. At 17, his son was the youngest on the pitch, but his father told me within a minute that his son was flatly not good enough to continue, unlike a friend at Southampton's academy.
It was sobering reality for a parent to acknowledge his child's limitations, one that I'd never had to deal with; at 17, I spent more time with FIFA '10 than a real soccer ball. I knew I was talentless. But this kid — the youngest on the pitch; not even old enough to drink in the Balkans — had trained for years and was close to washed up, at least compared to an overachieving friend.
But it didn't stop him from coming back. He either hadn't given up or was motivated by something other than career advancement. I flicked through the player profiles in the match-night program and saw numerous men in their thirties who still came out on Monday nights to play amateur football.
Nothing noble or violent, then: just a community for both players and spectators to see friends, stay active, or kill time.
Melksham scored twice in the last ten minutes of the first-half, two unremarkable headers from close range. At the intermission, we left soccer behind and went back to gossiping and English politeness. For a pound, you could buy hot cocoa in lieu of a pint, and that was if your appetite hadn't been filled by the free bags of potato chips.
No one in the clubhouse heard the whistle for the second half over the din of conversation and the blaring TV. Indoor heating and televised FA Cup action made for a quieter second half. Melksham Town added a third and rode out the match to go six points clear of a division they had no chance of escaping.
The final whistle sounded, and no one seemed to care too much. It was a 3–1 victory, much of the community had come out, and that was enough.
Inside the clubhouse, everyone from Melksham and Gillingham — players, coaches, parents, girlfriends, and fans — ate, drank, and socialized together, ooohhhing and aaahhing in lockstep at a Januzaj dive or an Arsenal missed opportunity. For a club with an uncertain future, for players with dead-end prospects, it was one last night like countless ones from the previous 95 years, a chance to enjoy a diversion-by-soccer before reality hit home in the morning. I left then, giving them space in the clubhouse bubble before their drives home, back to reality.

After this story was reported, Melksham Town went undefeated for nine more games, all of which were on the road. They went on to win the division. They still did not go up.
WELL, IT DEPENDS ON WHAT YOU MEAN BY "FREE."
Enter your best email for full access to the site.