Home
Dirty Tackle
NY Red Bulls fans troll Lampard and Pirlo, David Villa tears opponent's shorts
NY Red Bulls fans troll Lampard and Pirlo, David Villa tears opponent's shorts
August 10, 2015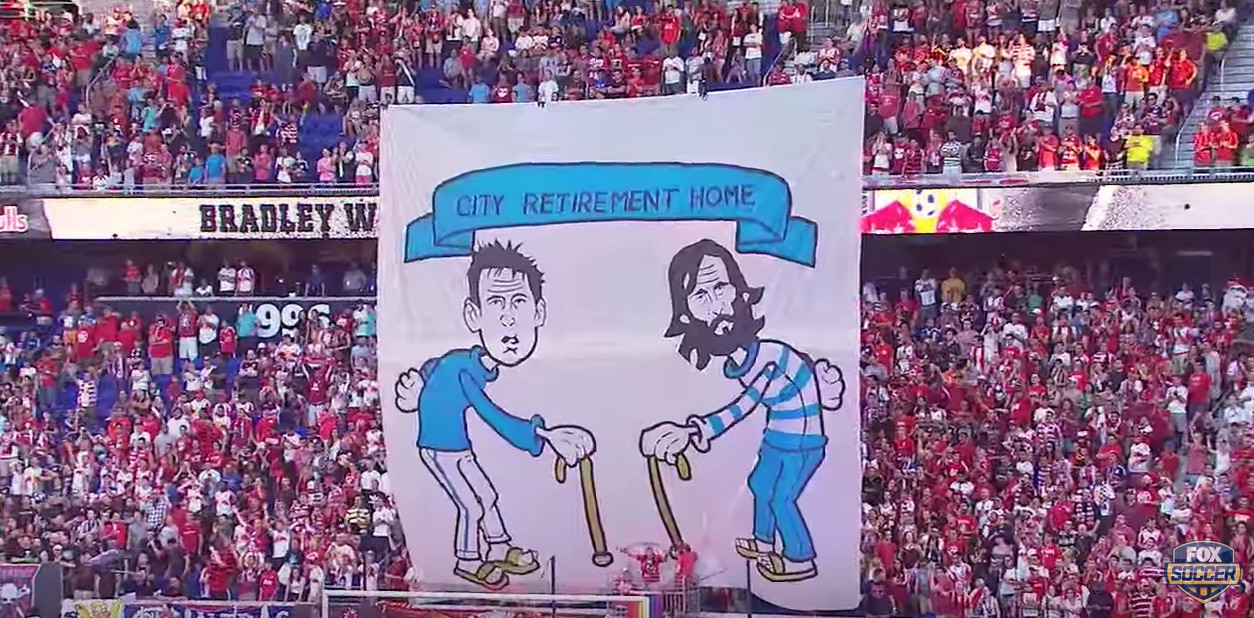 The New York Red Bulls hosted their new prefabricated rivals NYCFC on Sunday and, as rivals are supposed to do, the home fans gave their opponents a bit of ribbing.
A banner dubbing NYCFC "City Retirement Home" was hoisted at one end of the New Jersey ground, with images of Frank Lampard (37) and Andrea Pirlo (36) hunched over canes. Because having aged world class players is something unusual for an MLS team? Apparently they've already forgotten Thierry Henry.
Anyway, David Villa didn't take kindly to this attack on his new friends and he responded by tearing the front of Felipe Martins' shorts like a Hulk Hogan T-shirt.
https://www.youtube.com/embed/gt_rvA6BsEA
But Bradley Wright-Phillips (not to be confused to with diminutive older brother and new teammate Shaun Wright-Phillips) scored before halftime to give the Red Bulls a 1–0 lead and Felipe sealed the 2–0 win with a goal in the 84th minute (while wearing a new pair of shorts).
That gives the Red Bulls three wins in MLS's first three New York(ish) derbies, which should probably be the basis of their fans' next banner.
Before the match started, a small group of fans who apparently watched Green Street Hooligans one too many times tried to make it a "proper" derby by awkwardly hurling sandwich boards at each other and shouting "Who are ya?"
In New Jersey and immediately encounter crowd trouble ahead of the New York derby (Red Bulls-City). Video: pic.twitter.com/slY3hYn5aM

— Rob Harris (@RobHarris) August 9, 2015
New Jersey native and former U.S. international and New York Red Bulls goalkeeper Tony Meola told the NY Post:
"There's some real hatred,'' said Meola. "This isn't fabricated. Where sometimes in the past I think we fabricated maybe because we had to fabricate some of these rivalries.
"Quick story. My best friend from high school is the head cop here, and he took off today because he said he didn't want to have to work for his money. He called on the way in and said, 'We've already arrested almost 30 people.' … The point is, there's a rivalry now.''
That's embarrassing for all parties involved. Including that cop.
Contributors
Howler
TAGS
WELL, IT DEPENDS ON WHAT YOU MEAN BY "FREE."
Enter your best email for full access to the site.