The premature decline of careers is an odd but recurring theme of Brazilian football.
By Ruairí Grego | Illustration by Devin Dulany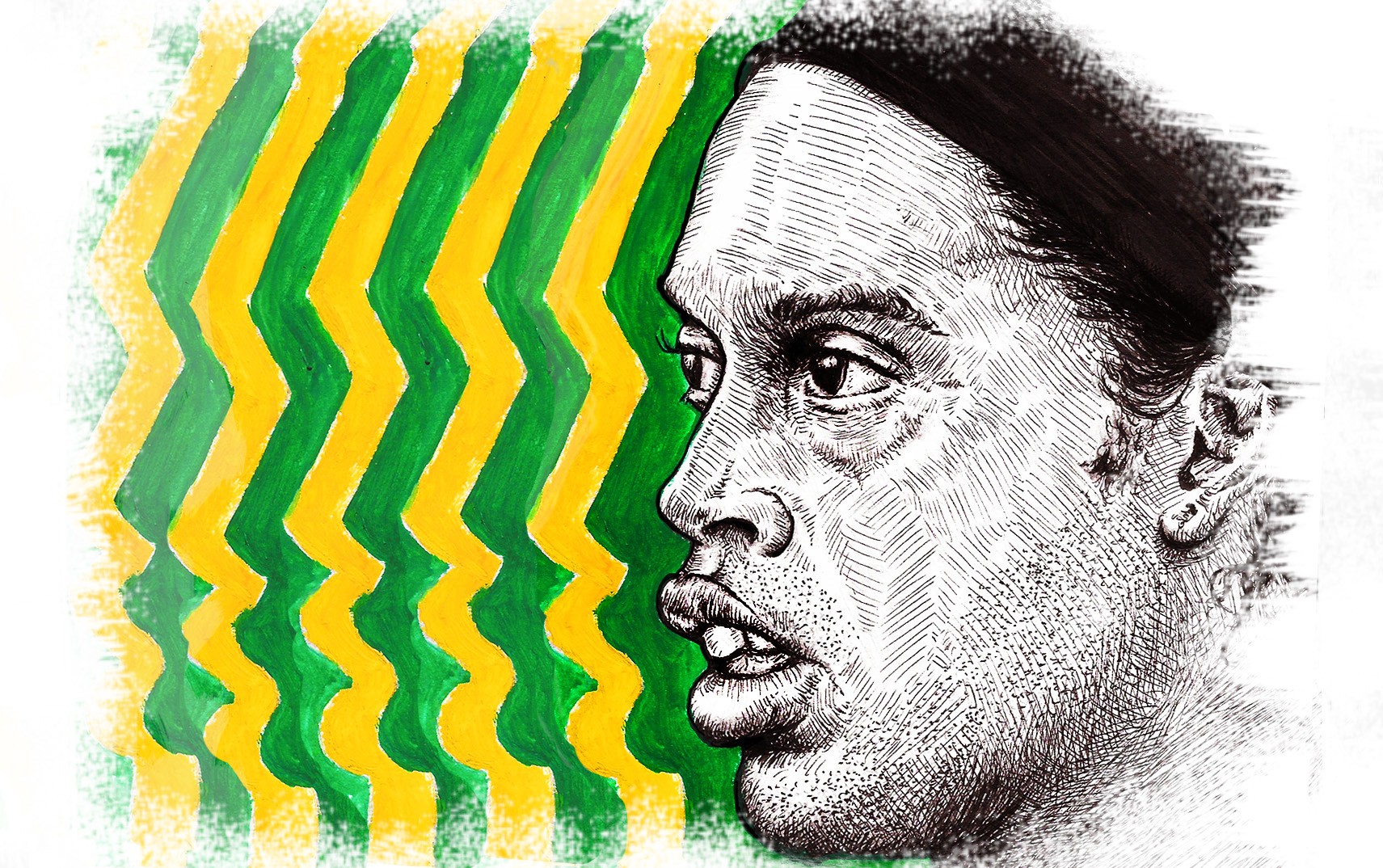 [M]y first vivid memory of football is waking up early in the summer of 2002, to catch the first fixture of the day during the World Cup. Brazil versus China stands out from those early mornings in June. The South American side did not disappoint that day; a vintage Roberto Carlos free kick opened the scoring followed by a Rivaldo volley. Ronaldinho then tucked home a penalty and, of course, Ronaldo scored his obligatory goal with a tap in. That team went on to win the tournament, and in the process, made me view football in a totally different way. They not only played with flair, but they won in style and always looked like they were enjoying themselves in the process.
I'm sure mine wasn't the only imagination captured that day. I'm also sure I wasn't the only one disappointed when it turned out we wouldn't see truly great performances from Ronaldo and Rivaldo, despite being only 25 and 30, respectively. Following that World Cup, Ronaldinho was the only one of the forward trio whose career progressed, albeit for too brief a period.
The premature decline of careers is an odd but recurring theme of Brazilian football. For the majority of these individuals, their path leads home — a category Rivaldo, Ronaldo and Ronaldinho all fell into. There are many more: Adriano, Kaká and Robinho, to name a few. But why?
Perhaps some simply do not have the sustained innate drive to succeed for a long time at the top. This theory would certainly fit the career of Ronaldinho. The 2005–06 season was his peak, with no moment more impressive than his two-goal masterpiece in a 3–0 Barcelona win over Real Madrid. His performance was so overwhelming that the Madridistas at the Santiago Bernabéu gave him a standing ovation — a feat achieved by only one other Barcelona player: Maradona. One week later, he accepted the Ballon d'Or in Paris, a city where he would lead Barca to a Champions League triumph against Arsenal months later. He had 26 goals and 23 assists across all competitions, but sadly, this was to be Ronaldinho's last meaningful stamp on the world of football. After an unsuccessful World Cup in Germany, at the age of 26, he began a sharp descent from the top of the game. He still showed moments of brilliance, but many believed a hedonistic lifestyle resulted in a lack of form at Barcelona, then AC Milan and, predictably, back across the Atlantic in Brazil.
Brazilians could be forgiven for wanting to see their stars shine in Série A, but more often than not, moving home marks the steady decline of a career.
Another genius whose time in European football ended all too prematurely was Romário. His goal in the 1994 World Cup Quarter Final vs Netherlands epitomised both his natural talent and his influence on the team. With Brazil on the counter attack, Bebeto steamed down the left flank and sent in an early cross to Romário, who quickly opened his right leg and let the cross bounce off his boot into the bottom corner of the net. The beauty of this goal lies in the angles created; he knew the combination of the shape he made with his body, along with the flight of the ball would result in a goal. It was this quick thinking and instinctive finish that became his trademark.
Later in that same year, November 1994, he went on to play a leading role in Barcelona's famous 4–0 demolition of Manchester United in the Camp Nou. In a side littered with greats such as Stoichkov, Laudrup and Guardiola, it seemed unthinkable that Romário would not stay and try to dominate European Football's elite with them. However, in 1995 he migrated home to the Rio de Janeiro club Flamengo. Once again, Europe was to be deprived of a true Brazilian talent.
• • •
[T]he bearded icon of the 1982 Brazil side, Socrates was once quoted as saying, "I found Europe very regimented. Everything is so correct and organised. But there's more to life than football, and sometimes I didn't want to train, but to hang out with friends, party or have a smoke. They didn't appreciate that."
So it would appear some Brazilian players seem to lack the professionalism needed to sustain a long and successful career. Maybe Ronaldinho and Romário were of the same mindset as Socrates. Maybe a return to Brazil is perceived as a safe option, with familiar surroundings, less pressure and a lower standard of football. Or maybe they believe their careers will last longer there for this very reason? There is an obvious acknowledgement that the Brazilian domestic game is not the esteemed epicentre of club football greatness — especially since the explosion of the UEFA Champions League. Brazilians could be forgiven for wanting to see their stars shine in the Campeonato Brasileiro Série A, but more often than not, moving home marks the steady decline of a career.
Moving to Europe doesn't always work either, though, perhaps for some of the same cultural factors. Take Denilson, who was hailed as potentially Brazil's best winger since Garrincha when he broke the world transfer record in 1998 with a £21.5m move to Real Betis. But in seven years, he never came close to justifying that price tag, scoring 13 goals in 186 appearances and going out on loan following Betis' relegation to the Spanish Segunda Division in 1999/00.
Robinho is another player whose huge expectations led to a European career riddled with inconsistency. When he swapped the rainy Spanish capital for Manchester City in September 2008, then-manager Mark Hughes described Robinho as "Undoubtedly one of the best players in the world." Doubt has since been confirmed — following a steady first season, his career regressed, and he yo-yoed between Santos and AC Milan.
In the cases of Denilson and Robinho, premature hype was certainly a factor — a development-stunting wave of attention that leaves players unprepared for the task ahead. But South American football expert Tim Vickery sees more at play for why so many Brazilians haven't met their potential.
Whatever the causes, a track record has been established, and for the good of both Brazilian and world football, it needs to be broken.
"Every case is different, but there could well be a common denominator here," Vickery said. "For example, the idea in Brazilian society of consuming is very strong. This idea of what you are is what you have — you show off your material possessions. The (economic) boom in Brazil over the past 15 years has been based on consumption and expansion of credit and people being able to buy things for the first time. That's really been the thing that has underpinned Brazil's progress: consumption. Now with many of these players such as Romário, they grew up in a time before the expansion of credit and mass consumption. So they're spending their youth as a kid outside the sweetie shop — looking at it and not able to get in. Once they started earning large sums of money they could consume whatever they liked. So after a certain amount of time, some players simply don't want to make the sacrifices necessary to be a top professional footballer anymore."
Whatever the causes, a track record has been established, and for the good of both Brazilian and world football, it needs to be broken. Neymar's success at Barcelona certainly bodes well, and if the 23-year-old can lay the foundation for a long and fruitful career, he'll serve as an inspiration to Brazil's next generation of footballers. There's no doubt his skill has captured the imaginations of countless youngsters in his home country — much as the 2002 squad did for me. And as those fans grow and try to follow in his footsteps, here's hoping that they'll meet up one day, battling with the best in European football.

Contributors
Howler
TAGS
WELL, IT DEPENDS ON WHAT YOU MEAN BY "FREE."
Enter your best email for full access to the site.