Home
Dirty Tackle
Celtic sent season ticket holders a letter about the importance of personal hygiene
Celtic sent season ticket holders a letter about the importance of personal hygiene
September 16, 2015
https://www.gettyimages.com/
It's been a relatively nervy start to the season for Celtic. After winning four consecutive Scottish Premier League titles, the Bhoys currently sit five points behind perfect Aberdeen through seven matches. Naturally, this unfamiliar wasteland known as "Second Place" has everyone at the club sweating a little and that has apparently produced an unwanted odor around the main stand at Celtic Park.
So the club sent a letter to season ticket holders in that area to remind them of the importance of washing themselves before attending matches. Seriously.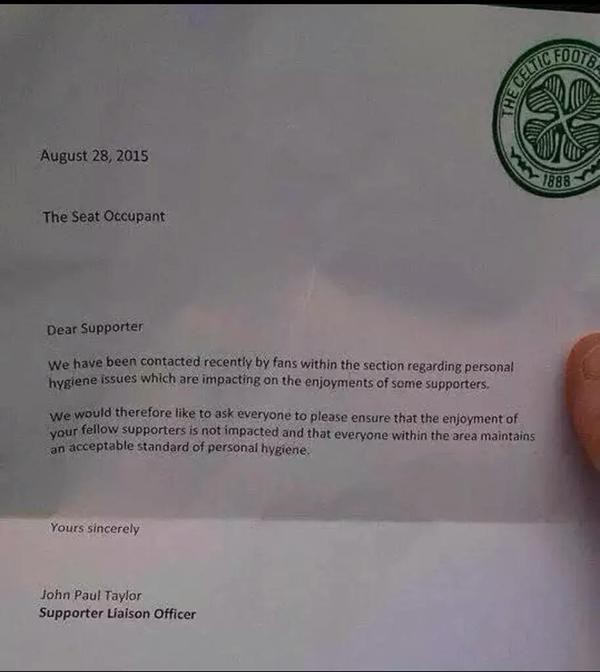 At first glance, the letter looks super fake, but according to the Irish Independent, the club confirmed that it is real, though wouldn't speak any further on the matter.
The letter was reportedly prompted by fans complaining about a "smelly fellow supporter." My money is on Rod Stewart. He just looks like he's constantly slathered with an offensive amount of oddly pungent cologne.
WELL, IT DEPENDS ON WHAT YOU MEAN BY "FREE."
Enter your best email for full access to the site.