Home
Dirty Tackle
Marseille fans hang effigy of "traitor" Mathieu Valbuena for his return with rivals
Marseille fans hang effigy of "traitor" Mathieu Valbuena for his return with rivals
September 21, 2015
An effigy of a Mathieu Valbuena was gruesomely "hanged" in one of the stands tonight… (C+) pic.twitter.com/iDtG0Hkze1

— Get French Football News (@GFFN) September 20, 2015
In 2014, Mathieu Valbuena left Marseille after eight seasons for Dynamo Moscow, a move seen by Marseille supporters as a disappointing and blatant cash grab. Marseille retired Valbuena's number, though, cementing his place as a highly regarded club legend. Which made it that much more infuriating for Marseille fans when Valbuena joined rival club Lyon after just one season in Russia.
Sunday marked Valbuena's first appearance in the Clash of the Olympics on the Lyon side of things and the crowd at the Velodrome greeted him by hanging an effigy of the diminutive midfielder in the stadium and holding up banners that read "True Marseillais only play for OM, you are nothing but a traitor."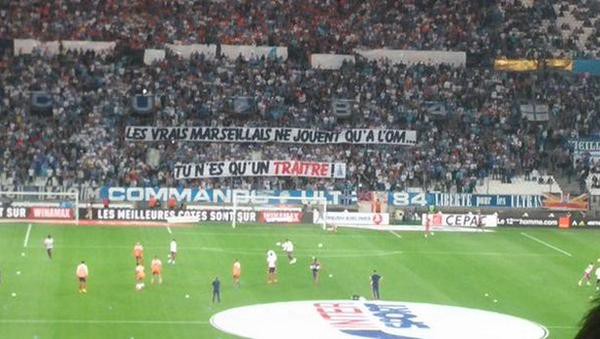 On the pitch, Romain Alessandrini was shown a red card just before halftime for welcoming Valbuena back with a hearty challenge.
@EvinCashman @PaOCallaghan @BadgeTM @SoccerSt_ alessandrini sent off http://t.co/WyhAyhqgJy

— D (@Deeee_28) September 20, 2015
When he went to take a corner kick during the second half, fans threw missiles at him, prompting the referee to halt the match for 20 minutes with Lyon up 1–0.
And when the match resumed, Karim Rekik scored an equalizer for Marseille, earning a 1–1 draw. So, all in all, this went about as well as Valbuena could have hoped.
WELL, IT DEPENDS ON WHAT YOU MEAN BY "FREE."
Enter your best email for full access to the site.