Home
Dirty Tackle
DT Exclusive: The phone call that ended Brendan Rodgers' reign at Liverpool
DT Exclusive: The phone call that ended Brendan Rodgers' reign at Liverpool
October 6, 2015
https://www.gettyimages.com/
Brendan Rodgers was sacked as Liverpool manager after their 1–1 draw in the Merseyside derby. According to the Guardian, Rodgers was informed of the decision in a phone call from Fenway Sports Group president Mike Gordon. The following is a transcript of that phone call.
Rodgers: Hello?
Gordon: Brendan, how are you, buddy?
Rodgers: Proud.
Gordon: Great, great. Listen, I'm sorry I couldn't make it over there for the game today, but we've just got so much going on with the Red Sox here in Boston. As you know, we're in last place in the division and it just really hurts to have another club that's not in the playoffs.
Rodgers: As I told you before, Mike, there are no playoffs in the Premier League.
Gordon: Right, right. Anyway, who'd we play today?
Rodgers: Everton.
Gordon: Yeah, I heard it was a tie. That's a shame. It's always great when we can beat those London clubs.
Rodgers: They're not from London, Mike. They're our local rivals. Their ground is just on the other side of Stanley Park from ours.
Gordon: Interesting. I didn't know they moved that franchise. Hey, the reason I'm calling is to tell you that you're fired. It's just not working and we have to make a change if we're going to have any shot at the playoffs this year. I'd say that I'm sorry to do this over the phone, Brendan, but I'm not.
Rodgers: You're sacking me? But Bill Shankly and Bob Paisley both said I'm doing a great job. That's a direct quote!
Gordon: What are you talking about?
Rodgers: Look — I'm sending you a picture, Mike.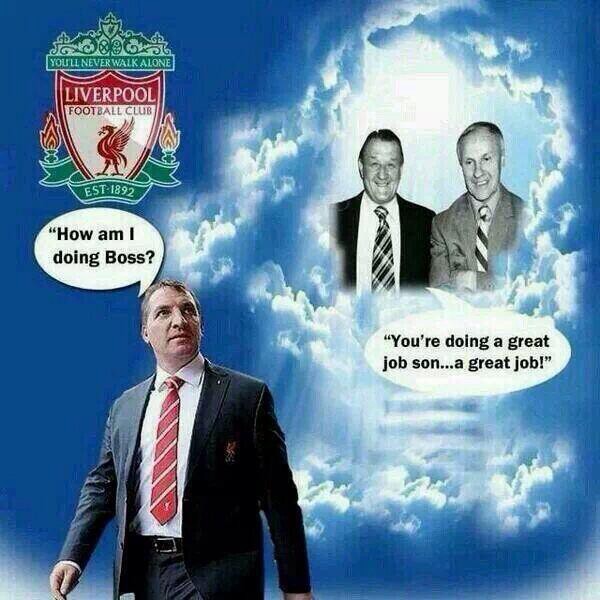 Gordon: This isn't real, Brendan. It's clearly just a photoshop from the internet. Both these men are dead. I know this because we inquired about their availability now that you're fired.
Rodgers: I'm asking you to reconsider this decision. If you had seen today's match, you would know that we showed tremendous cha-
Gordon: Don't say "character," Brendan. Do not say "character." If you say "character" again, we're going to fire you twice.
Rodgers: Character. I had to say it. You can't just push character back in after it's already started to come out.
Gordon: You're double fired.
Rodgers: I almost won the league two years ago. No one else could have gotten Luis Suarez to single-handedly carry the team the way I did. After every goal he scored, I'd tell him "Well done, Luis" and he appreciated that greatly. It's what spurred him on to believe himself so much that he knew he could make it at Barcelona and he did. I'm not frequently compared to one of the greatest managerial minds of our time for nothing, you know.
Gordon: Are you talking about David Brent from The Office? That's just a character in a television show. That's not a flattering comparison.
Rodgers: David Brent in the wildly popular television documentary The Office, yes.
Gordon: It's not a documentary, Brendan. It's a fictional show based on an American show of the same name.
Rodgers: If you have to tell yourself lies to justify your decision in order to sleep at night, so be it. I have many other offers from bigger clubs eager to take on my amorphous talents.
Gordon: From who?
Rodgers: I'm not entirely sure. My agent has three envelopes and he says each one contains an offer from a major club.
Gordon: Ok, well, good luck to you, Brendan.
Rodgers: And good character to you, Mike. Good character to you.
Contributors
Howler
TAGS
WELL, IT DEPENDS ON WHAT YOU MEAN BY "FREE."
Enter your best email for full access to the site.