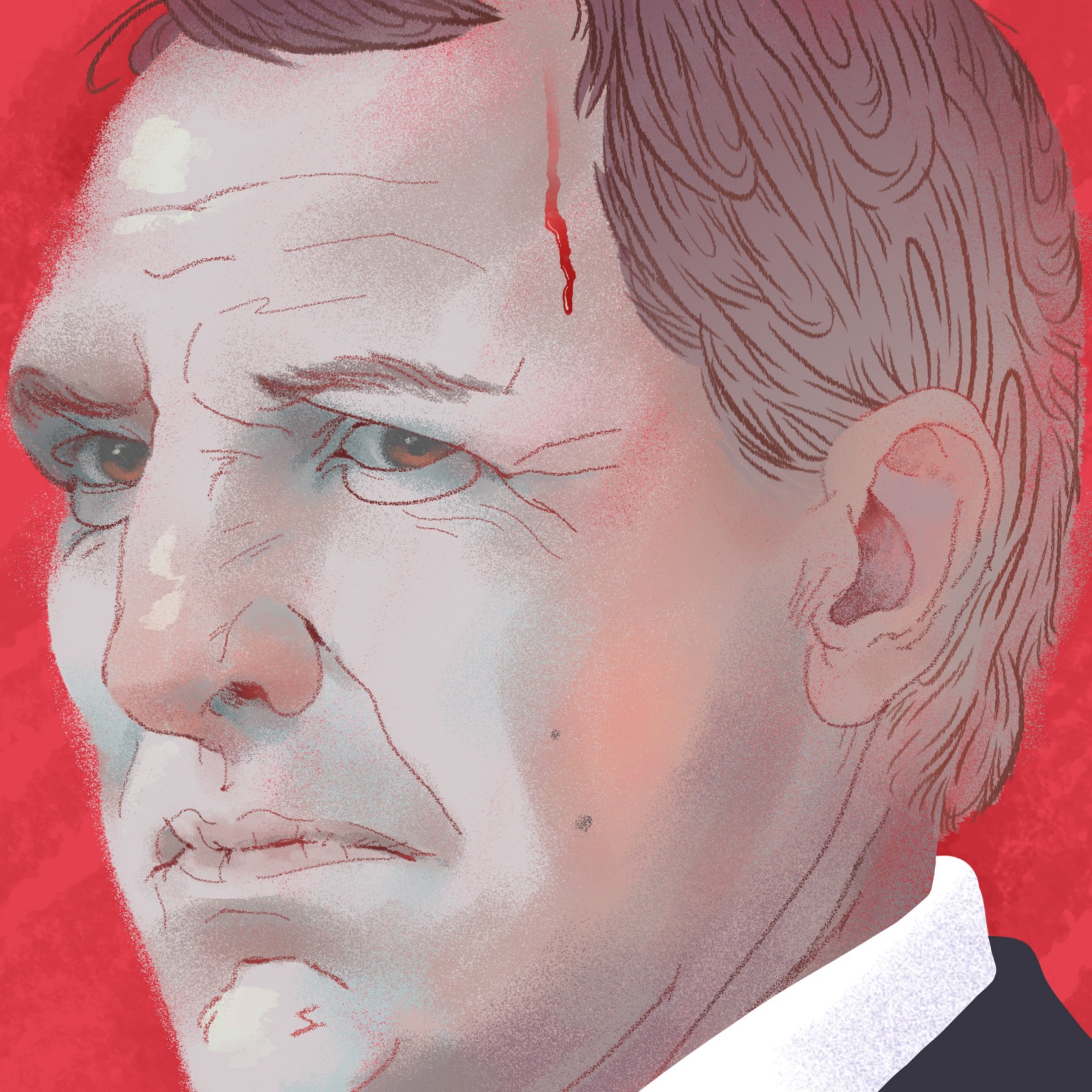 Where did it all go wrong for part-time tactical genius Brendan Rodgers?
By Kevin Alexander | Illustration by Eamonn Donnelly
"What I say to the players is this: "The crown is on your head, my friend. You are the king of your destiny" — Brendan Rodgers
[T]here was a time in 2011 when Brendan Rodgers was the thing. Do you remember that time, friends? When Rodgers and his creative style of play (though basically inherited from Roberto Martinez BUT WHATEVER) made Swansea — the first Welsh team to appear in the Barclay's Premier League — the trending topic of the year, outside of Oprah taping her last show and not giving anyone cars.
Or don't even go back that far. Instead, think back just 17 months, when Rodgers won the League Managers Association Manager of the Year across all divisions for engineering a season that featured some of the most exciting and open attacking displays of football I've ever seen. The Reds scored 101 goals (the most in 119 years), won eleven games in a row at one point, nearly took the damn league away from Man City and had a… toothsome attack featuring Suarez, Sturridge, Sterling, and several midfielders without alliterative names. Steven Gerrard didn't anonymously live in LA, getting cut in line at In-N-Out by the likes of Frankie Muniz. Rodgers had a new four year contract in hand.
And yet, now he's gone. Eight games into the season, following a draw in the Merseyside Derby, Rodgers was sacked by the Fenway Sports Group. A man who, a year and a half ago, was being talked about on Back Egerton Street in the snugs of Peter Kavanagh's as a legend-in-the-making, the next Bob Paisley even, is now likely talking to his agent about doing some color commentating for Ballymena United's home matches.
So where did it all go wrong?
• • •
"My biggest mentor is myself because I've had to study, so that's been my biggest influence." — Brendan Rodgers
According to the media coverage surrounding the event, Rodgers was equal parts: a creative tactical genius, a bumbling idiot who couldn't keep his foot out of his mouth, an open-minded player's manager, unable to evaluate players correctly, hard-headed and cocky, confident and sure-footed, a problem solver who didn't try and conform his players to a style but instead adapted a style to his players, or a problem creator who had to be babysat.
Liverpool became perhaps the most entertaining team in the EPL since the 2010 Blackpool squad who played in a formation that could best be described as 2–2–6.
And weirdly enough, maybe all of these things are correct. Sometimes he seemed a tactical sophist of sorts, like a man who spent years reading in prison but never actually went to college, so he feels the need to flaunt his big words. But that isn't to say he didn't understand them. He had a certain stubbornness in his relationship to modern tactics, to the progression of the game, to be in the cool kids club, with Mourinho and (ironically enough) Klopp and their ilk. You could call his style continental, but it wasn't rigid. His 2012–2013 Liverpool squad played a possession heavy tiki-taka, but when given the chance to experiment with a more open-style the following year, he took it, and Liverpool became perhaps the most entertaining team in the EPL since the 2010 Blackpool squad who played in a formation that could best be described as 2–2–6.
Perhaps his Northern Irish accent played a part. As opposed to the lilting qualities of the Irish accent — which loops up and down in a legato way as if someone is always singing a cappella — the Northern Irish accent has the same structural buildout, but the jaw remains tight and low so that lilt is blunted into something more monotone. And that is something of a metaphor for their people, who have faced enough to know that too much inflection in their voice might tip their emotional hand, and so every sentence sounds like it's steeling itself for bad news.
And here it is: he's now been replaced by Borussia Dortmund's Jurgen Klopp, essentially the German Brendan Rodgers of 2011. Klopp, who looks like Sean Bean playing Val Kilmer playing Simon Templar in a German remake of The Saint, is a media darling, a fact the media loves to point out as they make cooing noises at him while he delivers line after line of the German equivalent of humor. But he also comes sporting an entirely impressive LinkedIn resume — guiding Mainz 05 into the Bundesliga for the first time ever; winning the Bundesliga with Dortmund during a legendary 2011 season that saw them go unbeaten for 28 straight matches, and taking them to the Champions League Final in 2013, beating none other than Jose Mourinho along the way.
You will hear a lot being made of Klopp's signature style of "gegenpressing" in the coming weeks, a tactic that involves extremely intense pressure on the ball for all 90 minutes and swift, direct, open counter-attacks once that ball is retrieved. It is a swashbuckling, cavalier style that involves organization, communication and an extremely high level of fitness to pull off successfully. When done correctly, it results in some electric open play and high scoring matches. Most of the Liverpool players should have no problem picking it up. After all, they were playing a certain Northern Irishman's version of it about 17 months ago.

Kevin Alexander writes a monthly column on the EPL and wants to be an executive producer on that Saint remake. Follow him to Sean Bean's IMDB page @KAlexander03.
Contributors
Howler
TAGS
WELL, IT DEPENDS ON WHAT YOU MEAN BY "FREE."
Enter your best email for full access to the site.