In twelve yards, author Ben Lyttleton sets out to change the way you think about penalties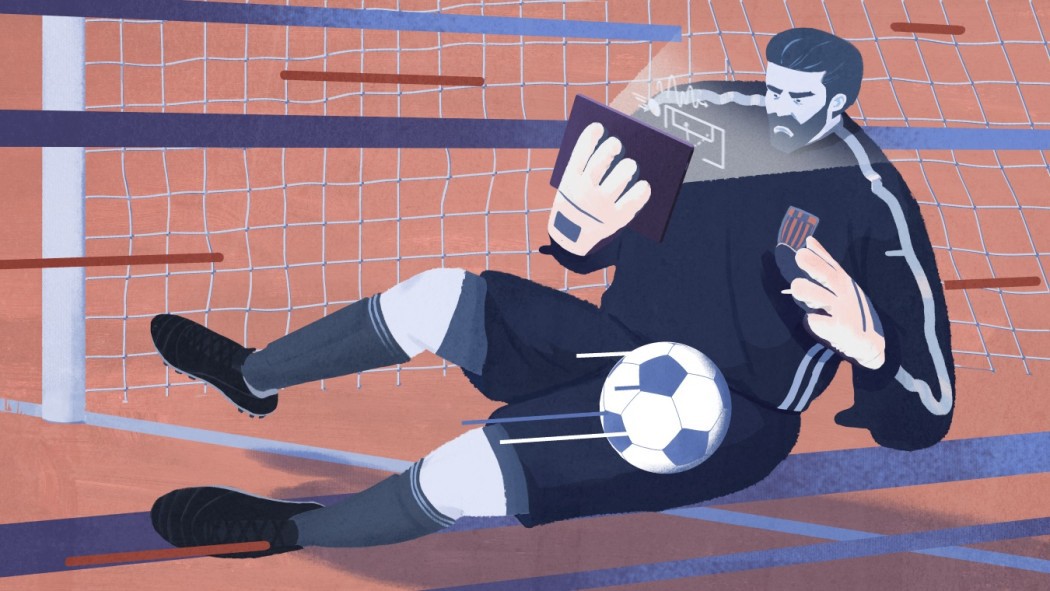 On a hot July day in 1994, Brazil won its fourth World Cup, defeating Italy in a penalty shoot-out. It was the first time the World Cup final had been decided on penalties, and FIFA General Secretary Sepp Blatter was appalled. The sight of Italian striker Roberto Baggio, whose goal-scoring heroics had fuelled Italy's tournament run, sobbing into his hands after he missed the decisive penalty seemed to expose the cruel arbitrariness of tie-breaking shoot-outs. Blatter, who has made a career of spewing grandiose promises that prove impossible to keep, swore that no future final would be decided on penalties. "Football is a collective sport, while penalties are an individual skill," he said.
In the thorough, well-written and altogether excellent Twelve Yards: The Art and Psychology of the Perfect Penalty, soccer journalist and sports consultant Ben Lyttleton mounts a convincing defense of the procedure Blatter so reviles. "Let's be honest, we have all watched a match in extra time and hoped for no more goals so we can enjoy the drama of a penalty shoot-out," Lyttleton writes in his prologue. "It's the essence of the game, soccer at its most elemental."
Twelve Yards alternates lengthy, data-driven chapters exploring the art and science of the penalty with shorter accounts of the "penalty icons" whose blunders and innovations have turned spot kicks into a cultural institution. Some of these stories are familiar, others practically unknown. But Lyttleton, who is just as interested in the cinematic drama of the shootout as in the influence of game theory on shot placement, fills each section with fresh reporting and rich, often humorous details.
Twelve Yards includes original interviews with a remarkable number of high-profile players, coaches and referees: Antonín Panenka, Tom Henning Øvrebø, Lothar Matthäus, Christophe Lollichon. The practical insights of Portuguese goalkeeper Ricardo, the man responsible for two of England's last three shoot-out defeats, neatly complement the academic research of economists like Ignacio Palacios-Huerta, who also features prominently in Soccernomics, Simon Kuper and Stefan Syzmanski's influential study of soccer statistics.
As a sports consultant, Lyttleton works with Kuper and Syzmanski, packaging statistical reports for professional teams from around the world, and devoted Soccernomics readers will find some of the material in his book familiar. But Twelve Yards is not a 300-page rehash of Kuper and Syzmanski's memorable chapter on "the economist's fear of the penalty kick." It's a comprehensive study of penalty technique, offering new analysis of the numbers and fascinating evaluations of individual teams and players. It's also a pleasantly obsessive history of pretty much every important or unusual penalty ever taken, from Panenka's chip in the 1976 European Championship final to the first "two-touch" conversion.
Lyttleton makes occasional missteps, including a somewhat silly chapter about whether goalkeepers who take penalties and free kicks (Rogério Ceni, Hans-Jörg Butt) are truly "crazy," whatever that's supposed to mean. And two fascinating passages about the surprisingly controversial origins of the penalty kick are relegated to the appendix, a surprising decision given that the rest of the book seamlessly integrates science and history in a coherent, entertaining narrative. But these shortcomings hardly detract from Lyttleton's central argument: Penalties are not controlled by the whims of the soccer gods. They can be analyzed and understood.
Every soccer fan has heard the familiar claim that penalties constitute an unfair, unsporting, unacceptable blight on the otherwise beautiful game; Lyttleton persuasively rebuts that argument in his first 100 pages, in a series of chapters explaining why certain countries perform poorly in shootouts. Turns out England isn't a victim of bad luck, hot weather or shoddy refereeing. The team's failures mostly come down to inadequate technique and lousy preparation: English players employ ineffective "avoidance strategies," such as rushing the kick or turning away from the goalkeeper, at a much higher rate than do their international peers.
Further, Lyttleton argues, the expansive, free-flowing soccer played in countries like Ghana and Holland produces players who are singularly ill-suited to the rigors of high-pressure penalties. "The essence of [Dutch legend Johan] Cruyff the soccer player was all about movement and intuition," Lyttleton writes. "The idea of standing still and waiting for a referee's whistle before he could kick the ball was anathema to him."
 Are the shootout woes of Holland and England responsible for the mythology of failure that dogs both nations? Or do their perennial struggles merely indicate broader cultural and institutional weaknesses? Lyttleton does not set out to definitively answer these questions. But his book, a refreshingly thoughtful exploration of some of soccer's oldest trends, succeeds in framing the discussion in new and interesting ways. Sepp Blatter, who still considers penalties "a tragedy" for the sport, would surely disapprove. There are plenty of good reasons to read Twelve Yards. The pleasure of spiting the FIFA president is just a bonus.

David Yaffe-Bellany is an editorial assistant at Howler and the author of the In For The Hat Trick blog. Follow him on Twitter @yaffebellany.
---
Originally published at www.howlermagazine.com on October 8, 2015.
Contributors
Howler
TAGS
WELL, IT DEPENDS ON WHAT YOU MEAN BY "FREE."
Enter your best email for full access to the site.