U.S. lose three straight home matches and that makes sense
October 14, 2015
https://www.gettyimages.com/
The United States lost 1–0 to Costa Rica in a friendly, giving them three consecutive home losses in the run up to the start of 2018 World Cup qualifying next month. This is obviously concerning for anyone who cares about the team, but the main issue is a simple one: they're just not very good right now.
Of course, this might be hard to swallow for some. After all, the U.S. escaped a difficult World Cup group just one year ago and the game has experienced rapid growth over the last decade in America. But the development of any national team does not move in one direction at a constant rate for any nation — even those with the longest histories, best youth development systems, and greatest domestic leagues.
Just look at the Netherlands. They finished third in Brazil last year and on Tuesday they failed to qualify for Euro 2016, which has been expanded from 16 teams to a whopping 24. Or, going in the opposite direction, take Mexico. A couple years ago they were a shambles — losing in the Gold Cup semifinals, at risk of not even qualifying for the World Cup, and widely believed to be settling into the role of being a permanently distant second to the U.S. within CONCACAF.
But after reaching the World Cup knockout stage last year (where they lost to the Netherlands, coincidentally), they have now won the Gold Cup, beaten the U.S. in a playoff to claim a spot in the Confederations Cup, and won CONCACAF's U-22, U-20, and U-17 titles. And in the midst of all this success, they're about to have their third senior team manager of 2015.
Meanwhile, the blame for the U.S.'s current lifelessness is primarily falling on coach and technical director Jurgen Klinsmann, who has been a divisive figure throughout his four years in charge as a result of his uneven results and public criticism for the country's youth development system, top domestic league, and his own players. To say that he is the primary problem for the U.S. is to use him as a scapegoat, though.
A different coach could arguably get more out of the current group of players at Klinsmann's disposal, but how much more? The U.S.'s talent pool is clearly in a transitional period that has nothing to do with who the coach is. Landon Donovan has retired, Tim Howard decided not to play international football for an entire year, Clint Dempsey is having his most productive year for the national team but he's getting older, Michael Bradley is good, and most everyone else just isn't good enough pin high expectations onto.
Then there's USSF president Sunil Gulati, whose unopposed tenure can be summed up with this one image…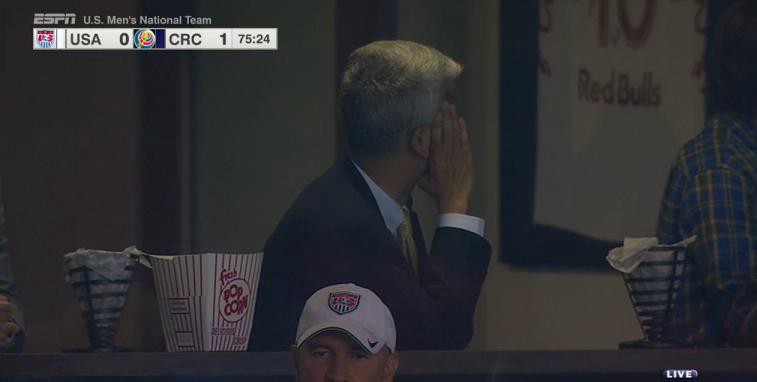 With all of that said, my point isn't that the U.S. is hopeless. It's that talent levels fluctuate, form comes and goes, coaches need to be adaptable, and big picture issues are ultimately the responsibility of a federation president who needs to do more than just collect a paycheck for a confidential amount of money and publicly admonish FIFA while using the password protected Wi-Fi at their headquarters.
The U.S. will continue to improve while taking more than occasional steps backwards, new players will come through the ranks that will inspire and frustrate, and all of this might even happen with Klinsmann still at the helm. But to expect consistency from any national team, let alone one that's still assembling its foundation while thinking about a color pattern for its penthouse, is futile.
Contributors
Howler
TAGS
WELL, IT DEPENDS ON WHAT YOU MEAN BY "FREE."
Enter your best email for full access to the site.