Alan Pardew shows Jurgen Klopp who's boss (it's Alan Pardew)
November 9, 2015
https://www.gettyimages.com/
Jurgen Klopp was dealt his first defeat as Liverpool manager, losing 2–1 to Crystal Palace at Anfield. Scott Dann headed in the decisive goal in the 82nd minute and after the match, Klopp admitted that it was at that point that he felt he was, in fact, walking alone.
From the BBC:
"Eighty-two minutes — game over," said Klopp, who suffered his first defeat as Liverpool boos.
"I turned around and I felt pretty alone at this moment. We have to decide when it is over." […]
"I am not disappointed about this, the fans leaving, they have reasons," said the German. "But we are responsible that nobody can leave the stadium a minute before the last whistle because everything can happen.
"Between 82 minutes and 94 you can make eight goals, if you want, but you have to work for it."
Scott Dann and Liverpool fans weren't the only ones making Klopp feel sad, though. He also had to deal with a force of nature that he probably wasn't warned about before moving to England. Of course, I'm talking about Palace manager Alan Pardew, who crippled Klopp with mind games like making him talk to the hand (pictured above) and even going so far as to shush him.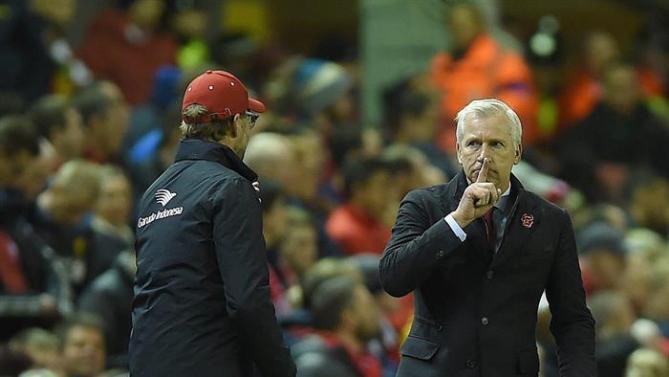 You simply don't recover from a Pardew shushing. This is the man who began the season by setting Jose Mourinho's Chelsea on the monorail to hell that they are currently riding, so he has now completed The Special One and Normal One double.
Though Palace are only in eighth place after a difficult October, this win and the previous week's scoreless draw with Man United show that a climb back up the table is underway. The Season of Pardew is upon us. Klopp might have gegenpressing, but Alan has his hand in Klopp's face. Consider yourself Pardew'd, Jurgen.
Contributors
Howler
TAGS
WELL, IT DEPENDS ON WHAT YOU MEAN BY "FREE."
Enter your best email for full access to the site.