NYCFC Drew Impressive Crowds in Its Debut MLS season, but the fans didn't always sing the same tune
By James Aviaz | Photographs by Jeremy Patterson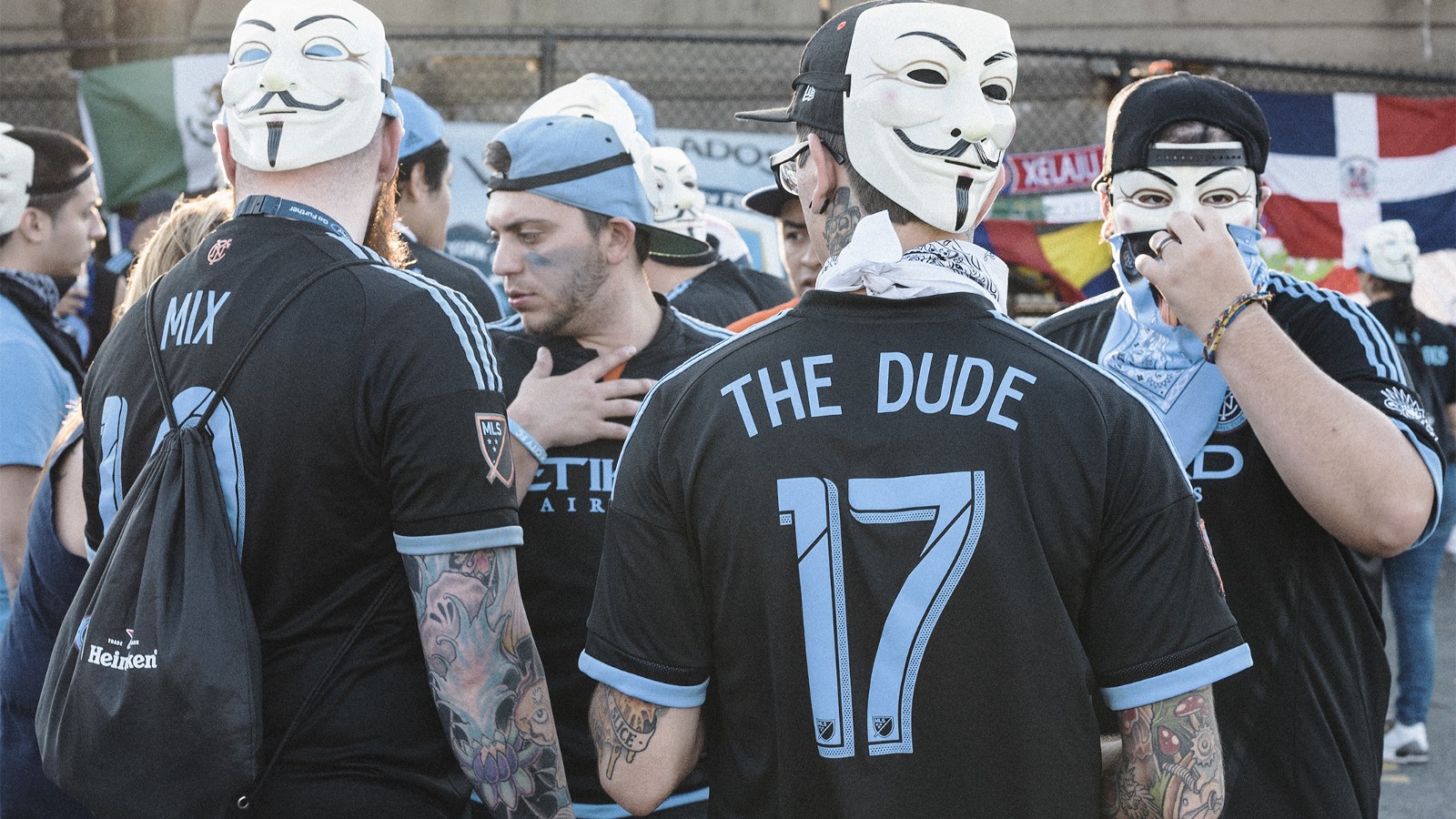 [B]lue smoke and blaring Latin music permeated the desolate parking lot alongside Yankees-E153 St. Metro North station. Positioned purposefully just out of clear sight from the street, a group of NYCFC fans were gathered around an assortment of South and Central American flags, beer-filled coolers, and camping chairs. Donned in matching sky-blue shirts and accessorized with bandanas and Guy Fawkes masks, they were whipping themselves into a frenzy before NYCFC's home match with San Jose. It was not your typical Yankee Stadium tailgate.
As fans of the Bronx's traditional team plodded through 2015 — what is left of them, anyway; Yankees' home attendances were down 25% from their 2008 highs — NYCFC's debut season has drawn New York soccer crowds not seen since the New York Cosmos phenomenon of the '70s.
My guide on this late summer's evening was Andrew Carpenter, a volunteer firefighter from Glen Cove, Long Island. For all of a week, Andrew had held the title of director of fan experience for NYCFC's largest official supporters group, the Third Rail. Though he was used to dealing with combustible situations, this party wasn't, strictly speaking, on his turf. The NYCFC fans here were largely comprised of an unofficial supporters group known as "Los Templados."
"Everyone's a big family," Andrew said. "We all know each other. There's been some splintering and [Los Templados] was something that started outside of Third Rail." We were chatting on the fringes of the tailgate. He snagged a Templados guy walking past. He didn't want to be interviewed, but said, "As long as you give credit to The Templados and everyone supporting, we're fine."
Third Rail has been working since 2013 to provide NYCFC fans with a unified voice, but its first season in MLS has featured a fair number of off-key incidents. In early August, NYCFC and Red Bulls fans brawled in Newark.
Later that month, a New York City police officer tazed a NYCFC fan inside Yankee Stadium prompting the ire of Third Rail President, Rox Fontaine, whose Change.org petition declared: "We are supporters; not criminals."
The ensuing protest, in mid-September — organized by yet another faction called Hooligans FC — added to the increasingly fraught relationship between NYCFC supporters and Yankee Stadium security.
…
[W]ith less than an hour to kickoff, Andrew and I entered the stadium so that he can attend to his matchday duties. We walk into Yankee Stadium's Section 236 — the official supporters area of Third Rail — and Andrew assumed his usual position in the front row. Somewhat out of place at the tailgate, Andrew was now ready to marshal his troops. First he oversaw the unveiling of the evening's tifo ("New York 'Till I Die"). When that was unfurled, he grabbed a bright orange megaphone the size of a traffic cone and launched into a chant. His favorite is NYCFC's take on "Come On You Bhoys In Green," a call-and-response used by Celtic fans to the tune, strangely enough, of "Yankee Doodle":
Andrew: City!
Everyone: City!
Andrew: Come on you boys in blue!
Everyone: Come on you boys in blue!
Andrew: New York is blue and white!
Everyone: New York is blue and white!
Oh oh oh oh oh oh oh etc [to the tune of Yankee Doodle's chorus]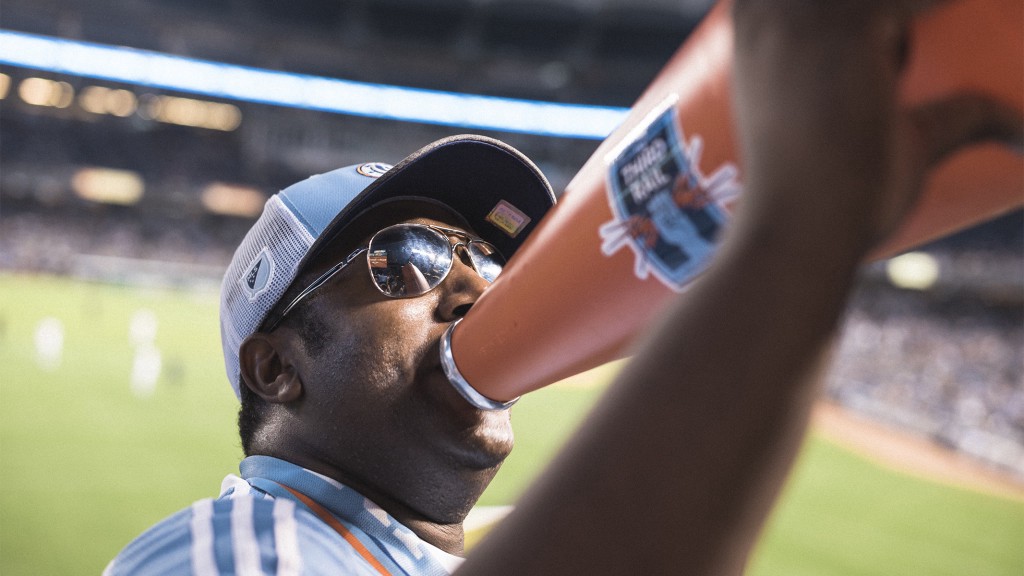 It was the first of several reappropriations on display throughout the game, ranging from "When New York Goes Marching In" to "NYC Ain't Nuthing ta Fuck Wit," originally by Wu-Tang Clan.
As the referee blew the game's opening whistle, tension between the fans in the Third Rail and its adjoining sections with stadium security was immediately palpable. In the opening minutes, security twice swooped in to scold fans for obscuring their faces with bandanas, which is expressly forbidden at Yankee Stadium. Hovering atop and in between the aisles, uniformed guards and NYPD were always nearby.
And it wasn't only off the field where things felt like they might explode. A succession of tackles delivered with the grace of hooved mammals left us wondering if the match would finish with 22 on the pitch. The Andrea Pirlo received the game's first yellow card in the 32nd minute for dissent. Two minutes later, San Jose's Clarence Goodson earned a caution for a clumsy challenge while Section 236 furiously waved yellow Metrocards in the referee's direction.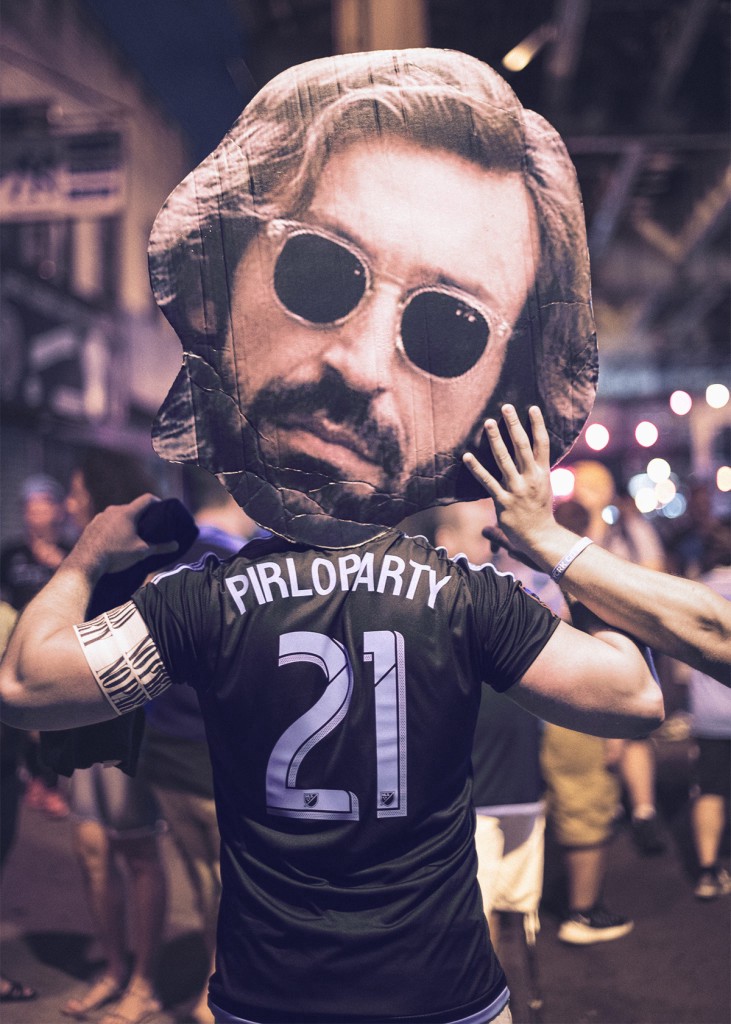 Moments later, Frank Lampard found the ball at his feet. He had already come close with his first two strikes, the second only narrowly thwarted after a deft one-touch, turn-and-shoot on the edge of the six-yard box. As he took hold of a Pirlo pass outside the box, the Third Rail again held its collective breath — but Lampard's was quickly closed down.
The remaining 10 minutes of play petered out to a dull conclusion except for another pair of quick-fire yellow cards (both accompanied by Metrocards) — Allen (44', NYC) and Pelosi (45', San Jose) — along with wasted chances by San Jose's Chris Wondolowski and Cordell Cato.
At halftime, Andrew took me to the concourse above Section 236, where Third Rail president Rox Fontaine was dispatching some of his members to the opposite end of Yankee Stadium. The plan was to orchestrate NYCFC's first-ever cross-stadium chant.
"It's definitely been a struggle," said Fontaine, who was elected in August, when I asked him about the issues he had faced during his time in charge. "There have been some issues, but as of right now, it's a lot better. You know, the approach to the game in Argentina is different than it is in, say, Turkey, and that's different than it is in Manchester City, and that's different than it is in MLS."
"So," he continued with a sentence that would have made any politician proud, "it's been a process trying to get everyone around a process that's unique to us."
…
[T]he second half began and the game, suddenly, came alive. In the 51st minute, the unlikeliest of heroes emerged. Midfielder Ned Grabavoy, who had not previously scored for NYCFC, combined perfectly with David Villa for a one-two followed by a superb strike with his left foot. Ten minutes later, the former U.S. U-20 international struck again — this time with a perfectly-timed header from a Frank Lampard cross. Moments later, David Villa coolly headed home his 16th goal of the season. Three-nil; a bucket of chicken tenders and fries airborne above Section 236. After a year of watching mostly disappointing soccer, NYCFC's fans were finally catching a glimpse of the playoff contender they hoped their team could be.
But then the Earthquakes rumbled to life. In the 72nd minute, a poor headed clearance by Lampard inside the San Jose penalty area looped up perfectly for Quincy Amarikwa to head home a soft goal. Less than two minutes later, an awful NYCFC back-pass gave Amarikwa a chance to double his tally. The young striker wrong-footed keeper Josh Saunders but hit the post. However, he made immediate amends by drawing foul in the box — the ensuing penalty calmly slotted home by Chris Wondolowski for his 15th goal of the season. Three-two.
With mounting San Jose pressure and 20 minutes still to play, the Third Rail's chanting intensified, fuelled by the hypnotic drumming coming out of Los Templados' adjoining section. (Credit received.) When the final whistle blew, NYCFC had secured a victory and kept alive the unlikeliest of playoff berths. In that thrilling moment, the Third Rail, Los Templados, and well, just about anyone in a sky blue shirt was ripe for the hugging — as long as you weren't dressed in stadium security standard issue.

Contributors
Howler
TAGS
WELL, IT DEPENDS ON WHAT YOU MEAN BY "FREE."
Enter your best email for full access to the site.