After fourteen years without a Swedish club in the Champions League, Malmö FF has done it back to back years. But to what end?
By Isaak Bowers | Illustration by Alvar Sirlin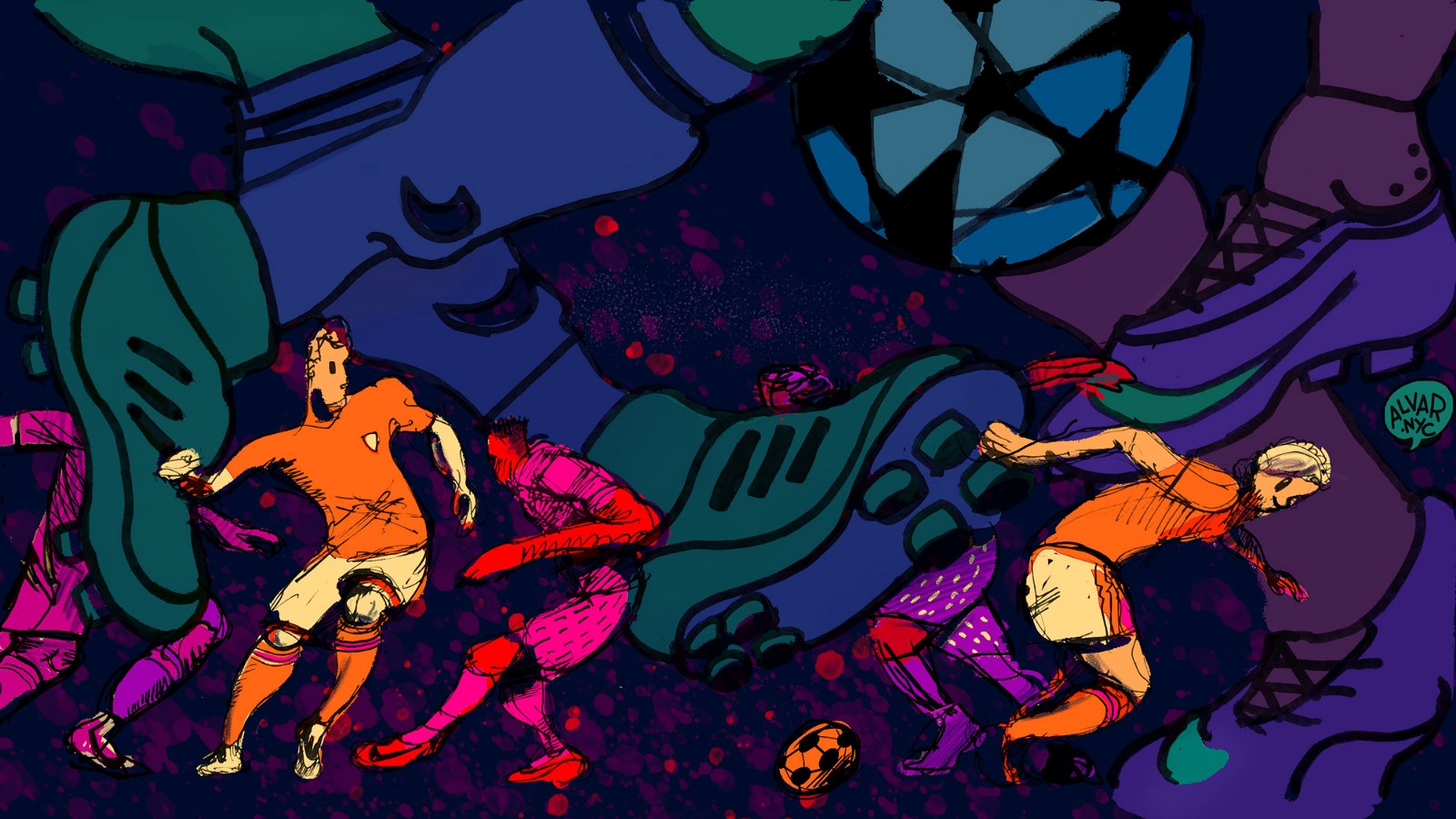 [I]f you've seen Malmö, you've seen the world. That was the new slogan of Malmö's major newspaper back in 1995 when it faced a severe budget crunch. With one sentence, the paper encapsulated the town's and the region's mentality: a concoction of stubbornness, confidence, and local pride distinct from the rest of the country–especially the mistrusted political and cultural establishment in Stockholm.
That toughness and touch of arrogance is part and parcel of the town's soccer team, Malmö FF. Historically one of Sweden's — and Scandinavia's — strongest sides, they even swaggered to the European Cup final in 1979, where they lost 1–0 to Nottingham Forest. It's evident in the feisty atmosphere and local pride found at Malmö's Swedbank Stadium, enough to merit a "good" from Zlatan (which, when not talking about himself, must be ebullient praise). Ask a non-card-carrying supporter if they could get tickets to a Malmö home match in the Champions League. Any answer other than a meek "no" is a lie.
Just reaching the Champions League has been a lot of fun and great for local bragging rights. Beyond that fun, though, the Champions League goodies — the player exposure, the boost in profile, and a minimum of $20m dollars — will be milestones for Malmö's future.
…
The European football Malmö plays today isn't like it played in 1979. The Champions League is more than a soccer tournament; it's a self-sustaining economic force, a money machine molding the continent's soccer landscape according to its will.
The most obvious consequence of this transformation is "the superclub" phenomenon. A tiny elite of the strongest and richest clubs from the continent's top nations now boss the European club game. Top-dogs replenish every year thanks to Champions League glamour and revenue.
The same thing happens one step down, among the mere mortals fighting over superclub scraps, the occupants of the other twenty or so Champions League berths. The big clubs go for continental glory. These second-tier clubs like Porto, Ajax, and Shakhtar instead use the status and revenue to sustain their domestic dominance.
This is Malmö's end-goal from the Champions League: to be Scandinavia's top representative in the pack of medium dogs, and to leverage those benefits into perennial leadership of the Allsvenskan. Football dominance doesn't happen overnight, though. The city of Malmö, whose written history dates back to 1275, clearly wasn't built in a day. The club's local rivals should worry, but they still have a few years of Malmö gaining steam before their backs are fully against the wall.
…
On the pitch, this season's Champions League campaign has been unremarkable, more or less a repeat of last year's predictable defeats, outright collapses, and occasional wins. Off it, though, Malmö are clearly heading in the right direction. The prime example is the club's high player turnover in the last several years, a hallmark of Europe's second tier. Clubs like these always know they're pitted against the allure and wages of the superclubs for their players. To defend their place in the hierarchy they must constantly reinvest in replacements and club infrastructure to make jolted, haphazard, transitions appear seamless. The best teams in the second-tier do it year after year. One bad year for the less fortunate, though, and everything can unravel.
Since 2010, Benfica has bounced back year after year since despite losing the likes of Angel Di Maria, David Luiz, Fabio Coentrao, Axel Witsel, Nemanja Matic, and Ezequiel Garay. With the $170m they earned from selling these players, Benfica continually and effectively rebuilt its side. It's won back-to-back league titles and reached the 2014 Europa League final. 62 players have come in over the last four summers, the notable hits being keeper Jan Oblak, winger Lazar Markovic, Brazilian talent Talisca and goalscorer Raul Jimenez. Oblak and Markovic have since moved on as well, to Atlético Madrid and Liverpool, respectively.
Malmö has not failed to notice that the Champions League is the best display window of European soccer, and its transfer dealings are similar to those of the medium dogs. The club has long long had a reputation for producing talent, but interested suitors always had to take the relative weakness of the Allsvenskan in account. Potential buyers need no longer guess how Malmö FF players stack up against Cristiano Ronaldo. Now they can take a flight north and see for themselves.
Potential buyers need no longer guess how Malmö FF players stack up against Cristiano Ronaldo. Now they can take a flight north and see for themselves.
Malmö only has three players left from last year's Champions League squad: right-back Anton Tinnerholm (soon to be sold), midfield dynamo Enoch Kofi Adu (also soon gone) and striker Markus Rosenberg (who is staying put, having just returned home after a decade abroad).
Last year's center-backs, recent national team call-ups Erik Johansson and Filip Helander, left for Gent and Hellas Verona, respectively. So did goalkeeper Robin Olsen (also a Sweden squad member), to PAOK. Veterans Markus Halsti (DC United) and Ricardinho (Azeri club Gabala) opted for final paydays, which was also the likely motive behind midfielder Magnus Eriksson's move to China's Guizhou Renhe. Wingers and national team contenders Erik Forsberg and Simon Thern moved to Red Bull Leipzig and Heerenveen, while Bordeaux shelled out $4.5m for non-scoring striker Isaac Khiese-Thelin. Even if both the sums and suitors lack a top pedigree — not yet on the level of, say Shakhtar — the deals brought in $15m, invaluable seed money going forward. Remember, Malmö can't be built in a day.
Equally telling is how Malmö reinvested. Replacements have come from clubs outside Malmö's usual Scandinavian orbit, like Augsburg (striker Nikola Djurdjic), fifth in last year's Bundesliga, Cardiff (attackers Jo Inge Berget and Magnus Eikrem), and FC Twente (center-back Rasmus Bengtsson). Remarkably, they also pipped Atlético Madrid for Serbian winger Vladimir Rodic, whom the Spanish club only wanted on loan. The total transfer bill spent on frees, loans, and bargain hunts amounts to less than $1m. The other $14m has gone to improving the club infrastructure, most notably taking over total ownership of their stadium.
To build on this development, though, Malmö needs continued European soccer, preferably in the moneyed, prestigious confines of the Champions League. Occasional Europa League campaigns, though, wouldn't hurt, and Malmö could actually get some silverware in that competition.
Malmö now finds itself at a crossroad. On the heels of Allsvenskan championships in 2013 and 2014, the club slumped to a fifth-place finish this year after a campaign marked by poor player chemistry and team consistency. For the first year in six,Malmö will miss out on European soccer.
There is, however, a potential and unexpected savior for Malmö. Should Malmö win the pre-season Swedish Cup, it would be awarded a Europa League spot two months later, independent of its 2015 league finish. Few in Sweden may actually care, but for Malmö, it's a lifeline for reinvigorating its quest, now at-risk, to become another European medium dog.
For now, the Champions League is a fun diversion before Malmö's pivotal 2016 season. From the very start, the pressure will be on to snatch a third straight season of European soccer, to grab hold of the momentum generated by back to back stints in the Champions League. Should everything go to plan, Malmö's rededicated squad will dominate Sweden, qualify for Europe, and start properly pushing for a place in Europe's gilded second tier. The pressure is on from the start of 2016; but who said it was easy to become a superclub?

Isaak Bowers is a Howler contributor. He lives in Sweden. Alvar Sirlin is an illustrator for Howler and currently one of the four Drawn Offside fellows.

Contributors
Howler
TAGS
WELL, IT DEPENDS ON WHAT YOU MEAN BY "FREE."
Enter your best email for full access to the site.