Steven Cohen's radio show found a loyal following hundreds of thousands strong by bringing Premier League talk to the American masses. But his adherence to a poisonous view from a dark period of English football brought it crashing down.
by David Yaffe-Bellany | illustration by Quentin Schwab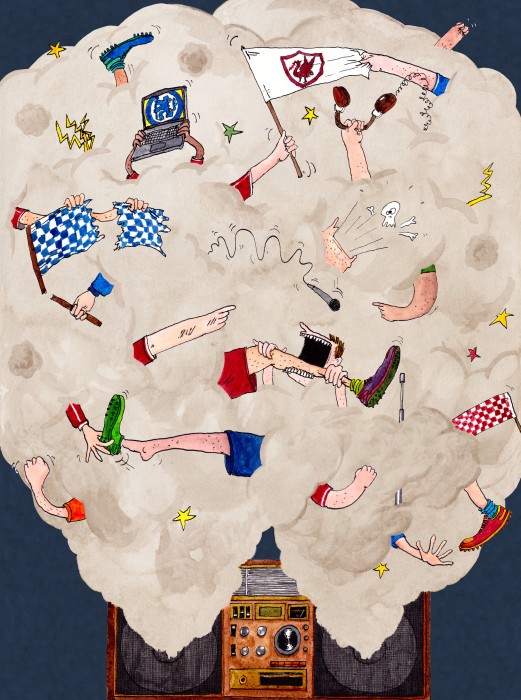 On August 21, 2009, the Los Angeles–based radio show World Soccer Daily opened with the usual clanging drums and indecipherable screaming of its rock-and-roll theme song. After a few seconds, the familiar drawl of the show's founder and co-host, Steven Cohen, cut through the noise. "It's not a happy Friday," Cohen said. "Today is the last World Soccer Daily."
Cohen paused to let his listeners absorb the news. Over the previous seven years, the host's loud, brash on-air persona had attracted a loyal following of more than 300,000 daily listeners. On that August day, with World Soccer Daily 12th in the iTunes sports podcast charts, he sounded different. The rock music faded to a murmur, and Cohen launched into an unusually subdued monologue.
"Hate wins, anti-Semitism wins, rage wins, and I'm not going to put my job through this kind of firing line anymore," Cohen said. "This is a country based on freedom of speech, freedom of ideas, freedom of business, freedom of a lot of things, but the hate and the anti-Semitism that has been raging from the Liverpool contingent for the last five months — for me it's over."
Four months before his announcement, Cohen had enraged fans of Liverpool Football Club by claiming on-air that several thousand ticketless Liverpool supporters forcing their way into the 1989 FA Cup semifinal had caused the Hillsborough stadium disaster in Sheffield, England, in which 96 Liverpool fans died. Throughout the summer, a Liverpool fan club based in New York, the LFCNY, had orchestrated an aggressive boycott campaign targeting Cohen and his show. In a matter of months, Cohen lost his gig hosting a weekly television show, sponsors terminated their contracts with World Soccer Daily, and Chelsea Football Club, the team Cohen had supported from boyhood, publicly denounced him. Every day, he said, his e-mail inbox filled with death threats and anti-Semitic taunts from outraged fans.
The music stopped. Cohen kept talking. Missing was his trademark mixture of outrage and outrageousness. He spoke quietly, pausing at frequent intervals. He said he was angry, but he sounded depressed: "It's a sad, sad day, I think, for football in America and for freedom of everything."
Cohen would later claim that the day before he abandoned his show, his 12-year-old stepdaughter had been threatened on Facebook. When the doorbell rang that evening, he had paused before answering it, frightened of what he might find on the other side. His address had been posted online for months. A few weeks earlier, in an Internet chat room, a Liverpool fan had written, "I just wish that people who made 'death threats' actually had the balls to follow through with them."
His visitor that night turned out to be a political activist armed only with a clipboard, but the momentary terror convinced Cohen that it was time to end World Soccer Daily. "It only takes one of these guys," Cohen told me last year. "I lived, for a period of time, in absolute fear for my life."

I met Cohen in July 2014 at a Starbucks in Los Angeles. He arrived a couple of minutes early, wearing a suit and tie. In his television days, Cohen had boasted an impressive collection of soccer T-shirts, many of them bearing slogans like "I Lost My Hubcaps at Anfield." Learning that I'm from New Jersey, Cohen volunteered that he enjoyed Bruce Springsteen's music.
"Like Christie," I joked.
"Except I'm not an asshole," Cohen replied.
He paused, the moment hung for an extra beat, and then he shrugged and sipped his coffee.
Cohen was born in 1962, into a Jewish North London family. At school, his classmates called him a "dirty Jew," hissing to mimic the sound of Nazi gas chambers. "I got into a little trouble fighting with some schoolboys my age after they had made some comment about my being Jewish," Cohen writes in Not Blowing Smoke, a collection of personal essays he self-published in 2011. In 1980, after graduating from high school, Cohen moved to Israel, where his father was running an ice-cream business. He lived on a kibbutz for two years, relaxing in the sun, chasing women, and learning Hebrew because "not all the hot girls in Israel spoke English."
In 1982, after falling out with his father, Cohen moved to New York to live with his aunt, who agreed to take him in on the condition that he curb his adolescent high jinks and join the U.S. Army. Cohen spent three years on a multinational peacekeeping force in the Sinai Desert. On December 12, 1985, a plane carrying 248 soldiers from his division, as well as eight crew members, crashed in Gander, Newfoundland, killing everyone on board. Among them were seven soldiers who had played alongside Cohen a few days earlier in an impromptu soccer match against a team from the Egyptian Army. Cohen had been scheduled to take the same flight, but at the last minute, his commanding officer asked him to remain in Israel for an additional week.
In Not Blowing Smoke, Cohen casts the plane crash as a pivotal moment in his maturation. Thoroughly chastened, he started to concentrate on building a career. When his army tour ended in 1986, Cohen moved to L.A., where he worked in marketing for Pepsi, McGraw-Hill, and Risk Records before landing a job selling advertising for the radio station KFI AM 640.

In the early 2000s, Cohen was still working at KFI, and soccer still received scant attention from the American media. ESPN owned the rights to the European Champions League but aired only one game per week. "Where a Champions League game could be or should have been, they would have, like, high school cheerleading," Cohen said. Fox Sports World was the only English-language channel that showed European soccer regularly. Fans could chat about the latest news on Internet forums, but nothing resembling today's vibrant online soccer community existed.
"There were no radio shows; there were no podcasts," Cohen said. "There was nothing here. The one thing I'm proud of is that we were the first. We were the first." By "we" Cohen meant himself and Nicholas Geber, a marketing executive who in May 2001 bought airtime for an Anaheim Angels advertising campaign on one of Fox's AM radio stations in L.A. But Geber, who grew up in London, wasn't particularly interested in Major League Baseball. "I was very busy talking, any moment I could get, about football," he told me in the summer of 2014. Geber turned his office into a shrine to Liverpool, his favorite team, hanging signed jerseys and photographs on the walls, and discussed English soccer with the Arsenal fan who worked in the room next door.
As Geber wrapped up the ad deal, a group of Fox Sports Radio employees introduced him to an acquaintance of theirs, a soccer-obsessed Brit named Steven Cohen. The two expats met for coffee in early 2002 and soon bonded over their shared passion for English soccer. "And Fox Sports said, 'Hey, you guys should put on a radio show,'" Cohen recalled. "What they really meant was, we should pay a ridiculous amount of money for them to air our show."
Cohen and Geber auditioned at Fox Sports' Koreatown studio. They were awful, Cohen said, but the 2002 World Cup was coming up, and Fox needed new programming to fill an empty Saturday morning slot. The station charged Cohen and Geber $1,400 a week for the one-hour slot. Any revenue from commercials they could sell against the show would be theirs to keep.
"There's something extraordinarily obscene about dragging in 96 families and telling them that they deserved what they got, that they were murdered by their own."
The first episode of World Soccer Weekly aired a few days before the World Cup kicked off. Cohen and Geber had low expectations. They were paying for the right to discuss an unpopular sport in an undesirable weekend time slot. But then something surprising happened: the studio's phone lines started to light up.
"I think we had six or 12 lines going in the studio," Geber said. "And it wasn't just expats. It was everybody."
They continued to broadcast World Soccer Weekly throughout the World Cup. At the end of the tournament, they decided that, for the show to survive, they needed to find a radio station willing to carry it at a better time of day.
They traveled to San Francisco to seek advice from Andrés Cantor, the host of the Spanish-language soccer radio show Fútbol de Primera and a commentator known for his enthusiastic goal calls. Cantor listened patiently as Cohen and Geber described their plans for World Soccer Weekly. Then he erupted with laughter.
"You want to do what?" Cantor said. "English-language soccer on American radio?" He knew the business, understood the market. "You're out of your mind!"

By the end of the summer, Cohen and Geber had found World Soccer Weekly a new home at the Sporting News Radio Network. The show had a two-hour Monday evening slot in New York, Boston, and L.A. They paid $2,200 for the airtime. Geber rented office space in the Westchester neighborhood of L.A. and built a studio with several thousand dollars' worth of equipment from eBay. Sometimes the landlord, a talkative World War II veteran, would wander into the studio during live broadcasts.
Cohen negotiated advertising deals with local pubs and mom-and-pop trophy stores in an effort to make the show profitable. He quickly learned that British companies made the easiest targets.
"You called somebody up, and you'd go, 'Hi' — and it's pissing down with rain in Manchester — 'I'm calling you from Los Angeles,'" Cohen said. "And they'd call you a lucky so-and-so, and you get to the right people. And then we just lied about the numbers, of course. It was all smoke and mirrors."
Cohen and Geber didn't know how many listeners World Soccer Weekly was reaching — Sporting News never gave them ratings figures — but Cohen's cold calls soon raised enough money to expand their output to three shows per week. In 2003, they started a weekly LA Galaxy podcast, which led to a hosting gig at the Miss Galaxy beauty pageant. "We were becoming these quasi-F-list celebrities," Geber said.
Cohen's obsession with Chelsea, which was transforming into a powerhouse under the ownership of Russian billionaire Roman Abramovich, became a central part of his radio persona. "I was the most visible and loudest Chelsea fan in America," Cohen said. Almost everything he owned was adorned with the Chelsea crest: beach towels, sleeping bags, ties, cuff links, wristwatches. ("Not bedsheets — I didn't go that far.") Cohen and Geber loved to trash each other's teams, and their rivalry became especially intense in 2005, when a controversial goal helped Liverpool beat Chelsea in the Champions League semifinal.
On the air, Cohen and Geber were rowdy and provocative. They spent more time parsing Wayne Rooney's sex life than analyzing games, and if they disagreed with a caller, they mocked him mercilessly. Listeners, Geber said, "either loved Steven or hated Steven, or loved me or hated me."
Geber said he regrets playing explosion noises during a segment on Palestinian soccer, but he reminisced fondly about the times he'd pretend to call in to the show and, in an exaggerated German accent, claim to be a newspaper editor named Günther Prien. "It would usually end up in some racial diatribe," Geber said, with Günther ranting about the Aryan race or spewing anti-Semitic insults. "That was the whole tenor of the show. It wasn't dry or boring and interview based and all the rest of that crap."
The duo left Sporting News in late 2003 to launch a daily show on SiriusXM satellite radio. The Sirius show, rebranded World Soccer Daily, caught the attention of Dermot McQuarrie, the executive producer of Fox Sports World, who hired Cohen and Geber to host a weekly TV show complementing Fox's Premier League coverage. Fox Football Friday premiered in August 2004. The set was designed to resemble a London apartment. (The hosts joked that it would soon be demolished to make way for Arsenal's new stadium.) The show was filmed live. Cohen and Geber had to apply their own makeup. "Neither of us had any experience in TV, so we were really just winging it," Geber said.
Cohen and Geber's laddish banter sometimes caused friction with Fox. In one episode, they asked their guest, Bert Mandelbaum, a doctor for the U.S. women's national soccer team, whether he had seen the players naked in the locker room.
"We got called into so many meetings," Geber said.
A text scroll at the bottom of the screen promoted World Soccer Daily. The hosts were just fans, and that's what their viewers and listeners liked about them.
"The nice thing about football is that everyone's opinion's valid," Geber said. "Stupid, maybe. But valid."

On December 5, 2006, a Liverpool fan named Antony Ananins, a British expat in New Mexico with a thick Scouse accent, called in to Fox Football Friday to argue about the Champions League. Ananins insisted that because he followed England's most decorated club, he was an expert on European soccer.
Geber knew what was coming. As Cohen started to speak, his co-host shook his head and mouthed, "Don't do it." Cohen ignored him.
"There's a disgusting side of Liverpool's history that I'd be happy to talk about," Cohen began. Liverpool fans, he asserted, were guilty of "directly causing" the Hillsborough stadium disaster.
"The funny thing was, while it was clear what I was suggesting, it was a little innocuous," Cohen told me. Fox disagreed. The network received hundreds of e-mails from Liverpool fans upset by his comments. "It was made clear to Steven that this was an explosive topic and best left alone," said Nick Webster, the producer of Fox Football Friday.
On the following week's show, Cohen recited a boilerplate apology prepared for him by Fox. "In the heat of the moment, I made some very disparaging remarks about Liverpool Football Club," Cohen said. "As a broadcast professional, I should know better." But Webster was reluctant to ask Cohen to change his broadcasting style; Fox Football Friday was a popular show, and Cohen was its linchpin. "What made Steven such a great pundit was the fact that he was so provocative," Webster told me. "You never really knew what was going to come out of his mouth."
At the end of the 2006–07 Premier League season, Geber quit World Soccer Daily and Fox Football Friday to cover poker for Bluff Media. Fox renamed the show Fox Football Fone-In and made Webster Cohen's new co-host. Howard Rogers, a Manchester United fan whose blunt cynicism soon earned him the moniker "Prince of Darkness," partnered with Cohen on World Soccer Daily. Over the next two years, the show matured. Cohen spent more time interviewing journalists and less time dissecting Rooney's sex life. He introduced his American audience to dozens of foreign soccer analysts, several of whom have gone on to work in the American media: Rebecca Lowe and Robbie Earle, now prominent members of NBC's Premier League studio team, made regular guest appearances. In 2008, Kenny Hassan, a longtime listener fascinated by tactics and analytics, replaced Rogers as co-host.
Hassan was sitting across from Cohen in their L.A. studio on April 13, 2009, two days before the 20th anniversary of the Hillsborough disaster, when Cohen returned to the topic of blame for the tragedy. "In this weekend's Sunday papers in England, where they're all doing big commemorations about the 96 and why we should never forget and how it's changed the game, nobody discusses the 6,000 to 8,000 who showed up without tickets," Cohen said. "My argument has always been, and I'll leave it at this — if those people don't show up, this never happens."
Cohen knew he was entering controversial territory. Sheffield Wednesday's Hillsborough Stadium had a history of safety problems: during a 1981 FA Cup game, dozens of fans had been crushed against the fences that separated the terraces from the playing field, although no one died. On April 15, 1989, Liverpool faced Nottingham Forest in an FA Cup semifinal at the ground. Outside the stadium, thousands of Liverpool fans converged on a single entrance gate, which led to a set of seven run-down turnstiles. To alleviate the crowding, David Duckenfield, the superintendent of the South Yorkshire Police, ordered his officers to open an exit gate typically used to release fans after the final whistle. The officers failed to supervise the fans flowing through the exit gate, and when the game kicked off, the two central pens of Hillsborough's Leppings Lane stand, the site of the 1981 crush, were packed to twice their capacity, while the side pens had plenty of room.
The referee stopped the game after just six minutes as suffocating Liverpool fans struggled to break through a fence separating them from the field. Footage broadcast around the world showed fans climbing into the upper tier in order to avoid being crushed against the metal barriers surrounding their section. A total of 96 Liverpool supporters were killed.
In the disaster's aftermath, Duckenfield claimed that hordes of raucous hooligans had overpowered the police and forced their way into the stadium. Duckenfield's story dovetailed neatly with the prevailing international perception of English soccer fans, especially Liverpool supporters. At the 1985 European Cup final between Liverpool and Juventus at Heysel Stadium in Belgium, Liverpool fans had upended a metal fence separating them from a section filled mostly with Juventus fans. A total of 39 retreating spectators died after being crushed against a concrete wall. Fourteen Liverpool fans, as well as the top police official on the scene, were convicted of involuntary manslaughter, and English clubs were banned from European play for four seasons.
Tabloid coverage of the Hillsborough deaths relied heavily on the testimony of anonymous police sources. Under the headline "The Truth," The Sun, one of England's most popular newspapers, with four million daily readers, reported that drunken, ticketless supporters had urinated on police officers and picked the pockets of the dead. But the British government's official report on Hillsborough, released in August 1989 by Lord Justice Peter Taylor, refuted The Sun's claims, attributing the disaster to "failure of police control," not rampant hooliganism. Still, after a controversial trial, neither Duckenfield nor his second in command, Bernard Murray, was convicted of wrongdoing. Over the past two decades, the efforts of support groups such as the Hillsborough Justice Campaign to clear the victims' names and protest the negligence of the South Yorkshire Police have become a central part of Liverpool's identity.
The Hillsborough tragedy exacerbated longstanding tensions between the working-class population of northern England and the London-based political elite. On Merseyside, the 1980s were a period of high unemployment and unrelenting poverty. Many Liverpudlians blamed the region's struggling economy on the divisive leadership of Prime Minister Thatcher, who famously referred to English soccer fans as "a blot on our reputation." The government's toothless response to the revelations of the Taylor Report further entrenched Liverpool's anti-Thatcher resentment.
In 2009, when Cohen made his inflammatory remarks, the Taylor Report remained the most definitive investigation of the tragedy. Cohen's argument — that huge crowds of ticketless Liverpool fans had caused the fatal crush — ignored the report's finding that no "abnormally large number" of ticketless fans had attended the game.

At EPL Talk, a website dedicated to daily analysis of the Premier League, Welsh expat Christopher Harris was concerned that impressionable American soccer fans would take Cohen's Hillsborough claim at face value. "They trusted him. They thought he was a great soccer pundit and was basically one of these types of guys they looked up to," Harris said. "At the time, he was kind of the mouthpiece for soccer."
On April 20, Harris published an article on EPL Talk titled "Steven Cohen Blames Liverpool Fans For Hillsborough Disaster." The article compared Cohen to Sun editor Kelvin MacKenzie, who had led the paper's coverage of Hillsborough, and cited excerpts from the Taylor Report to refute Cohen's argument about the ticketless fans.
On the same day's episode of World Soccer Daily, Cohen acknowledged that significantly fewer than 6,000 ticketless supporters had attended the game, but defended his conclusion about fan culpability. "If it's not the right number, it's not the point," he said. "There were people there who shouldn't have been there because they didn't have tickets, and they were hell-bent on getting in." The next day, Harris criticized Cohen for failing to apologize.
Although Harris says he never considered World Soccer Daily a rival — EPL Talk catered to fans who wanted to read about soccer, not those who listened to podcasts, he said — Cohen suspected that Harris was trying to smear World Soccer Daily in order to boost ratings for the EPL Talk Podcast. "There were so many people who wanted to take us down, even in this small subculture of football, because we were the first there," Cohen said.
In late April, Cohen invited Harris to appear on World Soccer Daily for a one-on-one debate. Harris said he wouldn't discuss Hillsborough on the show until Cohen recanted his comments and apologized to Liverpool fans. The next month, Cohen's lawyer wrote to Harris, threatening a $300,000 libel suit unless Harris removed the articles about World Soccer Daily from EPL Talk. Harris hired his own lawyer, and two weeks later, Cohen dropped the lawsuit threat. Harris's articles are still available online.
The EPL Talk articles made Cohen's views a major topic of discussion in the American soccer subculture. On websites like BigSoccer and Liverpool chat room Red and White Kop, fans documented Cohen's history of incendiary remarks about Hillsborough. In a sound bite ripped from a February 2009 episode of World Soccer Dailyand posted on numerous message boards, Cohen can be heard joking about Liverpool's campaign for justice: "What is the difference between a cow and a tragedy? Liverpool fans can only milk the cow for so long."
Conor Brennan, the vice president of Liverpool's New York supporters club, read about Cohen's comments online. "Initially I thought it was needlessly provocative trolling," Brennan said. But the more Brennan learned, the angrier he became. "It wasn't just an offhand comment," he said. "He had a pattern of these."
Brennan said he felt morally obliged to fight Cohen's claims: "There's something extraordinarily obscene about dragging in 96 families and telling them that they deserved what they got, that they were murdered by their own." In late April, LFCNY's leadership voted to launch a boycott campaign against Cohen, with the goal of removing him from Fox Football Fone-Inand World Soccer Daily.
Brennan, who at the time ran his own PR firm, volunteered to spearhead the campaign. His tactics were simple: threaten to boycott Cohen's sponsors unless they cut ties with World Soccer Daily. On the LFCNY podcast he co-hosted, Brennan urged Liverpool supporters to bombard Cohen's sponsors with e-mails condemning his controversial views.
Most of Cohen's sponsors were small retailers of soccer merchandise who couldn't afford a boycott by fans of one of the world's most popular teams. In the first week of May, FourFourTwo abandoned World Soccer Daily. Fado Pubs, Ruffneck Scarves, and World Soccer Shop quickly followed suit. In June, Cohen's highest-profile sponsor, Heineken, denounced his views and left the show. "We couldn't replace them with the speed and the haste that they were going," Cohen said. Brennan announced each departure in gleeful press releases that frequently described Cohen as "a merchant of hate."
Brennan established relationships with a handful of websites, which dutifully published his press releases. "All you need is one URL," Brennan said. "It could be The Huffington Post, but equally it could be an unknown blog, and then you just paper the place with press releases. And then it just goes viral after that." The online Liverpool community rallied behind the boycott. So did members of BigSoccer, many of whom resented Cohen's indifference to Major League Soccer.
Brennan worked closely with Tony Ananins, the fan whose phone call to Fox Football Friday had prompted Cohen's first Hillsborough rant in 2006. Ananins, who declined to comment for this story, coordinated e-mail blasts in which Liverpool fans sent thousands of complaints to individual sponsors. "When we were doing e-mail blasts, we were crashing servers," Brennan told me. "That's a pain in the ass if you're in a small business."

World Soccer Daily listeners loved the way the show made them feel part of a special community. The hosts exchanged e-mails with fans, and Cohen often shared personal stories on the air. But the intimacy of the World Soccer Daily community also left Cohen badly exposed. His e-mail signature contained his address and phone number. After Harris's article appeared on EPL Talk, Cohen began to receive death threats — up to 10,000 a day, he claims.
"I remember coming home, and on multiple days at the end of shows, and my voice mail just being full up with all these Scouse accents calling me a cunt and blah, blah, blah, and 'You're gonna die,' and 'We're gonna do this,'" Cohen told me. "I had a license plate that said, 'CHLCFAN.' It wasn't hard to find me." In July, the back window of his car was smashed. Cohen started to lock the studio door during broadcasts. He also contacted the FBI, but the agency told him that unless he could prove somebody was planning to attack him at a specific time and place, there was nothing it could do to help. (An FBI spokesperson would neither confirm nor deny Cohen's account.)
Many of the e-mails and phone calls contained anti-Semitic language, Cohen said. On one episode of World Soccer Daily, Cohen recited an e-mail from a Liverpool fan named Eoin Alex Martin: "You fuckin jew rodent you say we killed 96 of our own???? Hitler killed 6 million of you." Cohen claimed that Martin was an "official member of an official supporters club."
Brennan feared that Cohen's allegations would tarnish an otherwise professional campaign. In a press release, he insisted that the campaign did not condone death threats or anti-Semitism and vowed that any LFCNY member who engaged in such behavior would be expelled from the club. But after a little investigation, he found that Martin was not in fact a member of an official supporters group. (Martin could not be reached for comment.)
"This was an Internet-based campaign — we couldn't control everybody," Brennan said. He asked Cohen to forward the anti-Semitic e-mails so that the LFCNY could bar the senders from joining official supporters clubs. Brennan said Cohen refused to turn over the e-mails.
"Cohen was holding up this Eoin Alex Martin e-mail and banging on about it as if it was representative of many thousands of other e-mails," Brennan said.
The New York Times covered the story with a May 14 post by Jack Bell. Cohen restated his conviction that blame for the tragedy should be shared by "the F.A., the police, the city of Sheffield and, I believe, the fans," and added that "what I am saying, in their minds, is that with evil in their hearts fans without tickets went down there that day. It is not what I have said. But how do 9,000 to 10,000 fans go to a game and have 96 tragically perish and it be everybody else's fault?"
Cohen's interview in the Times highlighted both his refusal to bow to the protesters' demands in order to end the boycott, and his growing frustration over the ongoing controversy. "Some say what's missing in the game in the U.S. is all the passion and aggro, but who needs it?" he said. "As great a game as soccer is, who needs it? Sometimes there is just too much baggage."

On the May 18 episode of World Soccer Daily, Cohen issued what he insisted was a "heartfelt, genuine, and sincere" apology for his controversial remarks. "Let's put this crap to bed," he sighed. "My apology is directed at any and all people whose feelings have been hurt and people who have had awful memories and scars reopened." He then sped through several disjointed paragraphs about his military service and the importance of free speech before loudly crumpling the paper from which he had been reading.
Brennan refused to accept the apology. Later that week, Cohen compared the LFCNY to al-Qaeda and the Taliban. He repeated the comparison to me: "They don't like what you've got to say, they want to see you destroyed."
With the dispute showing no signs of flagging, a UCLA political science professor and World Soccer Daily listener named Mark Sawyer volunteered to mediate. Sawyer was a Chelsea fan and had met Cohen a couple of times in Los Angeles pubs. They had posed for photographs together. Sawyer thought he could help World Soccer Daily extricate itself from the controversy.
As a college student, Sawyer had studied at the Martin Luther King Jr. Center for Nonviolent Social Change in Atlanta. He held an abiding interest in social activism, but Brennan's strategy dismayed him. "You aim boycotts at institutions, not people," Sawyer told me. "That's not a tactic that I would understand to be a proper tactic of nonviolent action and social change. It comes close to bullying."
Sawyer reached out to the LFCNY, hoping to broker formal negotiations. He proposed a compromise: Cohen would make another apology, take a short vacation from the air, and donate to the Hillsborough Justice Campaign. But Sawyer could sometimes seem less than diplomatic in his communications with the protesters. In an e-mail exchange leaked to the blog Ginge Talks the Footy, Sawyer accused Mel Abshier, a Texan who helped run the campaign, of "acting like a teen age [sic] girl," adding, "Perhaps you never went on a date at that age."
Brennan suspected that Sawyer's goal was to engineer the best possible deal for Cohen. He found Sawyer's e-mails arrogant and condescending, the work of a "puffed-up peacock who thinks he's more intelligent than the whole universe."
Sawyer quickly grew irritated with both sides in the dispute. As a precondition for starting talks, Brennan was demanding that World Soccer Daily release the anti-Semitic e-mails Cohen claimed to have received. Sawyer told me he and Cohen provided the LFCNY with several screenshots. Still, Sawyer and Brennan never met for face-to-face negotiations. As Sawyer educated himself about Hillsborough, he began to find Cohen's behavior equally confounding. He had spoken at length with Phil Scraton, an English academic whose 1999 book Hillsborough: The Truth details the South Yorkshire Police's attempts to shift blame from the officers patrolling the stadium onto the Liverpool fans in the Leppings Lane stand. As the boycott ground on, Sawyer became frustrated with Cohen's stubborn refusal to admit that he had misstated the facts.
"You couldn't talk sense to Steven," Sawyer told me. "The daily Internet fury, the death threats, and stuff like that had caused him to dig in his heels."

At the end of July, Cohen suffered two major blows in quick succession. First, an LFCNY press release quoted Chelsea spokesman Gareth Mills vehemently criticizing his views. A week later, Fox announced that he would not be returning as co-host of Fox Football Fone-In.
A listener named Nicholas Iannone volunteered to help fend off the LFCNY by launching a counter-boycott targeting the departing companies. Iannone, who worked as a tax compliance representative for the state of New York, spent his lunch breaks mobilizing support for the counter-boycott. Cohen sometimes mentioned Iannone's name on the air, and for a while Iannone received about half a dozen death threats per week. His efforts were in vain. "We were losing the battle, and we were losing it fast," Iannone said.
After Fox dropped Cohen, some World Soccer Daily supporters adopted tactics that made Iannone uncomfortable. "We had a lot of renegade groups from both sides running off and doing things," he said. In August, a group of listeners e-mailed clients of Mel Abshier's employer, informing them that Abshier was an anti-Semite. Iannone said he disapproved of the plan but, given the success of the LFCNY's campaign, "didn't feel it was the time to take a sanctimonious view on it." (Abshier did not respond to numerous requests for comment.)
Around the same time, Tony Ananins claimed in an interview with Ginge Talks the Footy that he had contacted the FBI after Cohen sent him an e-mail wishing his wife a happy birthday. A writer at BigSoccer argued that Cohen's e-mail was akin to a "mobster saying, 'Best of luck to you, your flammable business, and your tiny children.'" Cohen says the FBI never got in touch with him.
In the same interview, Ananins revealed that he still listened to World Soccer Daily even as he campaigned to remove Cohen from the air. "Plenty of us listen to or watch shows hosted by people we may not personally agree with," the interviewer wrote in a follow-up to the story. "Tony has told me despite his disagreements with Cohen, he listens to World Soccer Daily because it is currently the only daily soccer-centric radio show in the U.S."

The outrage the LFCNY tried to harness has become a hallmark of the Internet age. On the web, anyone can launch a passionate crusade — but once anger goes viral, it becomes almost impossible to contain. EPL Talk's articles and Brennan's press releases catapulted Cohen's remarks into the online universe, and the vitriol that came flying back precluded the possibility of a resolution acceptable to both parties in the dispute.
Brennan was attending a wedding in Britain when Ananins called to tell him that Cohen had cancelled World Soccer Daily. They both doubted Cohen's claim that his stepdaughter had been threatened. The international calling service VIP Communications, one of Cohen's most important remaining sponsors, had terminated its contract just a few days earlier. "We'd removed the last major sponsor, and I think that had way more significance," Brennan said.
When Brennan returned home from the wedding, his voice mail was filled with messages of the "You fucking asshole, I know where you live" variety. One World Soccer Daily fan threatened to firebomb the bar where LFCNY members watched games. Another listener e-mailed Brennan a Google Earth screenshot of a pizzeria near his apartment, captioned, "I know where you eat."
Brennan stayed in "campaign mode" for six months after the show left the air. He monitored Cohen's blog and Twitter. In the fall, Brennan track down an 18-year-old who had sent him a series of threatening e-mails. The kid worked at a Best Buy in Rhode Island, and Brennan dropped by the store one day on his way to a client meeting. Brennan mentioned his name, and the Internet vigilante went white. "I just made my point and walked out," Brennan said.
Brennan moved to England in February 2010. He stepped down as vice president of the LFCNY but remains a member. Several years later, when I asked him about Cohen, he had no sympathy: "He chose to lie, he chose to be a merchant of hate, he chose to upset people, he chose to troll," Brennan said. "Pointed the gun at his own foot and kept shooting until there was no foot."

In September 2009, Cohen and Hassan started a new show, World Football Daily, which they broadcast online, charging a subscription fee to reduce their reliance on sponsors. But Cohen seemed distracted. On-air, he talked constantly about cricket, a sport he had played as a child and rediscovered through ESPN3's coverage of the ICC Cricket World Cup. One day, he announced that he no longer supported Chelsea. In April 2011, two years after his Hillsborough comments, he left World Football Daily, saying he was burned-out. As the show cycled through a series of uninspiring new hosts, its ratings cratered. In February 2014, World Football Daily shut down.
Cohen's critics say his claims about World Soccer Daily's impact on the growth of American soccer minimize the other factors to which the sport owes its current popularity — social media and blogs, television, and video games. EPL Talk's Christopher Harris noted that most of the fans who followed last year's World Cup had probably never heard of World Soccer Daily.
But the show helped give soccer a foothold that later expanded in spectacular and unexpected ways. "We played the same role that college radio stations play in breaking music that then goes mainstream," Geber said.
The opportunities available to soccer pundits working in the United States have steadily multiplied over the last half decade. The closest analog to Cohen and Geber's show is Men in Blazers, a weekly podcast that shares the manic energy of World Soccer Daily and became a mainstream hit in 2014, after ESPN sent the hosts, British expats Roger Bennett and Michael Davies, to cover the World Cup in Brazil. Bennett and Davies crack jokes and swig beer on the air, discussing soccer with the enthusiasm of ordinary fans, and they now have a high-profile weekly television show on NBC Sports. Cohen and Geber broadcast Fox Football Friday from a set designed to look like a London apartment; Men in Blazers is recorded in a cramped, equally informal space the hosts call the "panic room." In August, Davies told The Wall Street Journal that he expects Men in Blazers' annual revenue to reach $10 million within the next several years.
"You're sitting here, talking to me five years after it all ended, because we created something," Cohen told me. "We had an instrumental impact in where we are today."

Cohen seemed poised to return to full-time soccer broadcasting in 2011. That September, ESPN hired him and Hassan to host a soccer podcast beginning on October 17. On his return from Bristol, Connecticut, where he had just signed a contract at ESPN's headquarters, Cohen tweeted about his new job. Over the next three days, ESPN was inundated with e-mails from irate Liverpool fans. Cohen said he had discussed the boycott with ESPN before he signed but that the network didn't understand the "ferocity" of the fans. "One Thursday I was in Bristol signing my deal," Cohen said, "and the following Thursday we were negotiating how much money they were gonna pay me to go away."
In September 2012, the Hillsborough Independent Panel, a committee of experts appointed by the British government to reexamine the disaster, released its final report. The panel confirmed Lord Taylor's central claim that the behavior of Liverpool fans did not contribute to the crush, and documented a vast police cover-up intended to defame the fans. On the floor of Parliament, British Prime Minister David Cameron apologized for the "double injustice" of the tragedy and its subsequent cover-up.
And yet Cohen continues to insist that Liverpool fans were largely responsible for the 96 deaths. "The argument that on this particular day, and only on this particular day, Liverpool fans behaved like cherubs, like angels, I'm not buying," he said. Cohen told me he has written a book, titled iTerror, about his views on Hillsborough and his experiences during the summer of 2009. He does not plan to publish it.
Cohen is convinced that the police cover-up, which he acknowledges, and the subsequent struggle for justice have allowed Liverpool fans to "cleanse themselves" of their guilt in the Heysel stadium disaster. His 2009 comments, he said, threatened to undo that process. "It's like, if you're so fucking comfortable with what you believe, you guys that are pure as the driven snow and you're so innocent and blah, blah, blah, why the fuck do you care what I think?" he said. "I'm one voice in the world."
Cohen blames his second divorce on the stress of fighting the boycott campaign. (He has been married three times.) I asked why he continued to discuss Hillsborough after 2006, when it became clear that his views on the topic could jeopardize his livelihood. He told me he resents the fact that Liverpool fans talk about Hillsborough as if the tragedy affected them personally. "They really make me sick," he said. "I've had my own tragedies in my life, and, you know, they play the victim. We can all play the fucking victim."
Cohen has gradually rediscovered his love for Chelsea, but he doesn't watch as much soccer as he used to. "The thought of getting up at four thirty to watch a football match? No chance," he said. "I'd rather take my dog hiking." However, he did get up to see Chelsea beat Liverpool in a vital game in the 2013–14 Premier League title race. Watching striker Demba Ba score Chelsea's winning goal, after Liverpool captain Steven Gerrard failed to control an easy pass, "was like being on Ecstasy," he said. Then he started to sing: "Where's your title gone, where's your title gone?" Customers at a nearby table turned to stare. He kept singing: "Under Stevie's foot, under Stevie's foot."
Liverpool drew its next game, and Manchester City won the championship. Cohen was delighted. "In some small way, it's like truth wins out," he said with the same provocative flair that once polarized and captivated his listeners. "Karma wins."

David Yaffe-Bellany is an editorial assistant at Howler Magazine and runs the blog In For The Hat Trick. Quentin Schwab is a contributing illustrator based in Paris. See more of his work here.
Contributors
Howler
TAGS
WELL, IT DEPENDS ON WHAT YOU MEAN BY "FREE."
Enter your best email for full access to the site.