The Special One makes his case for the the Old Trafford Job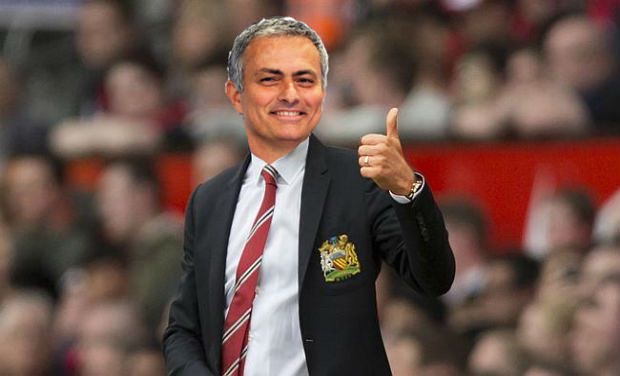 Over the weekend, The Independent's Miguel Delaney reported that Jose Mourinho had sent a heartfelt letter to the Manchester United board that lays out his plan to replace Louis van Gaal and lead the club to greatness. That letter, whose existence is disputed, has not yet been published. Until now, that is.
Dear Mr. Woodward,
You know I can change, I can change/ I can change, I can change
You may recognize this as the chorus to "Bittersweet Symphony." I was into The Verve in the 1990s. They were my band. None of that Oasis bullshit. The Gallagher brothers support Manchester City. I could never truck with that, you see, because in my heart of hearts I am a Manchester United fan. Always have been. Always will be.
These lyrics also speak to me because I am all about changes, just like the David Bowie song with that title (I don't know what club he supported, but he was from London, so it was probably Manchester United). People don't seem to know that about me. I'm not entirely sure why that is the case. I think they see my teams on the pitch and think that's all there is to Jose Mourinho. But there's so much more to Jose Mourinho. So much more. I sometimes wish that people could see this about me. Maybe if they could see my record collection, things would be different.
And that's what I'm trying to show you in this letter, Ed. I may call you Ed, yes? I am capable of change. I am capable of so many things. I am capable of whatever it is you might want of me. What is it that you want of me? Whatever it is, I'd do it. If, for instance, you wanted me to manage Manchester United, I'd do that. In fact, I already have a six-point plan that is guaranteed to bring this club we have both always loved back to the heights of European football.
1) Attack! Attack! Attack!
As you well know, Ed, this is the traditional chant associated with Manchester United. Fans have been shouting it for weeks, hoping to rouse Louis van Gaal and his sleepwalking gaggle. I know you don't think of me as a leading practitioner of attacking football, Ed, but I have come up with many new forms of attacking football during my involuntary hiatus from managing. For instance, have you ever considered attacking the press? Or your staff? Or the FA? Or opposing assistant managers? Or, and this one's quite important, Ed, attacking opposing managers?
We both know that Pep Guardiola will soon be touching down on the other side of Manchester, and my United would have the courage to attack against his litter of pint-sized artisans. We wouldn't attack on the pitch, per se, but we'd attack nonetheless: in press conferences, on the sideline, and in the tunnel. The public is labouring under the erroneous impression that my Real Madrid teams were defensive against Pep's Barcelona, but that couldn't be farther from the truth. Those matches were very high-scoring indeed, and featured so much attacking that an eye was even gouged. I am the only man who could bring "Attack! Attack! Attack!" back to Old Trafford. Call me "The Attacking One."
2) Give youth a chance
I hardly need to tell you that giving younger players a chance is in Manchester United's DNA. With Michael Carrick thinking about his prostate near the centre circle and the urn holding Wayne Rooney's cremated ashes up front, you'd be hard pressed to say this side has the first blush of youth. This is a shame. There are so many things Manchester United's youth players could be doing. Cameron Borthwick-Jackson could be starting a degree in civil engineering. Nick Powell could be night manager at a Nando's. Adnan Januzaj could be experiencing Greece's heritage and/or football. Instead, the potential of all these youngsters is being squandered on Louis van Gaal's bench. I would not let that stand.
3) Isolate Juan Mata
As I'm sure you well know, Ed, it's not hard to isolate Juan Mata. All you have to do is start him in a match and he'll be out there alone in the opposition half while the rest of his teammates cower behind the ball like scared lemurs. This cannot stand. No team can survive if one of its players steps out line like this. You cannot allow this. So here is what I propose: if Juan Mata likes isolation, go all-in on it. Give him what he wants. Place him on an ice floe and see how he likes it. He'll probably be as happy as a seal out there. And your team will be happier for it, too. Your team will be freed of his creative impudence. It's a win-win, really, which, if you're keeping score at home, is two more wins than Manchester United has clocked up in recent memory.
4) Have you called Jorge Mendes lately?
Seriously, have you? Jorge says you haven't called him lately. Maybe you should.
5) Invest in ball boys
To prove I, like the great Sir Alex Ferguson, care about youth, I have invented a second bullet point about younger contributors. Forget about young players, the future is in ball boys. Ball boys, I tell you! Under my leadership, Manchester United would have the most tactically aware ball boys in the land. They'd hold on to the ball when we were seeing out a win and quickly give it back when we needed a goal. They'd switch from zonal marking to man marking as was appropriate. This is the future, and Manchester United should be the club of the future once again.
6) Bring back squeaky bum time
Manchester United has a rich tradition that any manager must protect. By that, I mean that this club ought have two more minutes of injury time when losing than any other team. Having had lots of extra time to chat with FA officials at my various disciplinary hearings, I feel uniquely positioned to make this happen. After all, you can't have officials' ears if you are not in the same room as them. I plan to plead, cajole, and threaten until squeaky bum time is once again as dependable a law as that of gravity.
You will find a copy of my resume attached to this letter. Please note that I have won the Champions League with more clubs than Pep Guardiola or even Sir Alex Ferguson. Should you have any questions, I would be glad to answer them. Unless I do not like them, then I will have my assistant answer them. Thanks in advance for your consideration.
Sincerely yours,
Jose "The Fergielicious One" Mourinho

David Rudin is a web editor with Howler and promises that he never tweets about The Verve at @DavidSRudin.

Contributors
Howler
TAGS
WELL, IT DEPENDS ON WHAT YOU MEAN BY "FREE."
Enter your best email for full access to the site.