Germany's prodigy of the future may actually be the player fans were ready to give up on just a few years ago
By Stefan Bienkowski | Photograph by Michael Kranewitter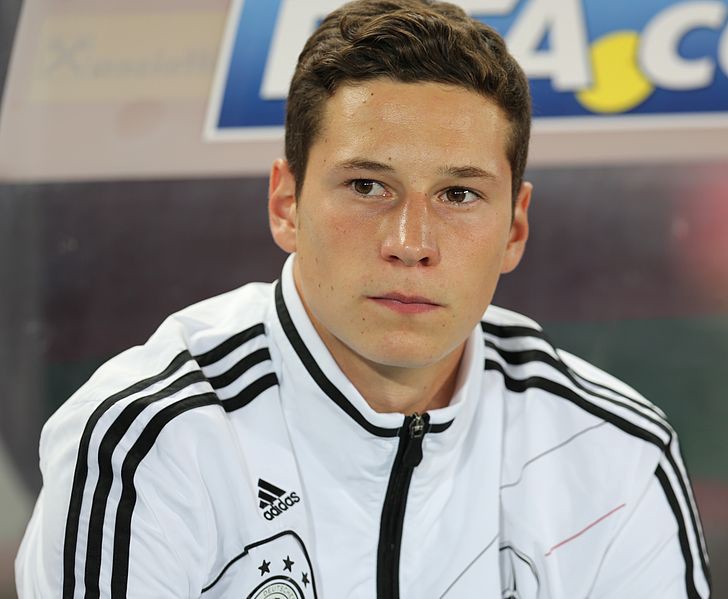 [I]n the Fall of 2013, Julian Draxler was Germany's wunderkind, on the precipice of year-in year-out international superstardom at a time Germany's other youth prospects were not. Mario Götze was fighting for playing time at Bayern Munich. Marco Reus couldn't stay fit at Borussia Dortmund.
From a perch on the left side of Schalke's attack the deceptively tall (six-foot-one) winger would glide down the touchline before cutting defensive backlines to shreds with incisive passes. His play was instrumental to the Royal Blues' third-place finish in the 2013–14 Bundesliga campaign, and Jogi Loew called up the 20-year-old that summer as Die Mannschaft went off to Brazil.
Few remember Draxler's fourteen minutes played in Brazil, all of them coming as a late-game sub for Sami Khedira in Germany's 7–1 semifinal drubbing of the hosts.
Then things fell apart. Draxler disappeared. Everyone remembers Götze's overtime winner in the final. Few remember Draxler's fourteen minutes played over the entire tournament, all of them coming as a late-game sub for Sami Khedira in the 7–1 drubbing of Brazil. There was too much talent for Loew to choose from: from veterans like Mesut Özil and Thomas Müller to youngsters like Götze and André Schürrle. All of them had Loew's favor first.
The following season was just as forgettable. A lengthy thigh injury and poor form post-recovery limited Draxler to 15 out of 34 league matches with only two goals. Their playmaker hobbled, the Royal Blues slumped to sixth in the table, 31 points behind champions Bayern Munich. Rebuilding in Summer 2015, Schalke sold Draxler off to VfL Wolfsburg for $36.5 million to replace Die Wolfe's Bundesliga Player of the Year, the Manchester City-bound Kevin de Bruyne.
De Bruyne and Draxler were on opposite trajectories. Despite being only 23 at the time, De Bruyne left Germany an accomplished and proven professional. From the wings, he could run past defensive backs with his lightning pace, or he could run circles around them with superior technical skill. Most importantly, he had two feet that could score or assist from anywhere. In 73 games he notched 20 goals and 37 assists.
It's understandable, then, that the Wolfsburg faithful were not exactly thrilled to be replacing the Belgian with Draxler, a prospect in great danger of being washed up. Since then, common consensus in Europe holds that little has improved for the former prodigy. It's thought that Wolfsburg's fans reminisce for their boyish sensation while watching an inferior substitute mop around the pitch and tarnish the team's lime green.
Yet the truth of the matter is far different. Draxler is regaining his pre-World Cup form in Lower Saxony and he's right on course to replace the engine so many thought vital to this side in the hometown of Volkswagen. At Wolfsburg, a club known for buying first and thinking later (see André Schürrle, Simon Kjaer, and Obafemi Martins), Draxler has slotted seamlessly into the playmaker-shaped hole De Bruyne left behind. Draxler can dribble, shoot, assist and score just like his Belgian foil.
It shows up in the statistics. In Draxler's best season with Schalke, he amassed ten goals and four assists in 30 league games. After 17 games for Wolfsburg he's already picked up two and five. At this pace, Draxler will be involved in as many goals as he was in 2012–13. Whereas De Bruyne took four games to mark his first goal or assist with the Wolves, Draxler registered two assists in his first four games, one of them the only bright moment in a 5–1 beat-down by Bayern Munich.
Draxler's performance is all the more admirable considering he was abruptly parachuted in this Wolfsburg side. He arrived on the last day of the summer transfer window having already played two matches with Schalke, including a 3–0 defeat against Wolfsburg just two days before. In that game Draxler was taken off the pitch in the 73rd minute to little fanfare after an unremarkable performance.
…
[I]t wasn't until the fateful Champions League night of December 8, though, that the wider European audience sat up and took notice of the resurgence Bundesliga fans have been seeing for months.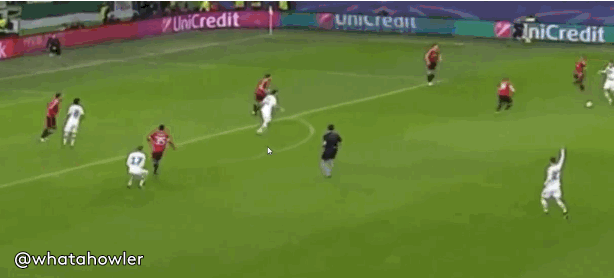 Against Manchester United, in a game Wolfsburg couldn't afford to lose, it was Draxler who stepped up. In the 28th minute, he picked up the ball at the corner of United's penalty box, skipped past his World Cup teammate Bastian Schweinsteiger, and played a smart one-two with Max Kruse to commit David De Gea and create an easy tap-in for Vieirinha. The Portuguese winger's goal put Wolfsburg up 2–1, but he gave credit where it was due in the ensuing celebration.
Playing deep that night to exploit United's poorly defended midfield, Draxler shook off markers and picked holes in the United defense, as Wolfsburg advanced to the Champions League final 16 for the first time. Like the old days of glory at Schalke, an in-form Draxler was front and center of his team's success on the pitch.
Not only is Draxler matching De Bruyne's former glory with Wolfsburg, his Champions League performance has led to the side surpassing its potential in a way that De Bruyne never managed. The Schalke coach who released Draxler, André Breitenreiter, conveyed as much jealousy in a December 20 press conference when he admitted the "quality and quantity [Schalke had] lost with Julian leaving."
At the Bundesliga winter break, Mario Götze was still struggling mightily for playing time in Pep Guardiola's squad. Marco Reus was already on his sixth injury of the season.
The title of Germany's hottest young star is back up for grabs, and the odds are once again looking good for Julian Draxler.

Stefan Bienkowski is a journalist at DW Sport based in Bonn, Germany. He tweets under the handle @SBienkowski.
The source of the photograph can be found here as "Creative-Commons-Lizenz CC-by-sa 4.0."

Contributors
Howler
TAGS
WELL, IT DEPENDS ON WHAT YOU MEAN BY "FREE."
Enter your best email for full access to the site.