Home
Dirty Tackle
Jurgen Klopp conducts pre-match interview in cramped Exeter tea room
Jurgen Klopp conducts pre-match interview in cramped Exeter tea room
January 8, 2016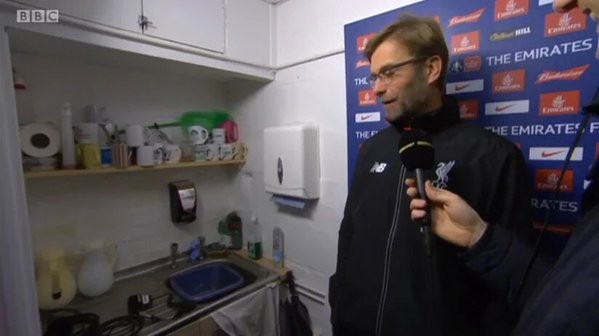 Liverpool visited League Two side Exeter City in the third round of the FA Cup and like Liverpool players' hamstrings these days, the accommodations were tight. So tight, in fact, that Jurgen Klopp had to give his pre-match interview in the tea room, giving us the delightful image above.
At the end of the discussion on his side's injury problems and rag-tag starting XI (look at these squad numbers!), Klopp lamented the fact that there was no cup with his name on it.
https://www.youtube.com/embed/9kr0wUkZGto
Despite this setback, the Exeter tea ladies were still able to accommodate him.
By the way… Klopp had a coffee, no milk, no sugar #bbcfacup pic.twitter.com/GhQ2HboMNP

— Dan Walker (@mrdanwalker) January 8, 2016
To further illustrate the coziness of Exeter's 8,541-capacity St. James Park, here are the doors to the home and away dressing rooms, which are so close together that they might lead to the same room.
And then there were these guys watching from the window of a neighboring house.
These guys coming on for the final 20 minutes? #FACup pic.twitter.com/1O45c0kOss

— Ryan Bailey (@RyanJayBailey) January 8, 2016
The magic of the FA Cup indeed.
The match ended in a 2–2 draw with Exeter scoring an olimpico just before halftime. This forces a replay at Anfield, which is exactly what Liverpool players' hamstrings don't need.
WELL, IT DEPENDS ON WHAT YOU MEAN BY "FREE."
Enter your best email for full access to the site.