Louis van Gaal: A history of making everyone uncomfortable
February 24, 2016
https://www.youtube.com/embed/CqfpDOZjF9E
To the delight of assembled reporters and the embarrassment of Juan Mata, Louis van Gaal talked about how he likes to tell his players that they need to be "horny" at a press conference on Wednesday. This is, however, just the latest in a long history of uncomfortable moments involving Louis van Gaal, the only Premier League manager to be referenced in adulterous sex dwarf headlines so far this season.
Louis Van Gaal sex dwarf shagged my wife! One of many exclusives in this Sunday's paper! pic.twitter.com/jrVAeKi8iR

— Sunday Sport (@thesundaysport) January 29, 2016
Back in the '90s, when Van Gaal was manager of Ajax, he participated in a photoshoot with then PSV manager Dick Advocaat and two models in bodypaint.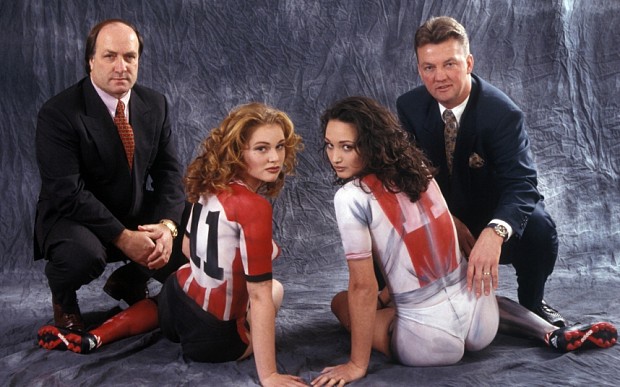 Look at that picture. Advocaat looks uncomfortable, the models look uncomfortable, but Van Gaal gazes into the camera with a look that says "Yessssss…"
Advocaat keeps a respectful distance between him and the nearest model, but Van Gaal leans in with a wedding ring adorned hand hovering entirely too close to a painted woman with a rather severe wedgie.
Then there's Luca Toni's distressing tale of how Van Gaal tried to assert his alpha status at Bayern Munich. The following quote comes from a 2011 ESPN story that bears the headline "Luca Toni: Van Gaal Showed Us His Balls."
The Italian told German magazine Sport Bild about the time van Gaal proved to Bayern's superstars, including Dutchman Arjen Robben, Germany's Philipp Lahm and Bastian Schweinsteiger how he was man enough to drop any of his players.
"The coach wanted to make clear to us that he can drop any player, it was all the same to him because, as he said, he had the balls," said Toni.
"He demonstrated this literally (by dropping his trousers). I have never experienced anything like it, it was totally crazy. Luckily I didn't see a lot, because I wasn't in the front row."
Everyone knows that dropping your pants in front of your workplace subordinates to prove a point is a quick way to earn a trip to HR on your way out the door for the last time. But for Louis it's just another "getting to know you" meeting.
Returning to photographic awkwardness, here's Van Gaal kissing his wife Truus at the Netherlands' training camp ahead of the 2014 World Cup. Note how he's doing this with his eyes open like a madman.
And that brings us to Van Gaal's "horny" comment. To help get his players appropriately horny, we must assume that he shows them this picture…
UPDATE — He's at it again. From the Guardian:
Speaking during his post-match interview, the Manchester United manager tugged the hair of a Sky Sports reporter in response to being asked about Fellaini's apparent elbow. Van Gaal said Fellaini's reaction was natural after having his hair pulled.
"When you see what Huth is doing to Fellaini, that's a penalty," said Van Gaal, before turning on the reporter. "Shall I grab you by your hair? What is your reaction when I grab your hair? Your hair is shorter than Fellaini but, when I do that, what are you doing then? It's a reaction.
"Every human being who is grabbed by the hair, only with sex masochism, then it is allowed but not in other situations.
If Louis van Gaal is on the fast track to retirement, he's making sure he leaves everyone feeling awkward.
Contributors
Howler
TAGS
WELL, IT DEPENDS ON WHAT YOU MEAN BY "FREE."
Enter your best email for full access to the site.