Home
Dirty Tackle
Joe Allen appears on cover of magazine about chickens (and eggs)
Joe Allen appears on cover of magazine about chickens (and eggs)
March 22, 2016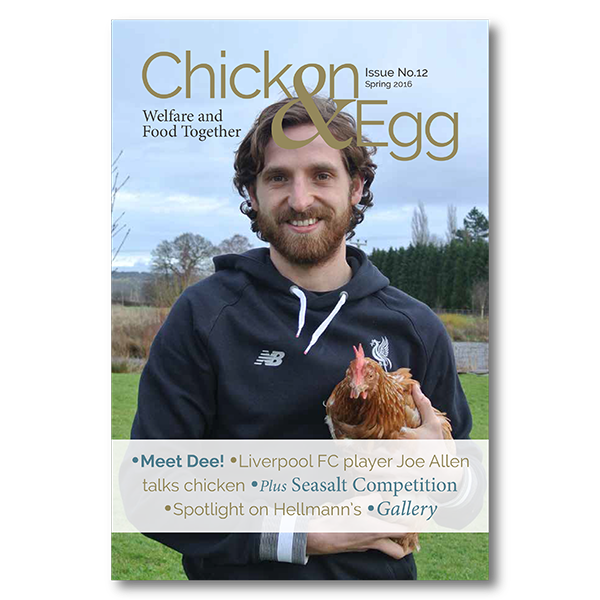 Any professional footballer will tell you that the most coveted magazine cover to land is the British Hen Welfare Trust's Chicken & Egg. You haven't really made it until you're the face of a publication that holds seasalt competitions. Sadly, that rules out the likes of Cristiano Ronaldo, Lionel Messi, and even Pele.
But the cover star of Chicken & Egg issue 12 is a player whose skills on the pitch are only surpassed by his love of poultry. And that player is Liverpool midfielder Joe "Please Mistake Me For Andrea Pirlo" Allen.
Allen has a total of 16 chickens at his home, including the rooster his wife gave him for his birthday two years ago.
And this was his present pic.twitter.com/OqF1Uq6pZt

— lacey-jo allen (@laceyjoallen) March 16, 2014
In his Chicken & Egg cover story, Allen rattles off the names of all 16.
"The cockerels are named Bruce and Rodney, and the hens are Meg, Leg, Silkie Steve, Kate, Silkie Steve Junior, Giblets, Snowy, Nugget, Kiev, Dora, Holly, Shimmer, Shine and Chickaletta," he says, blurring the lines between real life and the football equivalent of Spinal Tap.
Yes, Joe Allen has a pet chicken named Nugget. Let that marinate in your brain for a while.
WELL, IT DEPENDS ON WHAT YOU MEAN BY "FREE."
Enter your best email for full access to the site.