Home
Dirty Tackle
U.S. concede two embarrassing goals in historic loss to Guatemala
U.S. concede two embarrassing goals in historic loss to Guatemala
March 26, 2016
https://www.youtube.com/embed/rJZacGdzNiA
Guatemala beat the U.S. 2–0 in a World Cup qualifier Friday night, which is the first time that has ever happened. Both goals were scored within the first 15 minutes of the game and both were rather shameful for the U.S.
Exhibit A is above, and, if you have a strong stomach, exhibit B is here…
https://www.youtube.com/embed/tVNXCS6_z3g
Given this nightmarish combination of events, the calls for Jurgen Klinsmann to be sacked are only growing louder (i.e. using more caps lock), but, in my eyes, nothing has changed since I wrote about how unremarkable this team is back in October.
When I look at the squad that suffered this latest defeat, I think "Yeah, that's a group of players that isn't incapable of losing a CONCACAF away match."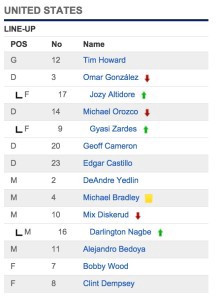 Sure, Klinsmann once again played guys out of position and once again reshuffled the starting XI. I'm not arguing that he's right to continually do this, but the mistakes that led to these goals had nothing to do with these practices and everything to do with professional footballers losing focus in ways irrelevant to where they're told to play or who is playing beside them. After the match, Klinsmann even said as much.
Klinsmann on the two goals conceded: "I think it was a lack of focus, concentration and wrong decisions." #usmnt

— Jeff Carlisle (@JeffreyCarlisle) March 26, 2016
This could be read as a failing coach throwing his players under the bus, but at a certain point you have to wonder if the counterintuitive experimentation and mistakes on the pitch are the result of the players' shortcomings and not the cause of them.
I don't think Klinsmann is the greatest manager in the world and I know he promised so much more than this, but when a chef only has government cheese and moldy bread to work with, you can't be surprised when he makes you a mediocre cheese sandwich. Nor can you expect a chef you like more to be able to make a lobster dinner with the same ingredients.
Should Klinsmann be sacked? Maybe. Could the U.S. have lost this match and others with someone else in charge? Yes. The problems currently facing this team go so far beyond Klinsmann that I still find it difficult to hold him solely responsible and make him pay for these results with his job.
That said, this was an excellent performance from Guatemala and they thoroughly deserved the win.
Contributors
Howler
TAGS
WELL, IT DEPENDS ON WHAT YOU MEAN BY "FREE."
Enter your best email for full access to the site.