David Villa, professional soccer player, contemplates getting his first grown-up job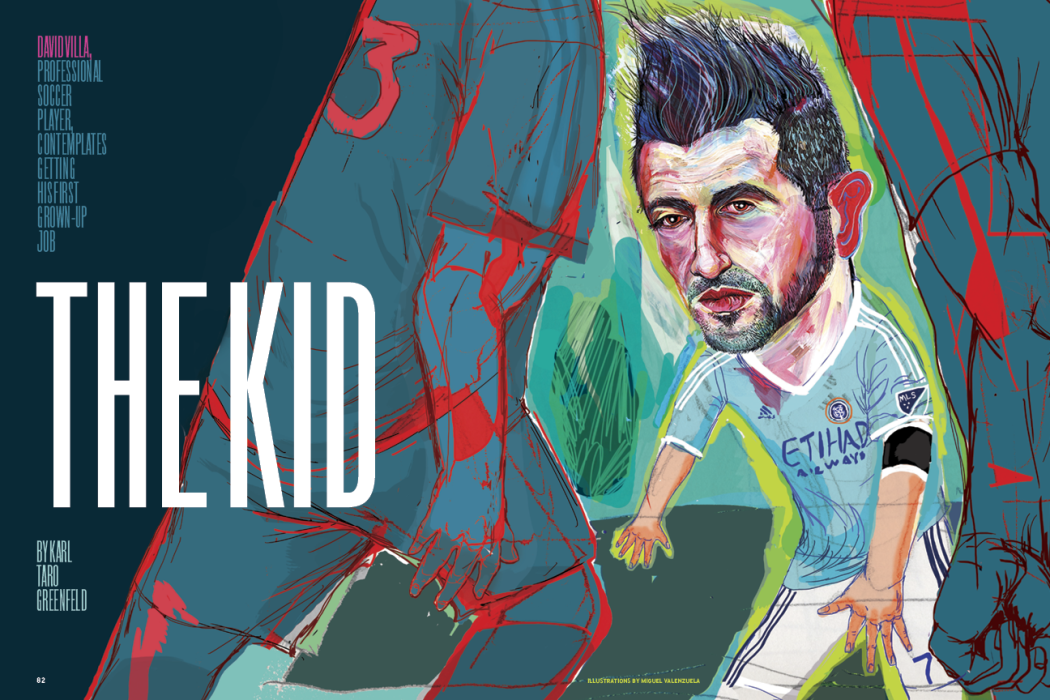 David Villa dips his shoulders as he steps onto the set of Nación ESPN, waving once toward the camera.
In person, he is slight, puckish, with almost a jockey's build — effeminate shoulders, narrow calves, delicate feet — the physique belying his stubbled face and spiky, gelled hair. Today he's wearing a Banksy T-shirt, cuffed DSquared2 jeans, checkered canvas deck shoes, and a gold, leather-banded Rolex. Seated on an oversized, bright orange chair next to the elaborately suited and ornately coiffed hosts of Nación ESPN, he appears like a pupil who has wandered into the teachers' lounge, dutifully answering questions about coming to America, living in New York, playing with Andrea Pirlo, scoring goals for the expansion New York City FC. A fake audience — the sound and lighting guys who cheer indifferently when Villa is announced, accompanied by an applause track — woofs at his banalities about life in America, about living on Manhattan's West Side with his wife and three children. He doesn't like shopping. His wife does. He likes Japanese food.
Villa's agent, Víctor Oñate, sits in a folding chair just off camera, along with publicity manager Theresa Tran. Villa has been on a media tour for the better part of two days, since scoring NYCFC's only goal in a disappointing and decisive 5–1 loss to the Los Angeles Galaxy before a sellout crowd of 27,000 at StubHub Center. The match showed that Villa's — and his agent's, and business manager's, and accountant's — assessments of the bright prospects for U.S. soccer were accurate but also that his own club, NYCFC, may not be ready just yet to partake in that gilded future. On the field, Villa spends much of his time alone up front as NYCFC's striker. When he looks over to his right, there's no Lionel Messi, no Andrés Iniesta, just more defenders and some empty space. Still, during a game in which NYCFC played the last 75 minutes like a team of Southern belles expiring in the hot, dry Southern California climate, the few genuine strikes on goal were solo efforts by Villa, trademark quick catches and turns while he was locked in a closet between larger Galaxy defenders. (Who killed Real Madrid? It was Colonel Villa, in the pantry, with the soccer ball.)
Villa insists, riding in an Escalade between stops on a get-to-know-David media tour of Los Angeles, that he doesn't tend to look back, either at the highs — a pair of European Championships, a World Cup, three La Liga titles, a Champions League title, a Copa del Rey, two Super Cups (UEFA and Spanish), the fact that he has the highest international goals-to-games ratio of any player since Alfredo Di Stéfano — or the lows, like yesterday's game. NYCFC's shortcomings, Villa insists, are not his fault; and indeed, no one is blaming him, as teammates and coaches alike praise his work ethic, focus, and discipline as positive factors in trying to create an identity for the expansion team. He would finish the season with 18 goals and 8 assists, leading the team in both categories. "I'm not a leader," he says, "or I don't tell people what to do. I'm not going to lecture a player to tell him, 'Do this, do that.' But they can watch me, see what I do, see how I prepare. I can be an example."
Earlier stops in his career — at Sporting Gijón, Real Zaragoza, Valencia, Barcelona, Atlético Madrid, but never, thank god, never Real Madrid — were about soccer first and business second. (Asturias, his home province, was a hotbed of the Republican cause during the Spanish Civil War and among the last provinces to be subdued by Francisco Franco's Falangists. Villa's maternal grandfather's nickname was Trotsky. Villa grew up loving Barcelona and, he says, not thinking much about Franco's favorite team, dreaded rival Real Madrid. "Let's just say I am glad I played at Barcelona, not the other one.") He is quick to talk about his off-field opportunities with this move to the United States. But, he says, it all starts with soccer. "If I don't play well, then nothing else matters, nothing else is possible."
"I'm lucky that I was a small player and am still a small player," Villa says. "My body suits my style of play. But that's football, figuring out your style."
But the United States, with its vast, decidedly un-Trotskyite markets, relatively nascent soccer culture, and great swaths of Spanish speakers, promises a more interesting, and lucrative, post-soccer career for Villa than retiring to Asturias. He doesn't want to end up behind a desk analyzing La Liga highlights for Canal+ or Vodafone or coaching the Barcelona or Valencia U-17 team. His vision, as his agent, Víctor, lays it out, is to build an American soccer and media empire. This includes a dedicated soccer TV channel and a smartphone app for training. Villa will establish physical education programs, give out nutritional advice, market sports drinks, and, as the centerpiece, build a chain of branded soccer academies, teaching Americans to play the style of skillful, possession-based soccer that made Villa's Barcelona great. "It's a more spread-out system," says David Vaudreuil, a former MLS player and coach, and Villa's adviser on business matters. "Taller German or Dutch players can play to clear space, quick-pass, use their size. The Spanish would rather keep the ball, create imbalances, exploit those."
If it sounds a little woolly — building a soccer channel on the basis of a branded, Spanish-style soccer academy — that's because it is. Much of the plan was for Villa to use his Barcelona and Spanish national side pedigree as well as his native language to appeal to this country's Latino soccer fans. That plan seemed to be working until the LA Galaxy signed Giovani dos Santos, a Mexican player in his prime who is playing well in the capital of Latino culture in the United States. "Slight change in plans," Vaudreuil says.
Villa shrugs off this latest development. And he is less sanguine in his own observations about his future as the head of a network of soccer academies, especially because, as he himself admits, "I am not a teacher."
But he does vow to bring in high-level coaches from Spain and to seed the academy with his own money, and he says he is already looking at space in the New York City area for a soccer camp. Víctor says part of the reason they are spending the day seeking the business end of any microphone that will have them is that Villa is also beginning the process of raising money from outside businessmen. "He is still in his prime as a player; he has maybe three more years," Víctor says. "But we are also thinking about the future. And we want that future — he wants that future — to be here in America."

The father, a weathered 45-year-old, cried the first time he saw his son, David, 17, take the pitch for Sporting Gijón's B team. It meant the son — slender, short, narrow-limbed, and wasp-waisted — would never have to go down into the pits that spread in a subterranean archipelago around their village of Tuilla, Spain. José Manuel Villa — everyone called him Mel — had spent his life working the coal mines of the Langreo region, where the harsh, unforgiving mountains were veined with deposits that had long been both the curse and the livelihood of the area. David himself, the middle boy between two sisters, had once woken in the morning to the rumble of a mine explosion in the nearby Mosquitera deposit and reports that six mineros were missing in the collapsed mineshaft. David was 10. When word came that Mel had made it out alive, David was reminded of two things: his father's courage, and that he himself was not brave enough to make a living belowground.
What he didn't dare dream, however, was that he could make a living on the soccer field, as did the heroes whose posters lined his bedroom walls: Luis Enrique, Romário, Ronaldo — all, at one point, Barcelona men. The boy was physically precocious, quick to walk, to run, to kick a ball, to run with a ball at the point of his boot. He was the fastest in Tuilla to run from the poky little train station to the Catholic church and back, the youngest boy in his class (he had a December birthday) who rapidly established himself not only as the best player among his peers but, despite his small size, a player who could run with any side in the village.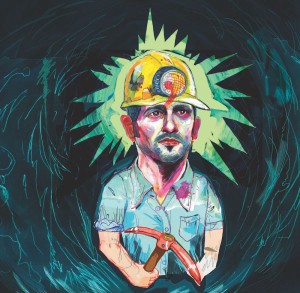 To find him a competitive game, his father had to drive him to La Felguera, down the hill 10 kilometers, where quality five-a-side matches were played on a concrete pitch with small goals, both pickup games and a youth league that David began to dominate. One defining attribute of his game was a physical limitation that turned into a virtue: the ability to use his diminutive size and slender physique to find space between and behind defenders, to squeeze himself into gaps on the pitch that only he could see because only he could fit into them. Once in this interstitial space, he could control and turn on a ball with a sudden pivot and immediate power, so fast a defender would only realize David had had the ball when it pushed out the back of the net. "I'm lucky that I was a small player and am still a small player," he says. "My body suits my style of play. But that's football, figuring out your style." Soon, he was running with boys five years older, sometimes grown men, and he became known in his native Asturian dialect as El Guaje, The Kid, a nickname that still sticks and remains most fitting even for a bearded, spiky-haired 34-year-old now closer to the end of his career than the start of it.
His father still lives in Tuilla, in the same three-bedroom apartment the family lived in when David was a boy. "I'm comfortable here," he has told David each of the dozen times the son has offered to buy the father a grand house. "We don't need more than we have."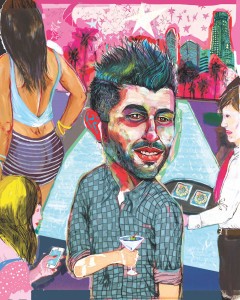 To this day, when asked about his character, his education, his deft first touch, his ambidexterity, his religion, David refers to his father. "I am never alone, not on the pitch, not in life." It was his father who encouraged him to favor his left foot after a leg injury at age four had weakened his right. His father who drove him to his games, who trained with him, who saw before anyone else that his boy's combination of speed and coordination could be just enough to win him a life aboveground. His father took a disappointed 14-year-old David Villa, who'd been unable to crack a lineup of older players and been benched by his coach for being too short, and told him that he was too good to go back to playing pickup soccer with his friends. That he had a gift, given to him by God, though Mel himself wasn't a religious man. It was his father who drove him to Sporting Gijón to deliver him to his first professional coach, Pepe Acebal. His father whom David refers to when he says, "Everything I am is because of him."

A dozen or so women in short skirts cluster around high, circular tables. White-shirted, black-slacked waiters carry trays of deconstructed California rolls. A rooftop swimming pool, shallow and dimly lit in the dusky night, is ostensibly the reason that this Manhattan Beach hotel can call the sliver of murky water and adjoining patio a "sky pool deck." The reception is in honor of David Villa and thrown by his own consultants, though he's an hour late and half the guests have no idea who he is. A few of the young women believe they are at an LA Galaxy party. About a dozen people sit on lounges, drink complimentary cocktails, and stare at their phones. There is a recycling magnate from the East Coast, dressed in flip-flops and shorts, who assures me he is in the recycling business not because it is green but because it makes a lot of money. He is waiting to meet Villa, but after an hour or so starts saying, "Bro, I have to go. I have to go."
"David's a great teammate," Pirlo says. "But I don't know why I am here. I don't know why he is here."
When Villa appears with fellow NYCFC teammate Andrea Pirlo, he is swarmed by some fanboys who definitely know who he is, and he stands in his checked shirt and jeans and moccasins, smiling and sipping a Heineken, answering questions in Spanish, greeting the recycling magnate in his halting English. "At the moment I am welcome," he says in English. "But I am not welcome for losing matches." (He has signed a sponsorship deal with Kaplan International English.) He wanders away and continues to speak in Spanish with his teammates. Pirlo wanders over to the bar, orders an amber beer in a huge plastic glass, and shrugs. "David's a great teammate," he says. "But I don't know why I am here. I don't know why he is here."
"I believe this," Villa says. "That I can teach the love of the game, can teach passion, can teach how to play the right way. I can't teach everyone to be like David Villa, but you know what? A team of 11 David Villas can't win anything."
He says he is like his father: not a religious man. He says he doesn't know if there is a God. "But I believe in my life. And after we are dead, I hope there is something."
And after his playing career is over, he hopes there is a soccer afterlife for him here in America.
At ESPN earlier in the day, between Nación ESPN and a quick spot for ESPN Argentina, he waited in the green room with his agent, next to a mural of several basketball players. I pointed to one.
"Do you know who he is?"
David Villa stared at it, shook his head, shrugged.
"Kareem Abdul-Jabbar.
"And him?" I pointed to John Wooden, standing next to Kareem.
He shook his head.
I told him Wooden is the most famous basketball coach in history, perhaps the most famous coach in American sports history.
"Like Pep Guardiola in Spain?" said Víctor.
Sort of.
David Villa nodded and said, "I'm learning."

Karl Taro Greenfeld is the author of eight books, including the forthcoming soccer novel, True. His work appears in Harper's, The Atlantic, and The Paris Review. Miguel Valenzuela is an illustrator who lives in the Los Angeles area. He specializes in portraits.
Contributors
Karl Taro Greenfeld
TAGS
WELL, IT DEPENDS ON WHAT YOU MEAN BY "FREE."
Enter your best email for full access to the site.