Andrea Pirlo's guide to improving American soccer
May 24, 2016
https://www.gettyimages.com/
In a recent interview, NYCFC midfielder Andrea Pirlo offered his views on youth development in the United States and how that impacts the quality of play at the professional level.
From Reuters:
"What I'm talking about is actually a system or culture. I don't mean that the level of technical skills are low. I just mean there is a cultural void that needs to be filled," Pirlo told Reuters at an MLS promotional event in Manhattan.
The Italian, who turned 37 on Thursday, said Americans who play soccer at college are already behind in terms of their development when compared with European peers. […]
"[In Europe] they pick them and they train them in much more than just running," he said. "They train them in stopping the ball. Here that doesn't happen.
"So when a young man becomes a professional in the United States he still has some gaps that need to be filled when playing on the field."
As far as his personal U.S. experience, Pirlo said he has adjusted to the new environment and found the level of play quite physical, which he attributed to how players evolve in the U.S. system.
"It's a very hard league to play in. It's very physical, there's a lot of running. So there is a lot of physical work and to me, in my mind, too little play," said Pirlo.
So how would Pirlo fix these systematic issues? Here are his steps to developing a more cultured game…
Step 1: Let children drink red wine
People in the United States are not legally allowed to consume alcohol until the age of 21. This puts them at a tremendous disadvantage, not only in soccer, but in life. Giving children a nice Barolo with dinner, beginning at, say, the age of 10, will teach them to appreciate and distinguish the subtle notes of true quality from an early age. As the palate develops, so will the level of skill and degree of patience on the pitch.
Step 2: Encourage them to have deep, meaningful conversations with a trusted goat
Farm animals are the most valuable creatures to humanity and goats are the wisest of them all. Back home, at my fortified bunker high in the Alps, there is Davide — a lifelong friend and valued ally who has imparted immeasurable wisdom upon me through many serious, and at times heated, discussions. Goats can see things that we sometimes cannot, which is a skill particularly useful when honing one's passing ability. A child who forges a bond with a Davide of their own is at an incalculable advantage in developing as a soccer player.
Step 3: Prohibit them from running
When children first begin to play soccer, they simply do not have the physical coordination or mental capacity to do it properly. So instead of starting them off on a foundation of aimless running, unnecessary exertion, and improper execution, have them begin by playing matches in a local vineyard, where every child must sit and quietly visualize the actions of a more mature player that they admire for 90 minutes (the winning team will be that which achieves a unified state of nirvana and does not ask their parents if they can stop at McDonald's on the way home). This is a far more valuable experience, and something I still practice as a professional.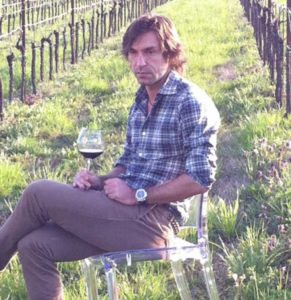 Step 4: Inform them of the existence of tailors
Children in the United States are often very poorly dressed. Their clothes are ill fitting, usually stained, and shabbily constructed. Perhaps if they regularly wore bespoke attire, they would have the confidence to held themselves to a higher standard on the pitch. I have no evidence to back this claim. It's just a thought and Davide encouraged me to include it.
Step 5: Foster creativity and eliminate the notion of "good hustle"
Since arriving here, I keep hearing this phrase "good hustle" and it is deeply disturbing. Commending a person simply for moving quickly and exerting themselves in unproductive ways benefits no one. Every time I hear this, it infuriates me to the point of delivering a smoldering, expressionless gaze that is made profound by my enviable facial hair. Thoughtless action is not something to be praised. Artistry is. If sweating is all one must do to earn positive reinforcement, all you get are soccer players satisfied with their own body odor and not true masters of a craft.
Step 6: Seriously, stop f***ing running
I'm 37 years old, I'm in a strange land, I don't speak the language, and there's cheese on literally everything. I just wanted to see New York, check out a few museums, and ease into retirement with some money in my pocket. Stop running. Just stop. Take some pride in your first touch and stop f***ing running. This isn't Pamplona! God.
Contributors
Howler
TAGS
WELL, IT DEPENDS ON WHAT YOU MEAN BY "FREE."
Enter your best email for full access to the site.