DT Exclusive: Brendan Rodgers' first moments as Celtic manager
May 21, 2016
https://www.gettyimages.com/
Brendan Rodgers is Celtic's new manager, ending a rather productive spell away from the game (boxing! a Times Square marriage proposal! daring fashions!) after he was sacked by Liverpool last October. A lifelong fan of the club, Rodgers seems to be a perfect match for the Scottish champions and has excited their supporters.
The following is a transcript of Brendan Rodgers' conversation with Celtic chief executive Peter Lawwell immediately after signing his new contract.
Lawwell: Welcome to Celtic, Brendan.
Rodgers: Thank you, Peter. Thank you very much. This is outstanding. Now when do we starting filming the reality show?
Lawwell: Reality show?
Rodgers: Yes, the reality show documenting my first few weeks at the club.
Lawwell: We don't have any plans for a reality show, Brendan. I'm sorry.
Rodgers: That's fine. Being: Liverpool was such an international sensation that I thought you'd want produce a follow up to it. I was thinking we could call it Brendan and the Bhoys or Brendan Returns: The Brendaning. But maybe we can just do a web series and a limited edition graphic novel instead.
Lawwell: Yes, well, we'll think about that. First we need to announce your arrival! I'm sure the supporters will be thrilled.
Rodgers: I've got that sorted, actually. Here…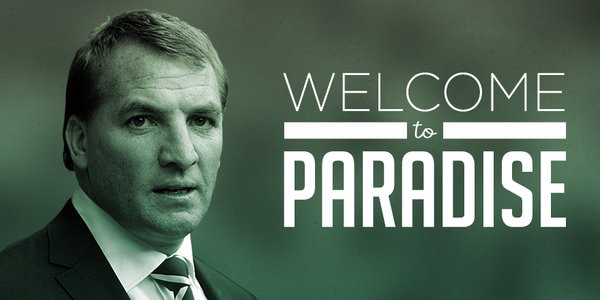 Lawwell: What's this?
Rodgers: It's the sign I have on my bedroom door. In my single days, I'd bring a lady friend back to mine and point to the sign, then give them a wink and they'd know they were entering the pleasure zone. Since Celtic Park is called Paradise, I figured it would work in this capacity, as well.
Lawwell: Oh, right. OK. I'll pass that on. And maybe leave out the first part of that explanation. What are you doing?
Rodgers: Don't mind me, I just wanted to shoot off a quick text about the good news.
Lawwell: To your fiancé?
Rodgers: No. Jurgen Klopp. I had him over to my house, you know. Taught him everything he knows.
Lawwell: Maybe you can do that in a minute. We just have a few more documents to sign…
Rodgers: This will only take a second, Peter. "Dear Jurgen — see you in the Champions League next season…"
Lawwell: You don't have to narrate what you're typing…
Rodgers: "Oh sorry, I forgot you won't be there. The Europa League maybe? Oh no, my apologies again. By the way, I'll give you £50 million for Joe Allen."
Lawwell: Brendan! We will not be offering Liverpool £50 million for Joe Allen!
Rodgers: It's just an opening bid, Peter. Don't worry. I paid £32 million for Christian Benteke. I know what I'm doing. Ah, he's replied already. "Who is this?" Hahaha! That Jurgen. We like to joke.
Lawwell: Alright, let's get back to the business at hand, shall we?
Rodgers: Yes. I'm just going to step out and call Joe Allen — tell him to pack his bags. Let me know when the camera crew gets here.
Contributors
Howler
TAGS
WELL, IT DEPENDS ON WHAT YOU MEAN BY "FREE."
Enter your best email for full access to the site.