Home
Dirty Tackle
Antonio Conte bleeds, Gigi Buffon falls off crossbar during Italy celebrations
Antonio Conte bleeds, Gigi Buffon falls off crossbar during Italy celebrations
June 13, 2016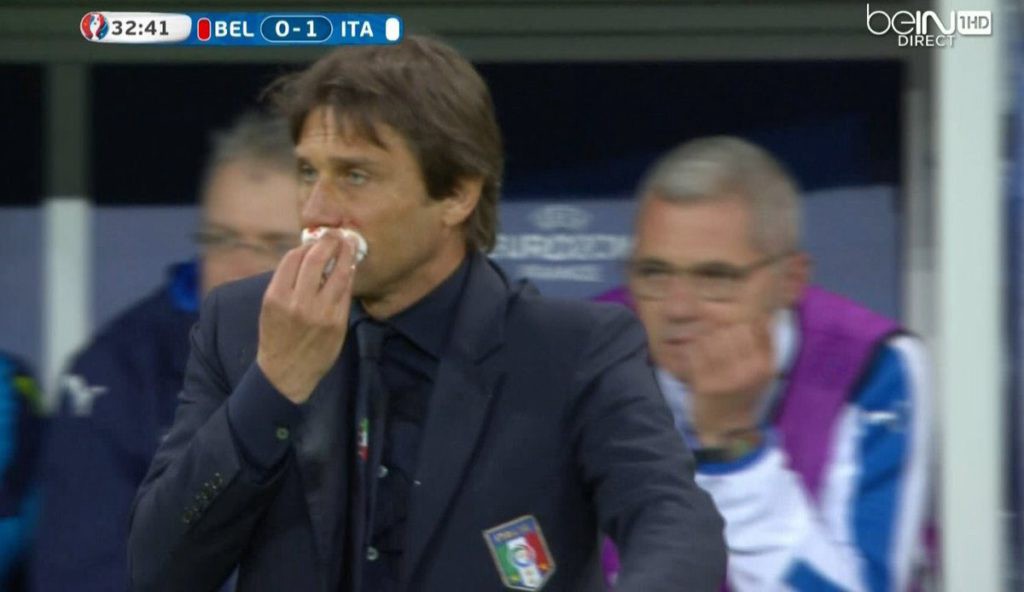 Italy stunned Belgium by scoring first with a 32nd-minute goal from Emanuele Giaccherini and their bench was perhaps a bit overly aggressive in their celebrations with manager Antonio Conte.
The new Chelsea man came away from being mobbed by his players with a cut opened up on his face — apparently the accidental doing of Simeone Zaza.
Conte required treatment from the physio and had to manage while holding a tissue to his face in order to stop the bleeding. If Italy defy expectations and make a run deep into this tournament, Conte might not survive.
After the match, which Italy won 2–0, 38-year-old goalkeeper Gianluigi Buffon got a little too rambunctious and tried to swing from the crossbar. It did not go well.
Gianluigi Buffon can do many things. Swinging on a crossbar is not one of them. (Via @MJCzechowicz) pic.twitter.com/9Hl56Y32Jt
— Archie Rhind-Tutt (@archiert1) June 13, 2016
He didn't let it dampen his mood, though.
Just because you're the oldest guy on the pitch doesn't mean you can't act like the youngest.
Contributors
Howler
TAGS
WELL, IT DEPENDS ON WHAT YOU MEAN BY "FREE."
Enter your best email for full access to the site.