https://www.gettyimages.com/
Andrew Gastelum is Howler's man on the scene for Euro 2016 and will be sharing his experiences in France throughout the tournament. Read his first dispatch here.
[P]ARIS — Even in a land steeped in fairytale and a culture built upon ancient lore, one story remains hard to believe.
There, where books detailing King Arthur's battles with giants could be just as easily found in the history aisle as the mythology section, a new legend brews, one that features a country's fearless, man-bunned leader who shepherds the resurgence of a lost pastime.
Wales, in its debut bow on the biggest stage in Europe, has already made history. What they can now do is captivate and conquer.
Following a gallant 2–1 victory over Slovakia in their first ever Euro match, a win on Thursday would see them through to the knockout stages when just showing up would've been applauded. A win on Thursday would even see them top the group. But biggest of all, a win on Thursday would mean a win against England, with manager Chris Coleman's men eyeing a bit of giant-killing themselves.
Real Madrid star Gareth Bale called out the English team in this week's build-up, claiming no England players could break into the Welsh side. The forward, who scored Wales' first Euro goal, also said he would rather never qualify than play for England. It was his beard the lion — or Three Lions — moment, it was as if David taunted Goliath with the slingshot before the showdown. His fearlessness was charged and focused, much like the nation of fans he represents.
"England should be more scared of Bale on Thursday," Jim Cavanagh of Caernarfon said when asked if he had any concerns over the terror warning in France, avoiding the question with just the second group game seemingly on his mind.
"And the Welsh Xavi!" one of his red-clad drinking buddies yelled. The group of Welsh fans then suddenly broke into song in Tolkien-esque fashion. They sang the words to "Joe Allen Give Me Hope" while crunching their Carlsberg cans beneath their feet.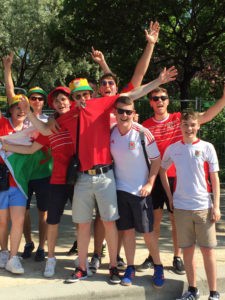 "Aaron Ramsey too. Justin Bieber's got his hairstyle, not the other way around," Cavanagh said, referring to the Arsenal midfielder's newly bleached blonde hair. "He's got that Beckham superstar status."
For some Welsh fans in Paris, the game is a shot at vindication. It's a chance to purge themselves of the stereotypes of being the English hand-me-downs for players who weren't good enough to play for the Three Lions and had an ancestor from Merlin's country. Apparently, there was one other particular stereotype that could use some myth-busting.
"The English just think we're shagging sheep all the time, so we've kind of embraced it," Harry Kyle of Bangor said. "Obviously we don't actually do that. Except Kurt here."
"Ey mate that was one time," Kurt Hellfield of Bangor said as a joke (I hope), before another argument broke out concerning the sheep-to-person ratio in Wales. They settled on "somewhere between 4:1 and 7:1."
But for other Welsh fans in Paris, Thursday's game and Euro 2016 as a whole is a chance to showcase their culture and the Welsh language to the rest of the continent.
"We just want to make our country proud and show that we aren't just another part of England," Mabon Huws of Caernarfon said. "Hardly anyone knows that Welsh is a different language."
It proved true in one particularly infamous incident last summer. Star midfielder Aaron Ramsey tweeted "Un flwyddyn heddiw" (one year today) after celebrating his one-year wedding anniversary last June, only for Arsenal fans to ask him if he had a little too much to drink that night.
Welsh derives from a Celtic root in the same branch as Gaelic Irish and Breton, which makes the Wales team's base in the French region of Bretagne a spiritual home in addition to a training camp.
The latest census shows Welsh is spoken by around 20 percent of the nation's population, and much like Gaelic in Ireland, a nationalist push to include Welsh on road signs and to enroll elementary and middle school children in Welsh language camps has begun to revitalize the fading tongue.
Huws, a student at the University of Liverpool, said he primarily speaks Welsh with his family and friends, one of them sat on the edge of the group in a Wales bucket hat due to his unease at doing an interview in English. He estimates it cost around £2,000 to follow Y Dreigiau around France to see his country in its iconic moment at its first major tournament since the 1958 World Cup.
"It's been a long wait over the course of centuries. Like, his dad is in his 50s and has never seen Wales play for these kinds of stakes," Huws said, pointing to a companion wrapped in a Welsh flag. "We've been undermined for so long, now is our chance to finally show what we can do."
There's a lot at stake for Wales without looking at the England game. But for Sean Jones, there's only one game that truly matters.
"My fiancée is English and I'm Welsh," said the Ewloe native, who lives in Liverpool and supports Blackburn Rovers. "I see it as friendly banter. But it's not just bragging rights at the office, but at home too. It's our derby really."
As with every Wales fan before him, I asked whether he would rather beat England or get out of the group.
"I'm glad I don't have to give you an answer," Jones said after the Bale-inspired win in the opening match, standing next to his wife-to-be in a white England jersey.
Asked on the eve of the tournament last week, the others didn't have that luxury. They argued and debated the lines of their fandom and ethics along the slightly-flooded Seine. The split was 50–50 among 14 fans — that's how much the game means to them.
But on Thursday, they could slay two dragons with one sword. What a story that would make.

Follow Andrew Gastelum on Twitter @gastelumEPL.
WELL, IT DEPENDS ON WHAT YOU MEAN BY "FREE."
Enter your best email for full access to the site.