An oral history of the U.S. run to the semifinals at Copa América '95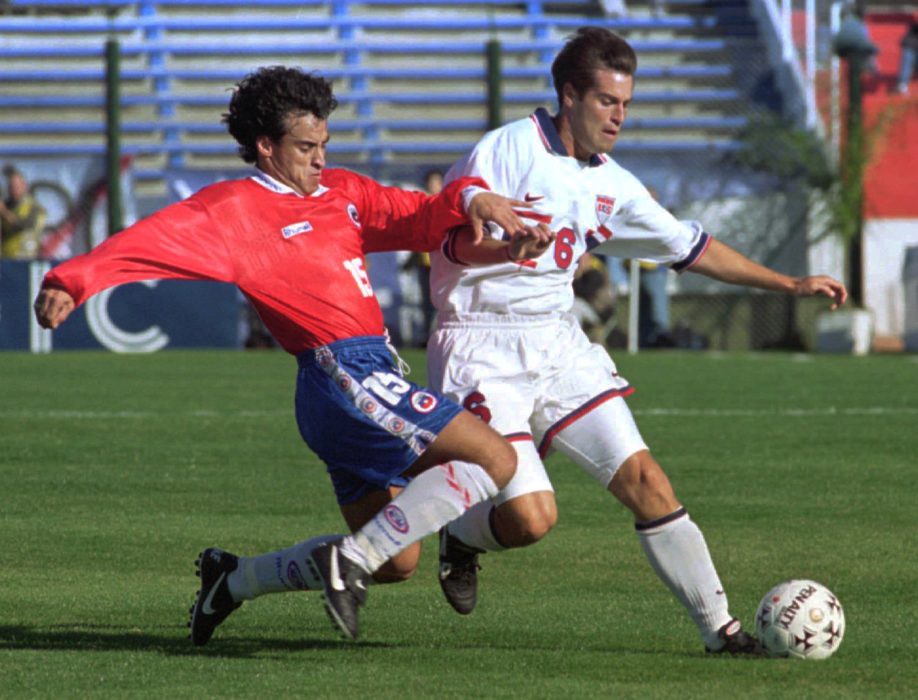 How's this for a quirk of history: the two best cup performances by the U.S. men's national team both took place in Uruguay. Sure, the 2002 World Cup in Korea has a strong case. But get out of here with your 2009 South Africa Confederations Cup. And forget about any of our Gold Cup trophies, if you haven't already. Look, chances are you don't remember the 1930 World Cup (we came in third, but you weren't born yet). And though it was much more recent, your memories of the 1995 Copa América are probably fuzzy too. It was nearly impossible to watch on stateside TV, and as for press coverage — ha! But Uruguay 1995 was a defining moment in the story of the American team — a tournament that proved '94 wasn't a fluke and gave the squad a jolt of hard-earned confidence when the Yanks took on the best of South America and their own paymasters at the U.S. federation.
So we asked some of the guys who were there just how the hell they managed to bring Maradona to tears by routing Argentina and ultimately finishing fourth in South America's continental championship. But before getting to that legendary game against Batigol, Simeone, Aimar, and Co., our lovable bunch of nobodies — led by an interim coach and not exactly basking in adoration or respect a month after crushing Mexico 4–0 in a little-known tournament called the U.S. Cup — had to decide if they were going to play at all.…

THE STRIKE
Steve Sampson, interim head coach: "A lot of people don't realize what transpired leading up to that first game."
Marcelo Balboa, defender: "There was a little bit of a discrepancy between the players and the federation about bonuses and appearance fees and stuff like that. There was a bit of conflict. When we got to Uruguay, it came to a head. We decided we weren't going to practice and that we were going to stay strong as a team. We were at the biggest tournament in South America, and we didn't feel like we were being treated properly. It was still pretty new after the World Cup, and we knew that we had a little bit of leverage. We were, at that point, where we would band together and fight for what we thought was right."
Sampson: "They had made a lot of money in the '94 World Cup for the United States Soccer Federation. The salaries that they were offered to train full-time with the national team prior to the World Cup were meager, although the federation was not in a great financial standing at the time. The players felt that after the success of the World Cup in '94 that they had a right to request more money."
[The men's national team didn't have a players' association or a collective bargaining agreement yet.]
Eric Wynalda, forward: "We had just finished a set of very good results — beaten Mexico 4–0, tied Colombia, beaten Nigeria — to win the U.S. Cup. This was the first real competition that we felt as players that we were in a position to say, 'You know what? We think we deserve a little bit better than that.'"
Sampson: "We had one practice after we landed. The Copa América organizing committee had put us on a horrible field that was full of mud. I had the choice as to whether to raise hell or just go out and train. I just said to the guys, 'We're here to get results. Let's not worry about the quality of the field; we'll deal with that later.' Interestingly enough, as we progressed into the tournament the training fields got better and better and better. They basically had no respect for the United States."
Kasey Keller, goalkeeper: "Paysandú was not very metropolitan. Basically one hotel and it looked like it was made with cinder blocks. There were no real training facilities. They were poor. I think we were a little bit surprised, going down to a Copa América and having kind of those rudimentary facilities."
Sampson: "I didn't realize until we got into Paysandú that there actually was an issue. They kept that pretty much to themselves. After practice, they told me that they weren't going to train anymore. You can only imagine the shock on my face when I was informed."
Keller: "We were making a point. It was a turning point for the players. Everybody was together. All of us understood where U.S. Soccer was, especially those of us involved in the '90 World Cup and then '94 — that it was in a different situation and that we felt that it was time to stick up for ourselves."
"We got all the stats: a U.S. team had never beaten a South American team on South American soil, all that stuff."
Sampson: "The entire national team went on strike, requesting more bonus money, more appearance money. I was called three days before our game against Chile [and told] that the federation was going to replace the U.S. national team with the Olympic team, and I told them, 'I'm hired by the federation and I'm here to coach. I'll coach whatever team you want me to coach, but I'm staying out of it.' They weren't very happy with me. It was a very tricky spot because literally I'm coaching for my future. Being an interim coach, obviously, it was a very important time for me. It was a no-win situation for me if I took sides.
"A lot of time was spent in the lobby playing card games, drinking cappuccinos, and walking down to the restaurant to have our meals."
Balboa: "There was a lot of meetings. We were still doing stuff. We knew that there was still a big tournament. But we didn't go on the field with the coaching staff. We knew that a few days of not practicing wasn't going to kill us. We came in pretty fit. I remember all of us sitting in a room waiting on a phone call, wondering if we were going to play or not play against Chile."
Sampson: "The night before we were to play Chile, the federation and the players came to an agreement to table the discussions for a few months. I think the players got some concessions. And we had one training session the morning of the game against Chile."

THE GROUP STAGE
July 8, Paysandú — United States 2–1 Chile (Wynalda 14', 20'; Rozental 63')
Wynalda: "The first game was after all of these incredibly draining and exhausting three days in Paysandú, as far as the mental aspect, and we weren't able to really train. We were really anxious, understanding the pressure we had just put on ourselves. We went to the wall for each other, and now we had to perform. We got all the stats: a U.S. team had never beaten a South American team on South American soil, all that stuff."
Keller: "We almost felt an obligation to perform because if you're gonna stand up, you'd better back it with some good performances. It didn't do any good to puff our chests out and then get our butts kicked. That doesn't help your case a whole lot."
Sampson: "The players were so unified and the chemistry so exceptional that we could have beaten Brazil on the day."
Keller: "We were very competitive. We weren't overawed by the situation. I had to make a few saves, but I wasn't insanely busy. We had a sense of purpose. We got the job done."
Wynalda: "I think the first 45 minutes against Chile is some of the best soccer that the United States has ever played. Maybe Claudio [Reyna] will get mad at me for saying this, but he could have had three goals in the first 15 minutes. Earnie Stewart was lights-out. [Thomas] Dooley and [John] Harkes were absolutely terrific. It was just a really cool first half. We totally screwed up their rhythm."
Balboa: "We surprised a lot of people. After what happened in '94, they looked at us and said, 'Okay, they had a good tournament,' but they didn't really respect us still. A lot of teams did not respect us, and at that point, I don't think Chile did. And they were surprised."
Wynalda: "I was pulled off at halftime and I destroyed the locker room. I was so angry. Not the best team thing to do. But the guys understood that I was livid at Steve for taking me out [on a hat trick]."
July 11, Paysandú — Bolivia 1–0 United States (Etcheverry 23')
Wynalda: "That was really weird. We played a really terrific game again, but the result didn't go our way. [Marco] Etcheverry scored a brilliant goal — I don't think [goalkeeper] Brad [Friedel] could have done anything better with it. We really should have gotten something out of that game."
Tab Ramos, midfielder: "We can always rise to the occasion and play the strong countries well, and yet we continue to have problems putting away the countries we have to beat all the time. In that sense, we haven't grown as much as a country as we'd like to."
"Simeone and I got in a fight. We had a shoving match in the hallway before the game, grabbing each other's shirts and throwing each other against the wall. I mean, crazy shit."
Sampson: "We played a great brand of soccer against Bolivia, but lo and behold, Etcheverry goes on this run from the midfield, past three or four of our players, and puts the ball in the back of the net. Of course, I second-guess myself and I should have probably marked him. But I had so much confidence in my team at the time, I didn't feel it was necessary. So now we're faced with a win and a loss going into a match against Argentina, and we had to get a result."
July 14, Paysandú — United States 3–0 Argentina (Klopas '20; Lalas '31, Wynalda '58)
Wynalda: "We went into the third game against Argentina, and we had the worst scenario in front of us. We had to win to advance in the competition."
Balboa: "Argentina, again, didn't respect us. They left quite a few players on the bench, thinking that it was just the U.S."
Keller: "Our goal going into the game was to compete and keep it tight. We were winning 2–0 at halftime."
Wynalda: "Tab says, 'You guys do realize that if we beat them three–nothing, we win the group.'"
Sampson: "And he meant it, too."
Ramos: "I don't know that we necessarily all believed that would happen, but we knew what the scenario was. If we got first place we avoided playing Brazil and would potentially play Mexico in the next round, and obviously that was a big difference."
"Maradona was crying. And what I remember him saying was, 'I'm not crying because Argentina lost. I'm crying because it was beautiful to watch the Americans play.'"
Wynalda: "[Diego] Simeone and I got in a fight. That was fun. We had a war of words prior to the game; we had a shoving match in the hallway before the game, grabbing each other's shirts and throwing each other against the wall. I mean, crazy shit. He and I are yelling at each other on the field while he's on the bench. He's calling me every name that you can imagine; I'm screaming back at him. He didn't start. But he finally gets on the field — he makes three or four threats to me, that he's going to kill me, that he's going to break me in half. And I just smiled at him. You've gotta remember I had just shaved my head and I'd come back from an injury, so I was acting a little crazy myself. I'd been lifting a lot of weights. I was bigger than I normally was. So I was ready for him."
Sampson: "We went with a 3–5–2 because I wanted to overload the midfield and force Argentina back on their heels. I knew going into the match that Argentina did not respect the United States and that if there was ever going to be a game where they were going to be flat and didn't take their opponents seriously, it was against us. And we came out flying and ended up scoring two goals in the first half."
Wynalda: "It was just such an amazing effort from our team. Kasey made some great stops on Bati[stuta]."
Sampson: "Argentina made their three changes in the second half, but we got better. It didn't matter what changes they made. We continued to dominate the game and create more chances than them."
Ramos: "The results were starting to add up. And there's no question people around the world were starting to take note and taking us seriously."
Wynalda: "When the game was over, after all of that, I went over to Simeone and shook his hand. He looked right at me, or right through me — big smile — and said, 'Congratulations.' Then he put his hand on my head and pushed it and said, 'But next time — next time we're going to get you.' That's Simeone. That's why he's a legend for me."
Sampson: "After the game, Diego Maradona came down to our locker room and congratulated every single one of our players. And I'm sitting there in the back of the room listening to this. He said in Spanish — and Marcelo Balboa and Tab Ramos translated this — 'Today, the United States was much better than Argentina.' For our players, that was maybe as significant a moment as winning the match by three goals."
Wynalda: "Maradona was crying. And what I remember him saying was, 'I'm not crying because Argentina lost. I'm crying because it was beautiful to watch the Americans play.' I think Tab was just happy that there was a really good soccer player that was shorter than him."

THE KNOCKOUT ROUNDS
Quarterfinal: July 17, Paysandú — United States 0–0 Mexico (USA wins 4–1 on penalties)
On June 18, the Yanks had trounced a loaded El Tri — replete with Jorge Campos, Luis Hernández, and Carlos Hermosillo — by four goals in what remains the biggest American win ever in 66 head-to-head games.
Sampson: "We knew that they were going to come at us because of the 4–0 result a month earlier. It was a pretty even game."
Wynalda: "We could have beaten Mexico. We had just beaten them 4–0. We went to a shoot-out. When we took the penalty kicks, Brad went up there and grabbed the crossbar and the whole damn goal was wiggling as the Mexican player was walking up to take his penalty kick. He was just so intimidating. When he spread out his hands, he was covering the whole damn goal. They only scored one and we scored all four."
Semifinal: July 20, Maldonado — Brazil 1–0 United States (Aldair 13')
Ramos: "When we had to travel from Paysandú to Maldonado, we drove to the airport, saw what the plane looked like, and didn't even want to get on it. We stayed on the bus. The plane was falling apart."
Keller: "The problem was we had four or five guys speak up who were afraid to fly on an Uruguayan airline. So instead of taking a half-hour flight, we had to take a five-hour bus ride through the country to get to the game. The part that then pissed off those of us that thought this was ridiculous was [a few days later] they had to take the exact same plane to Argentina to fly home, which nobody was bitching about, and then they didn't seem to have the same fears and want to take a bus. The preparation was severely detrimental. I wanted to send them in a car and let those that wanted to take the plane, take the plane."
Wynalda: "We were all tired. It was just the way the tournament worked out — the mental and physical strain of the competition and all of the strike stuff. We just ran out of gas, didn't have the best of games. They were Brazil, man. It was a big ask."
Sampson: "We had never beaten Brazil. But I didn't want them playing conservatively. I wanted them to show what the Americans could do against the best team in the world.
"Roberto Carlos streaked up the left wing, and the instant Cobi Jones touched his shoulder in the attacking third, he took a dive and drew the free kick. It was a perfectly placed ball to Aldair, who scored. We held our head up after that game. We had achieved something very special, especially considering the conditions going into the Copa América."
Wynalda: "We lost on a near-post header. It was a rough game. We knew we could have played better. We disappointed ourselves on the day."
Third-place game: July 22, Maldonado — Colombia 4–1 United States (Quiñónez 30', Valderrama 38', Asprilla 50', Rincón 76'; Moore 52' [PK])
Sampson: "The night before the game, our team administrator came to me and said the players had plane tickets to return home for the next night, after the game. [The final was scheduled for the following day.] How stupid is that? Here we are, as a federation, telling them we didn't expect them to get to the final. Little things like that messed with the psyche of the American player.
"The players were prematurely packing to go home. I said, 'What are you doing? You're making a statement about how you're preparing for the game by packing.' The reality was they were psychologically and physically spent, having gone through two major tournaments — the U.S. Cup and the Copa América — and we had three or four significant injuries. They probably could have mustered up enough energy for a final, but it was a third-place game. Let's be honest, Americans don't like to play third-place games."
Keller: "We made a bunch of changes to the team because a bunch of guys hadn't played very much. It was a third-place game. And it was a Colombia that we had struggled with in the past, and obviously beat in '94 — they had a little something to prove. It was impossible, probably, to continue the run that we were having."
Ramos: "Our approach for that game, looking back on it now, probably should have been a lot more serious and focused. I think at the time it wasn't a big difference to us coming in third or fourth place."
Wynalda: "Everybody was so dead. I don't think we cared about that last game. I'm sorry to say that, but we were so devastated and beat up, mentally and physically, that we really couldn't put together a performance."
Sampson: "But this was, I really believe, the tournament that changed everything for the United States. We became a team that people respected and that played to win instead of playing not to lose. That psychological change, I think, set the tone for the United States until today."

Contributors
Howler
TAGS
WELL, IT DEPENDS ON WHAT YOU MEAN BY "FREE."
Enter your best email for full access to the site.