The joyful terror of Roy Keane at Euro 2016
June 23, 2016
https://www.gettyimages.com/
Ireland have reached the round of 16 at Euro 2016 and it's safe to say that a constant fear of assistant manager Roy Keane is the primary reason for that. Though Ireland's success has elicited rare smiles from Keane, the underlying menace that he exudes remains strong.
Following a 2–1 loss to Belarus before the tournament began, Keane made sure it was known that his murderous thoughts were on record. "We wanted to kill some of them last night," he said of his own players. "I've moved on from that. They should be counting their blessing that they've managed to get on the flight."
Perhaps realizing that this might have been a bit much, Keane knew that he had to lighten the mood upon arrival in France. So he did it with a fun prank that involved causing an old man to fall over for his amusement.
https://vine.co/v/ilhgqUhB9QI/embed/simple
A 1–1 draw with Sweden and a 3–0 loss to Belgium had Ireland on the brink of elimination going into their final group-stage match against Italy and Keane knew he had to be forceful again. When asked what he would tell the players in an effort to slow down an Italian side that had won their first two matches, he once again did not mince words.
"My advice would be: 'Yeah, take them out.' We're not here to make friends. The fans will do that. From a player's point of view, if you smell danger and you think: 'We're in trouble here,' then yeah, you do whatever you can to get the right result. If that's a foul, then you foul him. It's not a crime. You might get a yellow card, you might even get a red but your team might win. Sacrifices. You have to make sacrifices for your team. Does that answer your question?"
Ireland went on to win 1–0 with an 85th-minute goal from Robbie Brady, sparking wild celebrations from everyone…including Roy Keane. Of course, Roy Keane being Roy Keane, this still involved just enough violence to remind the recipient of his affection that underneath the jubilation is an unspoken threat to keep performing at a high level, or else.
Congratulations, Roy Keane style… pic.twitter.com/Voco4gAcvp

— Matthew Stanger (@MatthewStanger) June 22, 2016
Look at the expression on Brady's face after Keane mercifully released his throat from a joyous vice grip.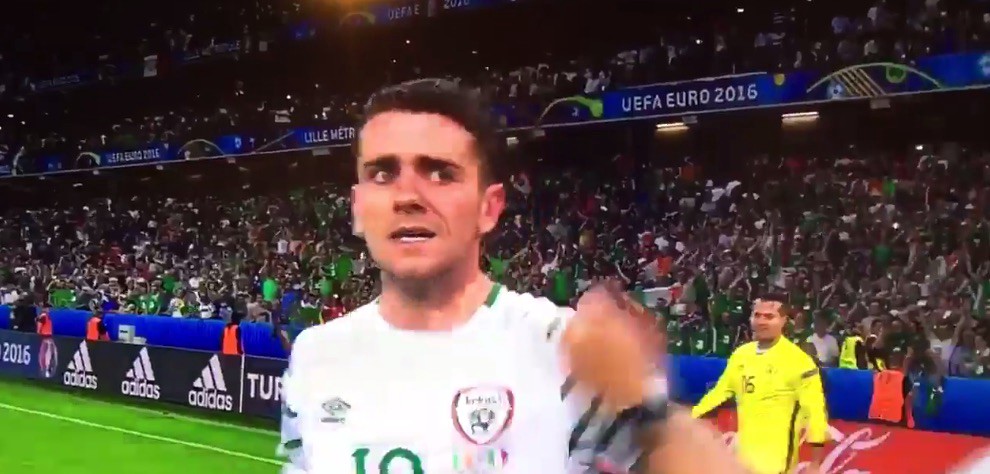 He instantly realizes how close he just was to certain doom and he knows that if he messes up against France in the round of 16, Keane won't let go next time.
This truly is the happiest scary time of these players' lives.
WELL, IT DEPENDS ON WHAT YOU MEAN BY "FREE."
Enter your best email for full access to the site.