By Bobby Warshaw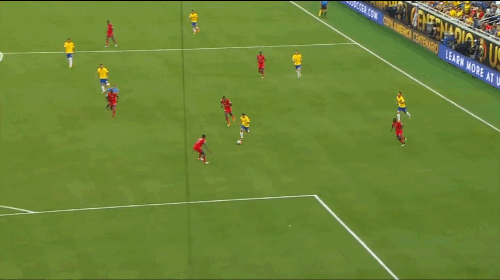 Philippe Coutinho opened the scoring for Brazil with a beautifully taken, long-range strike. We are naturally drawn to his powerful, swerving shot, but it's a decision a few seconds earlier that makes the play and shows top-level ability. Here's the full clip: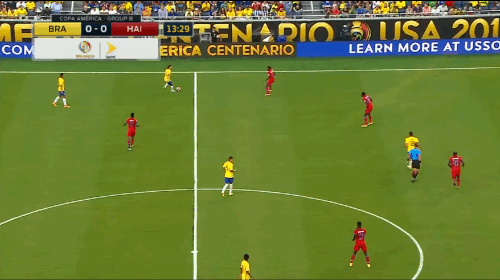 Coutinho plants himself in space between the lines — too high for the Haitian defenders to stop, but behind where the midfielders would like to be — and finds himself boxed in by the opposition, with players in front and behind, right and left. It's pretty typical for players in this position to choose a safe pass, bouncing it to another teammate or playing it backwards. It's a lot more difficult to turn with the defense around you, where you might lose the ball. Coutinho had the space, but knowing he had the space shows his awareness.
We often hear coaches and pundits say "play the way you're facing!" and "keep it simple." It takes a special player to go against the grain and unlock a defense. It takes awareness and bravery to control the ball and turn yourself, and it's a skill that separates the best attackers in the world from those just below. When a team works hard to get past the opponent's defensive lines, you don't want to go backwards and have to do it again. Coutinho's awareness and control to turn and attack the Haiti defense opens up the opportunity to go at goal.
Bobby Warshaw is captain of the Harrisburg City Islanders and host of Howler's The Play podcast, in which pro players break down a single moment of action. Subscribe to The Play in your podcast app or check out the archive here.
Contributors
Howler
TAGS
WELL, IT DEPENDS ON WHAT YOU MEAN BY "FREE."
Enter your best email for full access to the site.