The 2016–17 Lebanese Premier League gets in gear for another season of sporting-political rivalry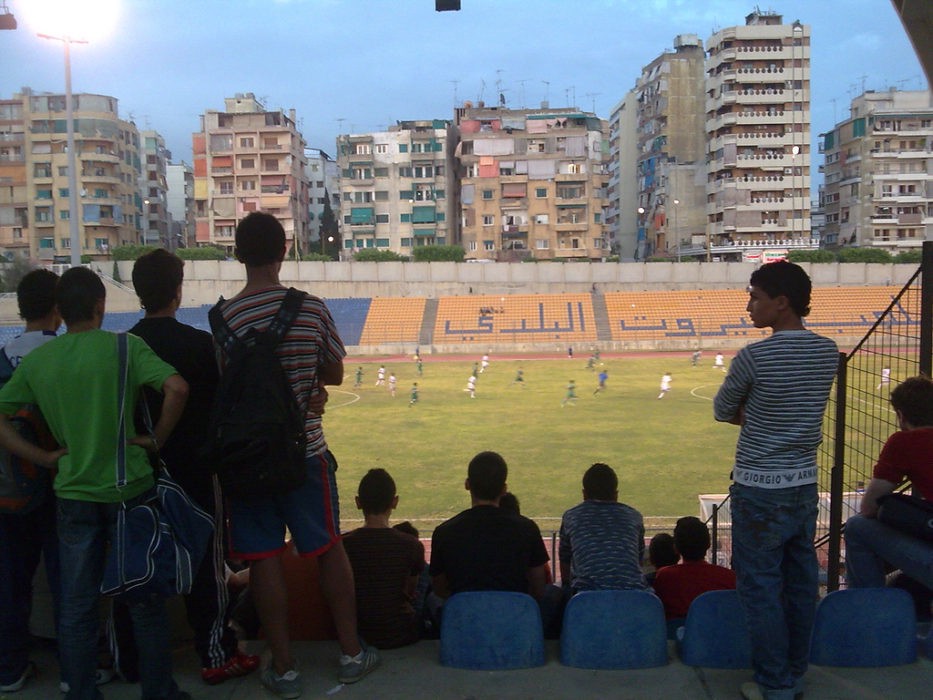 The 2016–17 Lebanese Premier League kicks off on Friday, and Hezbollah is playing the Druze ethnic minority group. Saturday night the Orthodox Christians have the Sunnis.
Well, not literally, but such is life in Lebanese soccer. In a country where religion is identity and identity makes for contentious politics — Lebanon's entire system of political representation is based on a religious census, and the country's political leadership is allocated according to faith — where you stand on a political agenda has a habit of impacting where you sit in the stands. Or, more likely, stand and jump and chant and fight people.
Soccer — or any sport — in the United States carries no conscious political undertones. Explicit political affiliations permeated Israeli soccer until the 1980s, as I've written, when private financiers replaced the political organizations that had originally bankrolled every "Hapoel" or "Maccabi" or "Betar," all of which carry those names according to their political patron.
But in Lebanon, Israel's neighbor to the north, the same religious communities that imbue a team with their identity ended a brutal civil war less than a generation ago. They jockey endlessly for influence in the postwar atmosphere. Sometimes it has been hot conflict, with clashes in the streets and the murder of political opponents. Otherwise, it lingers under the surface.
In soccer, though, it gets the opportunity to erupt. Many of Lebanon's teams represent the mosaic of the country's sectarian confessions, or distinct religious communities. Most have political party patronage. This weekend it's technically not Hezbollah, the Shiite Muslim terror organization and political party, playing the Druze, a small community distinctly separated from its regional neighbors by ethnicity and religion. It's Al Ahed, a Shiite identity squad heavily funded by Hezbollah, versus Al Safa', which gets support from Lebanon's Druze and money from the small community's politicians. Likewise this weekend it's Racing Beirut, Lebanon's Orthodox Christian identity squad, versus Al Ansar, which has roots in Lebanon's Sunni community and had been funded by the wealthy, Sunni family of politicians, the Hariris. A tier down there's the team of Lebanon's Francophile Maronite Christians, Club Sagesse. There's even the Armenian squad Homenetmen Beirut, which represents those of the Armenian Diaspora who settled in Lebanon after the Genocide a century ago.
These squads, though, can't claim the exclusive support of their confessions. Lowest common denominator identities aren't monolithic, after all, with other factors such as divergent political agendas or geography impacting one's fandom. Al Ahed isn't the only team whose identity has been appropriated by Shia Muslims, for example: Just in Beirut alone are Shabab Al Sahel and Al Mabarra.
Moreover, some of the bitterest rivalries are intra-community, just a sign of the complex identities at play in Lebanon. Familiarity breeds contempt between Lebanon's biggest Christian squads in a way perhaps, as acclaimed soccer writer James Montague has written, reminiscent of Scotland's Old Firm. The specs are certainly higher. It's not just a rivalry between two sides of the same religious coin. The Maronite Club Sagesse and Orthodox Racing Beirut are on opposite sides of the oldest split in Christianity: the thousand year divide between eastern and western. The squads are based in the same quarter of Beirut, Ashrafiyeh, making the four mile journey between Celtic's Celtic Park and Rangers' Ibrox Stadium feel like a cross-country road trip.
Soccer, in this context, has the technicality of peace while displaying all the hatreds of war, and it shows in the national government's attitude to supporters of the domestic game in recent years. Out of concern for public security after the 2005 assassination of Prime Minister Rafik Hariri and the Israel-Hezbollah war in 2006, the government prohibited supporters from attending matches. The ban remained in place until the government determined that outbursts of violence wouldn't plunge the country into further chaos. It lasted five years. Even with its withdrawal, only limited numbers of supporters could enter a match. More violence has cropped up since, with the latest ban from February to March this year after supporters of Al Ansar and Al Safa' fought in the stands.
Soccer is just one more example in Lebanon of the way that political intrigue has taken firm hold to make seemingly apolitical areas of life a zero-sum competition perilously close to overwhelming Lebanon's already tenuous functionality. The Syrian Civil War is just over the border, and in some cases has led to Al Qaeda-affiliated groups taking control of Lebanese territory. One in four people living in Lebanon currently is a refugee, likely a Syrian or a descendant of Palestinians. Its government dysfunction makes the U.S. government a model of efficiency by comparison — even trash collection is politicized. There are plenty of reasons why Lebanon is more stable than it is given credit for, but at the same time its political identity-rooted soccer fandom and violence provides flash-points. From these flash-points come the sparks that can ignite countries on fire.

WELL, IT DEPENDS ON WHAT YOU MEAN BY "FREE."
Enter your best email for full access to the site.