Landon Donovan's Unretirement of Epic Broportions
September 9, 2016
By Landon Donovan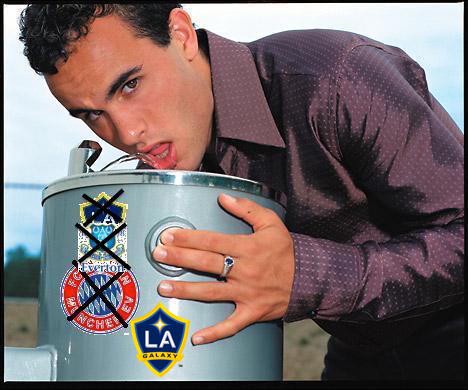 WHAT. IS. GOOD.
LD BACK BACK BACK BACK BACK BACK UP IN THIS LA GALAXY THING AHHHHHHHH!!!
Apologies for that fuego landing, but your boy has been rum and stoked straight up since lunch at the prospect of making the most epic unretirement comeback in the history of American soccer this weekend at the Stub. Let's fuggin' talk about it.
Why L-Deezy? Why did you have to go all American Soccer Jesus on us? Because I felt like it. Plus changing Talon's diapers is a really whack activity. I love being a dad but that dude's butt is on some other stuff. But you should expect that when you name you prince after a rad-ass pterodactyl body part.
Anyway, when my man was born I insisted off the rip on a diet solely comprised of Gerber's peaches and avocado toast — but some garbaggio doctor said that it wasn't a good idea. Whatever — it actually isn't my problem anymore, doc. Now all I do is go to training, boss up, get a few ill tocas in with the lads, then go home and we just post up and watch old Dave Matthews Band concert videos and play "dress the kid up like Bob Ley." That's the parenting sweet spot. Take notes, America. Thank you, Bruce Arena.
Number 26? Yeah, bro. Good old Deuce-Seis. One of the more visually chill two-digit numbers on the entire number line. Plus Talon was born on that day of the month. Word.
Position? I don't really care. It means nothing to me. I learned in Cambodia that positions are just false jails that soccer players are put in. This, I believe, also applies to international rosters and non-rosters. (Side note: I bet watching my announcement video made Jurgen Klinsmann sprinkle his lederhosen.) So what if they moved one of the best central midfielders in the league to loft me back into the lion's den? That's what you do for a #LegenD. And it's gonna be dope.
Personal Benefits? Potentially have two jersey numbers retired in the Galaxy Constellation of Champions at the Intergalactic Planetary and Space Museum. Potentially win a league MVP award named after myself. Probably get Stevie G to make funny faces at things because he's a full English breakfast and was already afraid if I came back I'd be mowing his tea and crumpets on the team sheet.
Definitely gonna dap up my boy the Soccer Don again, tho. Oh and b-t-dubs: no take backs on those retirement gifts.
Previously: Landon Donovan's Retirement Adventure of Epic Broportions
Contributors
Howler
TAGS
WELL, IT DEPENDS ON WHAT YOU MEAN BY "FREE."
Enter your best email for full access to the site.