Professional footballer and PSG fan Kris Devaux explains his mind's hatred for his heart's team in the wake of Laurent Blanc getting sacked
By Kris Devaux | Photo: C.Gavelle/PSG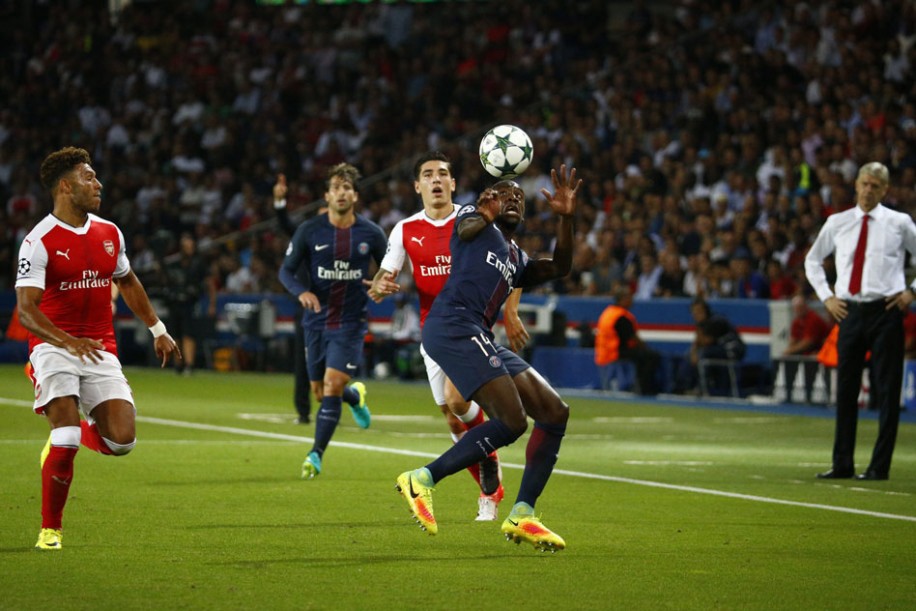 Sports are sports, and I get that. Results matter. One-off cup games can cost you a job when you've done brilliantly the other 50 games in a season. But when did it become acceptable for good business sense (or common sense for that matter) to get thrown out the window…and worse yet, for all pundits to support it?
Time to get to the point. PSG fired Laurent Blanc last season after a record-setting season — the first loss came on the 28th match day — that culminated in a third straight French Ligue 1 title. It's an impressive feat regardless of the league. Blanc's reign as manager of PSG included an unprecedented quadruple in 2015–16 (Ligue 1, Coupe de France, Coupe de la Ligue, Trophee des Champions) and a treble of trophies in 2014–15. His "difficult" season, the 2013–14 campaign, still ended with the Coupe de la Ligue and a Ligue 1 title.
Put simply, his CV looks rather brilliant. Blanc did something not even a renowned manager such as Carlo Ancelotti, Blanc's predecessor at PSG, was able to do. He also did an under-appreciated job in Champions League, cruising through the group stage each year, only to be knocked out at the quarterfinal stage by some of the biggest clubs in the world (Chelsea, eventual champions Barcelona, and Man City).
Granted, the club's Qatari owners set their target at a Champions League title. Really, we all set our sights on a Champions League title. But at some point reason must take over. We have to take a deep breath and remember that cup games are a one off; anything could happen. As I stated in the opening, results matter, but surely the play and the look of the team should hold some merit, too. Surely understanding the simple probabilistic nature of cup games should play a role, as well.
The people with the money make the decisions. We have to remember, however, that they didn't make their money in soccer.
Look at the Man City quarterfinal matchup from last year. If Zlatan doesn't miss a penalty. If Joe Hart doesn't have two of the best games he's ever played in a City shirt. If PSG scores any one of their easy sitters in front of goal…if if if. If those games are played 20 times, does anyone doubt that PSG goes through 18 times?
Regardless, Blanc's bosses set a benchmark for his job, and such is life. We all have bosses. He didn't get the job that they wanted done, so they let him go. So who do they bring in? Unai Emery. The media hailed him as a brilliant tactician with a history of success. He's the first coach ever to win three consecutive Europa Leagues. It sounds impressive, and it is. I don't want to take from that achievement.
But here's my annoyance: you fire a guy because he hasn't won you a Champions League, and you bring in a guy who has had success in three consecutive Europa Leagues…do they not recognize how a team gets into the Europa League? It's often by not making it out of the Champions League group stages, as was Sevilla's case last year. A third-place finish in the big leagues earns you a spot in the lesser tournament.
So, in review: You fire a guy who has won nine trophies in three years and replace him with a guy who has yet to win a domestic title (I get it, Spain is arguably the best league in the world), and who has not made it out of the Champions League group stage in three consecutive years. Why would you expect that new guy to go out and win you the Champions League?
The people with the money make the decisions. We have to remember, however, that they didn't make their money in soccer.
I don't have all the answers, and undoubtedly Emery has some good qualities. Time may even tell of this move to be positive one, and I might eat these words. But, right now, it just makes no sense. And so far, the results (as early as it is) show it. They've already had their first loss in Ligue 1 coming after just three match days (Monaco 3–1 PSG). More so, their style and play seem to have taken a step back. Emery's strict defense-first style — which worked great at Sevilla — destroys all the strides that PSG had successfully taken in recent years. Under Blanc they could fully dominate teams, as they did against City in last year's quarterfinal (they maintained 64% possession in the first leg and 62% possession in the second against the previous year's Premier League champs).
I'm a PSG fan, and though I still root for them, I have to admit that I subconsciously find myself taking savage pleasure in this decline…because as much as I love football, and this team, I find myself much more drawn to common sense and sound business decisions.

Kris Devaux is a goalkeeper currently playing for Honefoss BK in Norway. Originally from France, Kris moved to Lititz, PA, where went through the school system before attending the University of Delaware, earning a Triple Language Major. Since then, he has gone on to play professionally in France and Norway.
Contributors
Howler
TAGS
WELL, IT DEPENDS ON WHAT YOU MEAN BY "FREE."
Enter your best email for full access to the site.