Home
Dirty Tackle
The FA had to get rid of 4,000 T-shirts that quote Sam Allardyce intended for the next England home match
The FA had to get rid of 4,000 T-shirts that quote Sam Allardyce intended for the next England home match
September 30, 2016
https://www.gettyimages.com/
Sam Allardyce's scandal induced resignation from his role as England manager has caused collateral damage for the FA in the form of 4,000 T-shirts intended to be handed out during England's upcoming match against Malta — what would have been Allardyce's first at Wembley.
From the Daily Mail:
The FA wanted to mark the World Cup qualifier by giving away T-shirts printed with the slogan: 'The journey starts with us all pulling together' — something Allardyce said on the day he was appointed.
A crowd mosaic of coloured cards has also been pulled.
Scrapping the T-shirts and mosaic leaves the FA £25,000 out of pocket.
There was room for further embarrassment for the FA on Thursday night after it emerged England's players also received postcards from their former manager — sent the day he was sacked — that read: 'Our journey has begun. Looking forward to seeing you soon.'
If it weren't for England's long history of things like this happening naturally, you'd think this was all the work of a comedy writer. But it's not.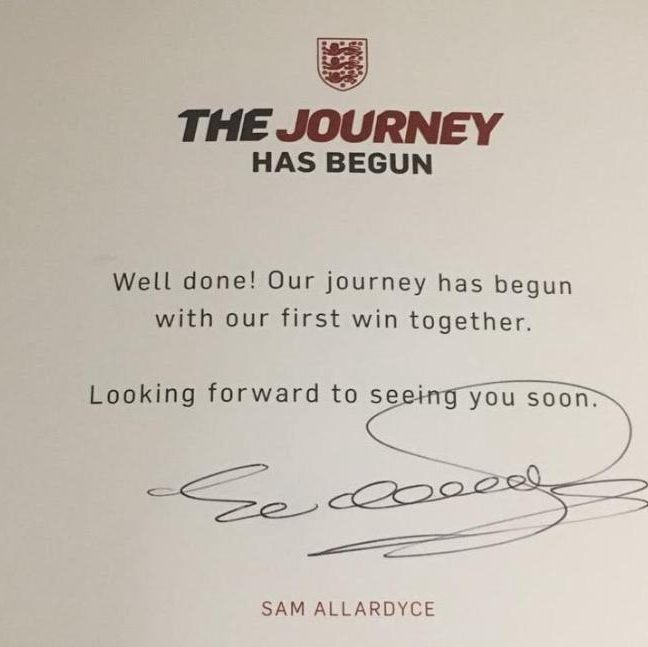 Look at that note! First of all, it's short enough to be a tweet. Secondly, by saying "Looking forward to seeing you soon" he was basically challenging the football gods to take him out. Thirdly, anyone who underlines their name that emphatically as part of their signature is bound to be doing some brazen shadiness.
Anyway, I really want one of those shirts. Hopefully they end up on eBay.
Contributors
Howler
TAGS
WELL, IT DEPENDS ON WHAT YOU MEAN BY "FREE."
Enter your best email for full access to the site.