The rivalry between Manchester United and Manchester City has never been bigger, and yet it still feels like a family affair

This essay appears in the Fall 2016 issue of Howler. You can subscribe here.

If, around 10:15 a.m. on Sunday, September 20, 2009, you happened to be traveling along an otherwise sleepy stretch of Third Avenue in the Gowanus section of Brooklyn, you may have seen a 41-year-old man burst from a dive bar, raving. Had he been attacked?
No. His arms were spread wide in triumph, not agony. His voice was filled with joy, not despair. Three and a half thousand miles from Canal Bar, a former Liverpool player had just scored the fourth goal for the man's beloved Manchester United to cap a 4–3 thriller. The team that got three? That would be the other team in Manchester.
He went on like that until, realizing he was more or less alone on a quiet street, he broke into a little dance: knees high, arms spinning, body turning, like the jig England manager Bobby Robson did when David Platt scored his winning goal against Belgium in extra time at the 1990 World Cup. If he'd been wearing a suit, the shouting man would have buttoned it in typically understated British triumph, just as Robson had done.
The bartender watched the man when he walked back into Canal Bar. This had been a major disturbance, at least for Gowanus. The bartender — no soccer fan — had been bemused that a TV show could cause that kind of reaction in his customer. When the ball landed at the foot of Michael Owen, the shouting man already knew what was going to happen. Michael Owen — ugh! that Michael Owen, as Liverpool as John, Paul, George, and Ringo — was going to make a Mancunian very happy. And so he did.

I think about this now as the Manchester derby regains some much-needed luster. The derby has been eclipsed, at least for many United fans, by the overarching rivalry with the team 35 miles to the west, Liverpool, and in any case, the Manchester derby never quite held a Roman candle to the derbies in Glasgow between Celtic and Rangers; in Montevideo between Nacional and Peñarol; in Cairo between Al Ahly and Zamalek; or across the Bosphorus between Fenerbahce and Galatasaray.
That day in September 2009, when I ran screaming from Canal Bar, was a moment when the United-City derby really jangled the blood, but even then only because it was one of the best games ever played in the Premier League era.
City had recently taken Carlos Tevez from United, and a United legend, Mark Hughes, was now City's manager. The Abu Dhabi United Group had only a year before rescued City from Thaksin Shinawatra, the dodgy former prime minister of Thailand and failed businessman, but already there was a sense that money was no object (buying late-era Brazilian star Robinho, for example).
United had won the English league title for the third time in a row, but a tide was turning. Cristiano Ronaldo had just left for Madrid. When City commissioned a billboard on the outskirts of town featuring Tevez and proclaiming "Welcome to Manchester," Sir Alex Ferguson called the crosstown team "noisy neighbors."
Those neighbors are now showing us up. Since Sir Alex stepped away in 2013, United has finished seventh, fourth, and fifth to City's first, second, and fourth. United lost out to Wolfsburg and PSV Eindhoven in last year's Champions League group stage while City fell to Real Madrid in the semifinal by a single goal. Only one of the two will even compete in the event this year, and it's the wrong one.
There's an old saw that United grew teams under Ferguson rather than buying them — problem is, it's just not true. For every Paul Scholes there has been a Rio Ferdinand, whose $50 million fee in 2002 broke the transfer record. Now, under new boss Mourinho, four players have come in, one of whom, Paul Pogba, cost another record fee even though he didn't do much in Euro 2016 — and even though United had already owned him once. Another, Zlatan Ibrahimovic, is hoped to be the second coming of the man who turned United around in the 1990s, Eric Cantona. Zlatan, the sequoia-sized Swede, is a big enough character to put United back at the top of the pile, or so the argument goes; that he's about to turn 35, and in European terms has been playing the equivalent of pub football in Ligue 1 in France, are both facts conveniently overlooked by fans desperate for some sparkle after the dross of the post-Fergie seasons.
And what about the other team in Manchester? It appointed the great Pep Guardiola as manager — can he out-mind-game the master, Mourinho? — but on the playing front, City seems to be mostly wondering whether Yaya Touré cares to break a sweat and whether to sell Wilfried Bony.

Some people think football is about what happens on a field when 22 men run about for 90 minutes, but it's really about lots of other things, such as family.
There's a story in my family about the day Uncle John went to Old Trafford. I can't verify how true it is because so many of my father's 13 or 14 siblings (I never could count them all) are gone, but here it is: John was the only one who supported the other team in Manchester; the rest were die-hard Reds. Uncle John had other stuff wrong with him, too, so the legend went — he was an amateur painter, for a start, and a left-wing union leader in the years of Thatcher. I always thought he sounded wonderful, despite his soccer allegiance. Even though there were rumblings that he took his family to a dacha on the Black Sea for summer holidays, I looked up to him as only a lefty kid in Thatcher's Britain could. I also knew that on pain of principle, Uncle John refused to go to Old Trafford, home of Manchester United, for any reason.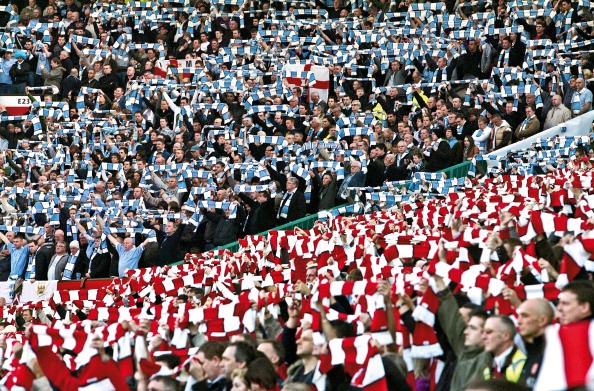 John's brother, Michael, on the other hand, never missed a game at Old Trafford. Not only was he a lifelong season ticket holder, but he was also a sports journalist in Manchester for the tabloid Daily Express. Uncle Michael was the ultimate United insider. A friend of Busby, he even had a weekly column in the United program for many years. It was always a thrill to buy United Review outside the stadium and turn to the page where my very own uncle had a byline.
Except on the day that Uncle John finally had to attend Old Trafford on union business. It was for the Manchester derby, no less. And it just so happened to be the one time Uncle Michael wrote about the Dempsey family's black sheep, our only City fan, Uncle John.

Uniquely in a city of rain, the day in 2009 was sun-drenched. The game started brightly, too — before two minutes were done, Rooney had given United the lead. But a Ben Foster howler, via the terrier-like efforts of a poaching Tevez, who laid in Gareth Barry, saw the game all square at the break (though Tevez had hit the post).
Already the game felt like a classic in the making, and so it would be. Darren Fletcher and Craig Bellamy both scored twice in a fantastic second half. Three all, then, and four minutes of added time looming.
Somehow, the four minutes of added time became five, then six — the TV commentator suggested that Bellamy's celebration after his tying goal had contributed, though lazier fans will invoke "Fergie time," the factually disproven but still pervasive idea that referees gave Alex Ferguson the benefit of their watches. Whatever the case, with the penultimate kick of the game, Ryan Giggs proved himself the calmest man in the world by threading a perfect pass to Michael Owen, alone on the left-hand side of the box. Now just about to turn 30, his pace all but gone, this was the last time Owen proved he still had moments where he didn't miss, controlling the pass perfectly and burying his shot into the far corner to give United the win.
In Brooklyn, a man erupted from a bar and went momentarily insane. A man sweeping the sidewalk across the street looked up and wondered. The bartender probably considered locking the door. And in heaven, or somewhere beyond the clouds, Uncle Mike turned to my dad, and I like to think that their spirits rested on the image of their brother, Uncle John, head in hands, down there on the briefest of planets.

Luke Dempsey writes frequently for Howler. He is the author of Club Soccer 101. Follow him on Twitter @ClubSoccer101.
Contributors
Howler
TAGS
WELL, IT DEPENDS ON WHAT YOU MEAN BY "FREE."
Enter your best email for full access to the site.