The U.S. Paralympic National Team continues its rise
September 12, 2016
The team has achieved its highest world ranking to date, but much like their better-known peers on the senior national team, the players remain underdogs against the world's elite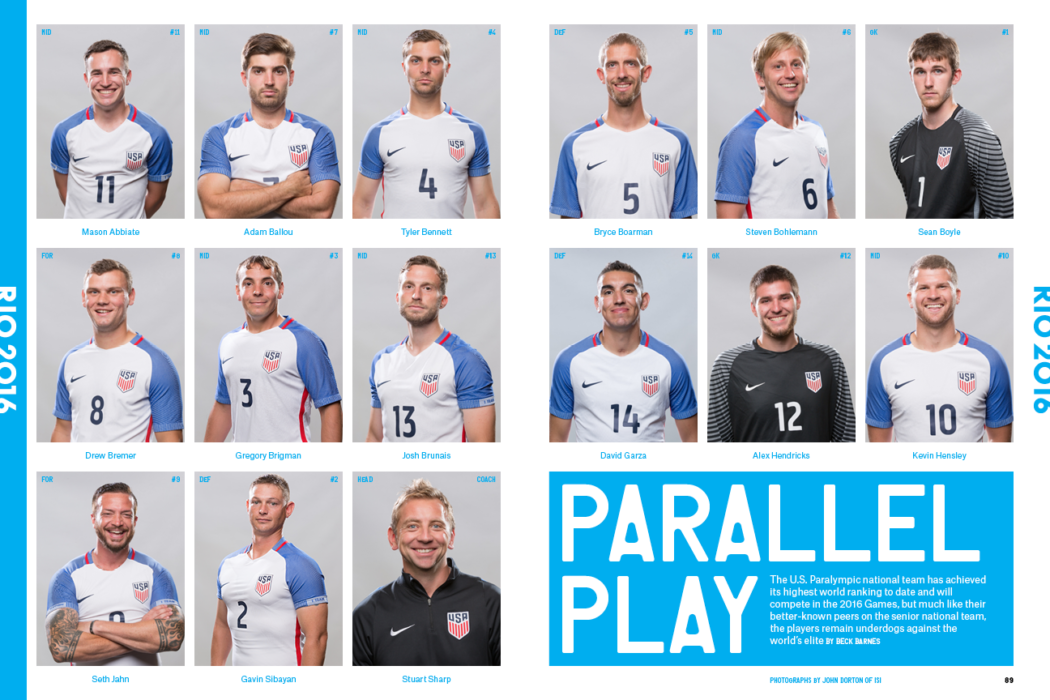 This story appears in the print edition of Howler's Fall 2016 issue.


From a distance, the players look a whole lot like their more famous countrymen. A pass into space. A burst of speed. The same jerseys. Which, in June 2015, meant either golf-polo whites or the notorious Bomb Pop kits for the U.S. Paralympic national soccer team.
A handful of its games from the Cerebral Palsy World Football Championships at St. George's Park in England live on in YouTube videos now. You can watch it dominate Venezuela in the first round. You can see the team's captain bring the ball off his chest and nudge it into shooting position in one motion, then crack it with his right foot from 30 yards out past a diving goalkeeper and into the side netting.
Look again and you'll notice a lilt of the body as it approaches top speed, the curl of an arm as a winger streaks forward. A player may have less spring in his right step than he does in his left, or an ever-so-subtly tottering gait.
These are the lasting symptoms of brain trauma, and every player on this team has experienced that. Impaired motion. Memory loss. The subsequent frustration. All of these melt away on the soccer pitch.
Like in the moment after Kevin Hensley put his scorcher beyond the reach of the Venezuelan keeper. Ease. Flow. Bliss. They high-five their captain, who has just scored in the opening moments of an important international tournament. A few days later, they will upset one of the world's best teams and qualify for the Paralympic Games, the pinnacle of their sport, set for Rio this September.


The suburbs east of Memphis are a pleasant but unremarkable place. Strict zoning laws keep everything clean and homogenous. The lawns are immaculate. The McDonald's arches rise only to eye level.
In 2006, two days before Christmas, Randy Hensley and his wife, Donna, left their home in Collierville and headed into the city to do some last-minute shopping. Their son, Kevin, was at a nearby park kicking a soccer ball with his girlfriend. At 14, Kevin was a promising young player. He had recently been invited to participate in the state's Olympic Development Program (ODP). His future was wide open.
After spending the afternoon at the park, Kevin got a ride home from his girlfriend's mother. Randy and Donna returned from shopping soon after. They noticed Kevin's backpack lying out of place in the kitchen sink. When they called for him, he didn't answer.
"I found him lying on the bedroom floor," Randy says. "I actually thought he was pulling some kind of joke. So I kind of nudged him on the foot and said, 'Get up.' Then I saw this look on his face that was, like, you know, he was spaced out and he was kind of drooling, and I knew something was really wrong."
They rushed him to the hospital. The doctors there were ambiguous and uncertain. CT scans revealed nothing out of the ordinary. There was a sense that time might be crucial, but nobody could determine what exactly was going on. With their son lying on the examination table, Kevin's parents grew increasingly anxious. Then Donna noticed Kevin's hand curling in an unnatural way. She showed her husband. Randy reached into his pocket, took out his key chain, and raked a key roughly across Kevin's exposed foot. He didn't respond.
The doctors sprang into action, administering a "clot buster" shot used to counteract the sometimes fatal effects of a stroke.

"When I saw his hand curl up and he didn't respond to the keys, I just completely broke down," says Randy, his voice cracking over the phone as he describes the episode nearly 10 years later. "It's one of those things you don't expect, for a 14-year-old, athletic kid to have a stroke. I'm thinking, 'Okay, he's going to be in a wheelchair.' I thought, 'This is going to change our life. It will change his life.'" And it did. But not in the way Randy expected.
The following days and weeks were intense, but Kevin's long-term prognosis turned out to be positive. He would walk, and think, and interact with others as he always had. But there would be challenges.
There had been a dissection in an artery in his neck, the doctors concluded. A clot had developed in the artery, then moved into his brain, which ultimately caused the stroke. Kevin had been involved in a violent play two weeks earlier at ODP training, when he had jumped for a header while his opponent stayed on the ground. Kevin had flipped upside down in the air and landed on his shoulders and neck. He felt a little woozy for the remainder of the day but thought little of it at the time and continued playing.
For two days after his stroke, Kevin suffered full right-side paralysis. For a couple weeks, he had trouble remembering his parents' names. The memory loss was a frustrating and at times alarming challenge. One day, he was at the mall with some friends when it started to rain.
"I didn't know what to call the water falling from the sky," he says. "Or I would be studying Algebra II that school year, and I called my calculator an airplane."
Studying presented a more troublesome challenge, one that plagued Kevin throughout high school and eventually caused him to withdraw from college before the end of his freshman year. But in the days immediately following his stroke, as his doctors and parents fretted over the details of his recovery, he focused on something that didn't seem very likely at first: returning to the soccer field.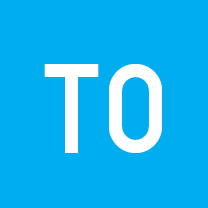 To be eligible for Paralympic soccer, a player must display some form of motor-skill dysfunction as a result of a brain injury. Most commonly, the athletes are born with cerebral palsy or have suffered a stroke. Some arrive on the team after recovering from a traumatic brain injury. The games are played seven-a-side on a field that measures 70 feet long by 50 feet wide, a format settled upon in Edinburgh in 1978, so perhaps it makes sense that a Scotsman is now the head coach of the U.S. Paralympic national team.
Stuart Sharp, a proper Scot with a thick accent and a quick wit, has been in the job since December 2012. When I first spoke with him by phone in the summer of 2015, he had just finished working a soccer camp in Atlanta designed for military veterans who had suffered brain injuries during their service. He has worked with refugees along Jordan's border with Syria and with earthquake victims in Port-au-Prince. When he first arrived in the U.S., in 2012, it was to work on sports-for-social-good projects funded by the U.N. and the U.S. Department of State.
Before that, however, Sharp led the Scottish Paralympic national team. His eight-year tenure there was highlighted by sixth-place finishes at the 2007 and 2011 International Federation of Cerebral Palsy Football (IFCPF) World Championships. Meanwhile, the U.S. Paralympic team had struggled. At the 2012 Paralympic Games in London, the Americans conceded 29 goals in five matches, scoring only once. The U.S. team had been in existence since the early '90s, but only in 2004 did it come under the umbrella of U.S. Soccer. On the heels of that poor showing in London, the team was in need of an invigorating force. That's when Sharp arrived.
The standard of play at the international Paralympic level is very high. Most players on the USPNT have competed at the collegiate level. Sharp says all of his Paralympic soccer players "are able to play within mainstream soccer clubs." But coaching in the U.S. has presented a daunting challenge for Sharp. He says player identification and development in this country lag far behind dozens of other nations where Paralympic programs are more established.
"For instance, the Russian team is a full-time professional team of paid players, and they have a league of 25 teams in their nation," he says. Ukraine, too, has a nationwide Paralympic league. So do Brazil, the Netherlands, and Iran. Each of these countries, along with Argentina, Canada, and Ireland, provide paid programs for their national team players.
The sport has grown at an astonishing rate. In 2012, there were 18 national teams competing worldwide. By 2015, there were 53. "Out of those 53 teams, 19 of those countries have leagues with teams competing for national championships within their own country," Sharp says. "At this point, the U.S. has a national team, but we're yet to grow a nationwide program."
He still employs the same scouting method he used on his very first day on the job, when he sat down at a computer and typed the words "soccer," "college," and "stroke" into Google.
Coming under the umbrella of U.S. Soccer has been a boon for the USPNT. The team now gathers for a one-week training session every month at the U.S. Soccer National Training Center in Los Angeles, the Olympic training center in Chula Vista, or sometimes at the IMG Academy in Bradenton, Florida. Work and school schedules make it tough for Sharp to get his whole squad together at once, but the fact that U.S. Soccer covers the costs makes it easier. Most recently, U.S. Soccer has brought the core of the USPNT into a full-time training program in Rome, Georgia, in preparation for the Rio Paralympic Games. The goal, Sharp says, is to produce a team that can challenge for championships on the global stage.
But Sharp faces disadvantages. He is understaffed compared with much of his competition. Jon Whittingham, the English Paralympic team's manager, says he is supported by "a network of full-time staff who work in the county FAs to develop activity on a local level." He mentions a structure of training sessions, camps, and development squads called the "disability player pathway" by which eligible players enter the system. This level of organization currently eludes the United States, where talent identification remains woefully rudimentary.
Sharp likens the process of finding players to "finding a needle in a haystack when you don't know where the haystack is." He chuckles to himself — partly at his own joke and partly out of resignation. "We are heavily reliant on word of mouth. Or social media. Or just hopefully finding someone who knows someone who might qualify for the team."
The sheer numbers suggest that plenty of Americans qualify for the team.
"One in four hundred individuals in the U.S. has cerebral palsy," Sharp says. "There are 5.3 million people in the U.S. who have a traumatic brain injury. I think that's about 2 percent of the population. Thirty percent returning from war have a traumatic brain injury. And there is just under a million people per year who have a stroke. So, in all cases, that comes to about 20 percent of the U.S. population have a disability that might qualify them for our program."
And yet he still employs the same scouting method he used on his very first day on the job, when he sat down at a computer and typed the words "soccer," "college," and "stroke" into Google.
"Up popped this ESPN article on this young man from Memphis who, after playing soccer, collapsed in his house and was rushed to the hospital," Sharp says. "That's how I found Kevin, pretty much in the first three hours of the job on my very first day."


Every member of the USPNT has a story. Midfielder Gavin Sibayan is a sergeant in the U.S. Army. He sustained a brain injury in an IED attack while deployed in Iraq. Seth Jahn, another midfielder and army veteran, nearly drowned when his vehicle overturned into a river during a firefight in Afghanistan. He was told he'd never walk again. Goalkeeper Alex Hendricks suffered two strokes and was pronounced dead during a brain surgery at age 12. Others on the team have dealt with cerebral palsy from birth, battling merciless bullies along the way.
For each of them, the call-ups to the USPNT have been therapeutic. Kevin's path to the team began soon after his release from the hospital.
"He said, 'It's no question. I'm going to go back and play soccer. Soccer is my life,'" Randy Hensley says of Kevin. "We were apprehensive, me and my wife. Every time he went out on the field after that, or went up to head the ball, it was one of those things where you just kind of cringe."
When Kevin returned to the field, he was still an aggressive center back known for his excellent passing. He was named to the all-state team at the high school level and remained in the ODP program through his senior year. In 2011 he went to Carson–Newman University on an athletic scholarship, but the challenges of collegiate academics proved too difficult for the young athlete who struggled with memory retention. That development was especially frustrating for Kevin, who had been an honor student prior to suffering a stroke.
But his fortunes improved when he attracted the attention of a writer for ESPN.com, whose pleasant human-interest story turned into Kevin's ticket to the national team.
"It definitely helps to spend time with guys who have been through the same things you have been through," says Kevin. "And when we're together on the field, it's nice that all we're focused on is soccer. The disabilities don't matter."
Randy says Kevin has been named captain of every team he's played on through the years, and Sharp quickly made him captain of the USPNT as well.
"Kevin has a quiet confidence about him," Sharp says. "He is a defensive-minded midfielder who is extremely solid, with great passing ability. Off the field and at halftime, he can be vocal. He is so passionate, not only about soccer but about the U.S. He wants to drive every individual forward to get every ounce that's possible within them out onto the field."
It seems to be working. In June 2015, at the IFCPF World Championships in England, the USPNT defeated Argentina on the way to a seventh-place finish, which ensured qualification for the 2016 Paralympic Games in Rio de Janeiro. That performance also earned the team a world ranking of №8, its highest ever.
"We had been working for two years to qualify for the Rio Paralympic Games," Kevin says. "The feeling after that game was very, very happy because we had accomplished one of our goals that we had been working on for so long."
Sharp is guarded about what he would consider a successful performance in Rio although it's clear the odds are stacked against the U.S. He says the team hopes to give a scare to the sport's traditional giants, including Ukraine, gold-medal winners at Athens 2004 and Beijing 2008. The host team, Brazil, also figures to be a heavy favorite.
The Americans also hope to inspire others who have battled brain injuries, strokes, or cerebral palsy.
"Soccer's a game that everybody in the world should be able to play," says the captain. "Some of the athletes on this team are absolutely incredible. It's just mind-blowing how kids with these types of disabilities are able to pull off the things that I see them do as part of this team."

Beck Barnes is an editor for the magazine. Follow him on Twitter @Beck_Barnes.
Contributors
Howler
TAGS
WELL, IT DEPENDS ON WHAT YOU MEAN BY "FREE."
Enter your best email for full access to the site.