Aurélien Collin, who is set to play against the Montreal Impact in the MLS Cup playoffs on Sunday, is a man the Red Bulls acquired to tighten things up at the back. In another part of his life, however, Collin is known for loose, flowing movements from every direction. Several years ago, while playing for Sporting Kansas City, he released a fashion line replete with casual and formal looks for the man about town.
Here, for your viewing pleasure, is how the defender describes the venture:
After I turned pro at the age of 19, the money I earned enabled me to shop at the big brand stores and start wearing some of the clothes I studied in fashion magazines. When I came to America, I immediately noticed mentally Americans were different when it came to fashion and saw the opportunity to work on my fashion projects. Americans are more open minded towards fashion and don't judge as much as I've experienced in Europe. I love that you can do anything here, as long as you are very professional and give 100% on the field. From this, I've begun the process of stylizing and modernizing men's fashion for here in the States.
Anyhow, you know where this is going. Let's look at some pictures: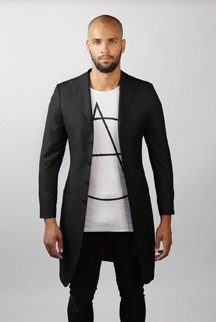 This item is listed as a "long jacket," which is a factually correct claim. It is a jacket and it is long. It is also apparently made out of "whool [sic]." Collin's store explains that the item is made in Montreal but designed in Kansas City, which is a nice inversion of how high fashion normally works. To own this item of menswear, you have to plunk down $695. Actually, you can't because online sales are not yet available on Collin's site. There's an email to which you can send inquiries. There's also the link to a store website which sets off many security alerts and, if you overlook them, appears to have been hacked.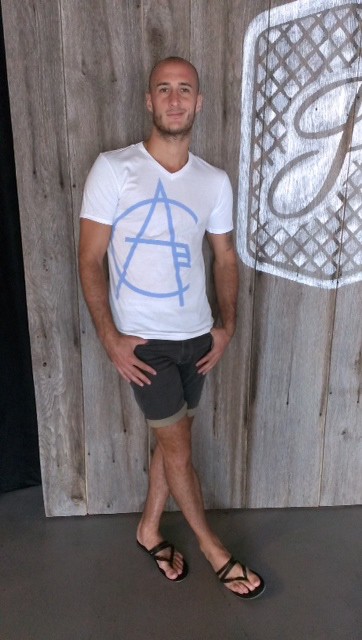 The main highlight of Collin's online store is its innovative approach to fashion photography. Some of the pictures appear to have been taken in his garage, which is an endearing aesthetic. That, at least, seems to be the case with the "AC78 Logo V-Neck Tee." It, too, is designed in Kansas City and made with "Imported Fabric."
Imported from where, you ask? Good question. No further information is offered, so your imagination can run wild. Maybe the fabrics are imported from a fashion hotspot like Milan or Paris. Maybe they're imported from Minsk. It's a mystery and that's what makes the item so exciting. Further mystery and excitement emanates from the t-shirt's price, which is not listed.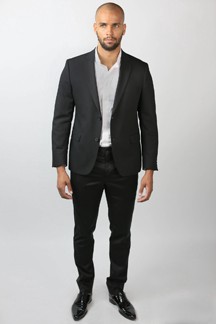 What is for sale in this picture? Insofar as the image is not accompanied by a caption in Collin's store, he could be selling the suit or the shirt or the shoes. Maybe all of them. Who knows?
There's also another possibility worth considering here: Collin might have been sold more times in his career than this outfit. Anyhow, the fit is decent, so that's something.

In a world of confusing football fashions—think about Memphis Depay getting lost in a very large scarf or Dani Alves' long-running sartorial competition with Will.I.Am—Aurélien Collin's fashion line stands out as an understandable port of reference. Insofar as his time in Kansas City ended in 2014, one might reasonably say that Aurélien Collin was normcore before it was cool. Maybe he invented normcore? We take everything back: Aurélien Collin is a fashion innovator and deserves your unrelenting admiration.

Contributors
Howler
TAGS
WELL, IT DEPENDS ON WHAT YOU MEAN BY "FREE."
Enter your best email for full access to the site.