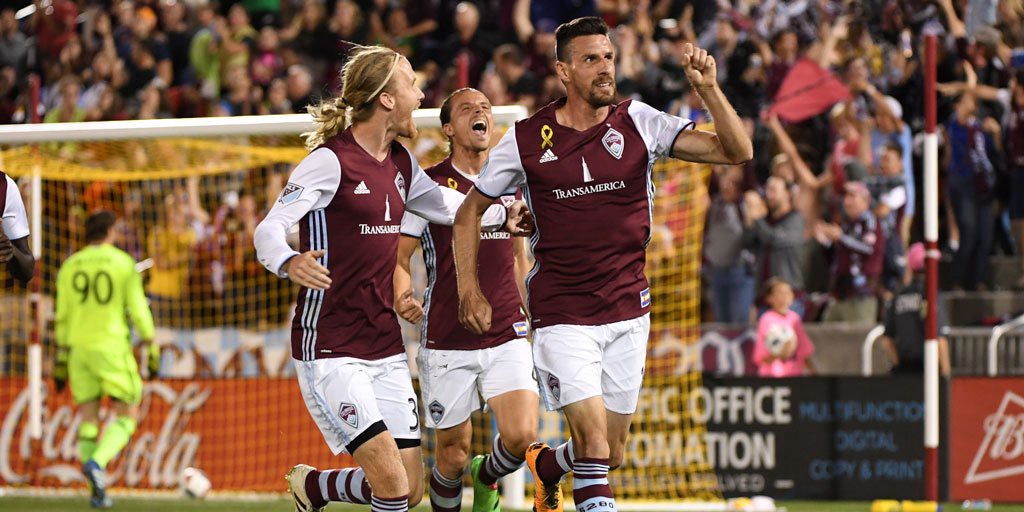 Last year, the LA Galaxy launched a Race to Seis campaign heralding their attempt at a sixth MLS cup (complete with shirts emblazoned with a #RacetoSeis hashtag). The shirts have since been donated to charity, and the hashtag itself has been abandoned in favor of the less-ambitious but less-refutable #ThisIsLA, but the Galaxy once again find themselves, with a first semifinals match played at StubHub Center this Sunday (5 pm, ESPN), hurtling toward one of two intriguing Western Conference finals possibilities.
In the Sounders, they have a hated rival they dispatched in 2014 on their way to their last MLS Cup, just weeks after the Sounders beat the Galaxy on the last day of the regular season to win the Supporters' Shield they were both in contention for. In FC Dallas, they have the team that just won said Supporters' Shield in their stadium, as well as the ongoing narrative around who was more likely to return to MLS—Landon Donovan, improbably returned from retirement to be an essential part of Bruce Arena's latest machine, or Carlos Ruiz, the hero of the Galaxy's first MLS Cup back in 2002, now part of an FC Dallas team attempting to complete a treble after newly losing its best player.
The Colorado Rapids could, of course, ruin all these delicious, ratings-grabbing storylines if they just do what they do all season: Namely, frustrate and shut down most every team they face. The Rapids have allowed only a league-best 32 goals this year, with a league-leading 13 clean sheets (including nine 1–0 wins and three scoreless draws). While keeper and surprise midseason acquisition Tim Howard has at times looked like 2014 World Cup Tim Howard, he's arguably only the second best goalkeeper on the squad. Howard and the awesomely-named Zach MacMath have each started 17 regular season matches, and MacMath also boasts a superior record in those matches, bolstered by an impressive goals-allowed-per-match average of 0.76.
The Rapids play before one of the smallest average home crowds in MLS, and they don't have the star power of the other Western Conference teams before them. But they do have an enigmatic assortment of players, including 6'7″ Swedish defender Alex Sjoberg anchoring a sturdy Rapids back line (which also sometimes also includes 6'5″ Bobby Burling), Swiss international Shkelzen Gashi, whose free kick against Vancouver last month is a goal-of-the-year contender, and a possibly ageless Jermaine Jones.
The Rapids fell just short of their Supporters' Shield aspiration this season, but they've had a remarkable turnaround from a relegation-zone-worthy 2015, and they provide an intriguing immovable object to counter the Galaxy's irresistible force.

Contributors
Howler
TAGS
WELL, IT DEPENDS ON WHAT YOU MEAN BY "FREE."
Enter your best email for full access to the site.