From Howler's friends at Tap In.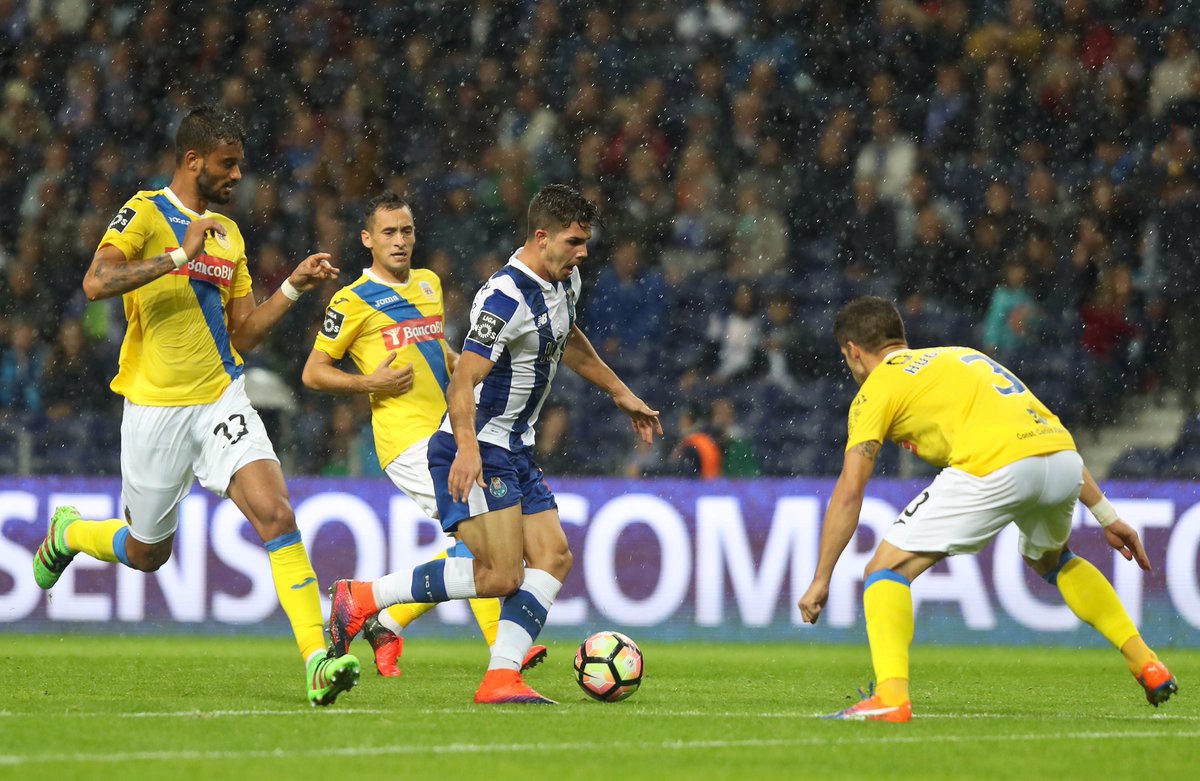 Earlier this October in Tórsharn, Faroe Islands, an 88-year old Portuguese national team record was broken. For a nation with the world-class lineage of Cristiano Ronaldo, Luis Figo and Eusébio, 20-year old André Silva became the youngest-ever Portuguese player to reach three goals — and he did it with a first-half hat trick.
While fellow Portuguese youngster Renato Sanches was named Young Player of the Tournament at Euro 2016, it is André Silva — not even named to the squad this summer — who may be most crucial to the footballing future of A Seleção.
Portugal finally lifted their first major trophy this summer, but they did so despite lacking a recognized, reliable striker. Even the focused might of Cristiano Ronaldo could only lead Portugal to nine goals in seven matches — it's not a reliable model, and yet for Portugal it's a familiar one. Out of the players mentioned earlier, only Eusébio, who played his last match for Portugal in 1973, was a striker.
That historical context puts a lot of weight on a player who debated pursuing a roller hockey career (if such a thing exists) instead. Bought by Porto from semi-pro S.C. Salgueiros for little more than the cost of a PS4 and a copy of FIFA 17, André Silva may have been an intriguing prospect for both Porto's and Portugal's youth teams, but it's only in the past year that his true potential has begun to be realized.
Last season, after being promoted from the Porto B squad to the Porto first team in December, Silva had one goal in nine appearances, primarily as a sub. With that perspective, it's not criminal that Portugal's next big thing didn't even make the Euro squad. Since September, however, he has earned his first four call-ups for the Portuguese national team, scoring four goals as a starter in their most recent two matches.
For Porto, he's scored seven goals in nine league matches to lead the Primeira Liga—in addition to scoring against Roma in their Champions League playoff and most recently slotting in a decisive injury-time winning penalty to beat Club Brugge. Now, Silva sports a €60m buy-out clause, with Arsenal scouts on the lookout and interest from Atletico Madrid and Juve.
Porto talent André Silva has now scored 10 goals in his last 7 outings for club & country. 🔥🔥🔥 #UCL pic.twitter.com/lwzBsB48iL

— UEFA Champions League (@ChampionsLeague) October 23, 2016
It all may seem to be too much, too fast — a hype train running on tracks still being laid — but Silva appears the have the right mix of ability and attitude to realize his potential. His style is less Sergio Agüero wizardry and more Chicharito right time, right place opportunism. Silva has intelligence to read the flow of play that goes beyond raw athletic talent. Looking back at his 37-minute hat trick against the Faroe Islands, all three goals are near the six-yard box, originate from a rebound or deflection, and require the coolness in uncomfortable situations that even Arsenal's front line has found difficult in recent years.
Couple his instinct with a mindset of hard work and humility, and Silva is setting himself up to be more than another prospect with only YouTube highlights set to dubstep as his CV. At Salgueiros, his youth-team manager had to ask Silva to head to the showers, long after training had ended. And in interviews today, he seems to know no pronouns outside of "we." While saying "we worked hard" and "we didn't give up" can be relentlessly boring, when the alternative is your own grime video (awesome in its own right), it's a sign of a cool-head on a budding star.
André Silva: "Esta vitória é de todos os portistas." #FCPorto #CBKVFCP #UCL pic.twitter.com/Hy4okbOkzB

— FC Porto (@FCPorto) October 18, 2016
On Wednesday, Porto face Club Brugge again, this time at home. A win could put them into second, with a spot in the knockout rounds under their control. Despite his rise being recent, it'll be Silva's influence that will be the defining factor for the Dragons this campaign.
This Week in the Champions League
The big match is, of course, the second face-off between Pep Guardiola's Man City and Barca, this time at the Etihad (Tuesday, 3:45 ET, FS1). Sergio Agüero is back in form, scoring a brace over the weekend, so hopefully we'll be treated to a more even affair this time (Barcelona won their first meeting 4–0).
Otherwise, Arsenal will look to brush aside Ludogorets in Bulgaria (Tuesday, 3:45 ET, FS2), Spurs host Bayer Leverkusen and Chicharito at Wembley (Wednesday, 3:45 ET, FS1), and Leicester City travel to Copenhagen hoping to maintain their perfect start in the Champions League (Wednesday, 3:45 ET, ESPN3 & Fox Soccer 2GO).

Contributors
Howler
TAGS
WELL, IT DEPENDS ON WHAT YOU MEAN BY "FREE."
Enter your best email for full access to the site.