This day in football history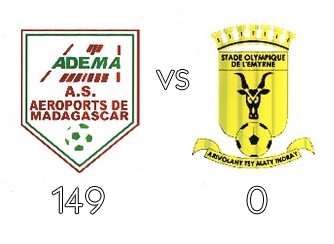 On 31 October 2002, AS Adema won a match by the world record margin of 149 goals to none. Adema's players, however, did not score any of those goals.
The match came in the final round of Madagascar's THB Champions League tournament, which is played among three teams in a round robin format. The reigning champions, Stade Olympique de L'Emyrne Antananarivo (SOE), had been eliminated in their previous match by a controversial last-minute penalty decision, making Adema the new champions with one match to spare .
With nothing at stake, SOE decided to use the match against Adema as a stage to protest its elimination. They kicked off and proceeded to put the ball directly into their own net. As Adema's players watched in astonishment, SOE continued to score own goals from each successive kickoff, resulting in the final scoreline of 149–0, a margin recognized by the Guinness Book of World Records as the largest ever.
Afterward, the Fédération Malagasy de Football suspended SOE's manager for three years. Four of SOE's players also received suspensions.

Contributors
Howler
TAGS
WELL, IT DEPENDS ON WHAT YOU MEAN BY "FREE."
Enter your best email for full access to the site.