Confusing other people is the least of it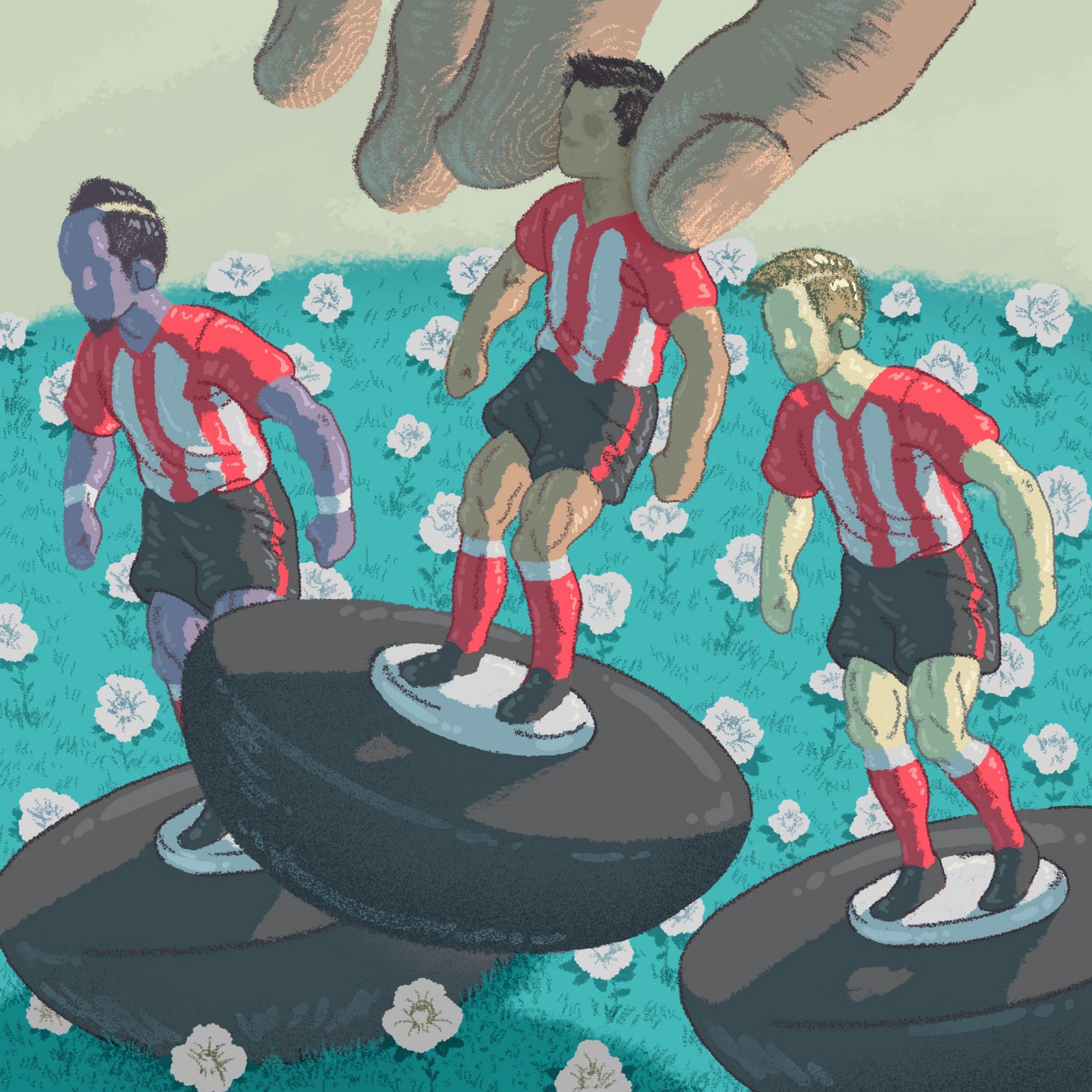 A few weeks ago I was drinking beers in a dive bar in Minnesota with an Englishman who'd lived in the States for many years. He started to tell me his theories on American support for Premier League teams, and how he could tell a lot about an American by the team they followed.
"So," he asked, eager to show off his parlor game, "which team do you support? Arsenal? Man City? Swansea, maybe?"
"Southampton," I told him.
He all but spit out his beer.
"Southampton?!?" he said, genuinely taken aback. He stared at me for a second. "Is that a joke?"
Unfortunately for my new English friend, it is not a joke. For reasons beyond my control (which you can read more about here), I've been a Saints fan for 17 years.
Southampton is not a sexy team to root for. There is none of the old hipster credibility of Bournemouth, or the new American patriotism of Swansea, or the bandwagon appeal of Leicester's former underdog status, or the traditional powerhouse voting blocs of Arsenal, Man United, City, Liverpool, and Chelsea. The Saints lack the swashbuckling (and Jewish pride!) of Tottenham, the old-school Americans abroad nostalgia of Everton, even the "I'm picking a contrarian London team to antagonize my friends" allure of Crystal Palace. There are no supporters clubs nearby for fans to meet up. Unless Southampton is playing one of the big five, most games are banished to the internet. The entirety of the Southampton fan club in America on Facebook has 3,500 likes. Southampton's biggest rival, Portsmouth FC, currently plays in England's fourth tier (League Two), against heavyweights like Yeovil Town and Accrington Stanley, which might actually be a mortgage brokerage. A slideshow of "famous" Southampton fans includes the likes of a Northern Irish sprinter, a former Goldman Sachs partner, and "an English model who has also made some television appearances." The only other person I know of in the U.S. who roots for the Saints is former Chicago Fire president and CEO John Guppy, and he's English.
In some weird ways, stocking the top EPL clubs with ex-Saints players is a little like watching an indie band you used to follow sign to a major label and become a household name.
When I wear my Saints gear anywhere, I am either greeted by outright confusion ("Do you coach a youth club team?"), or — if they somehow happen to recognize the sexy crest with the tree and the flower in the middle — something bordering on suspicion. I've never seen anyone give a second look to a man in a Manchester United shirt, but, in America, supporting Southampton demands an explanation.
And I don't really blame them: Rooting for Southampton is like cheering for a sensible index fund. I'd be suspicious too. After bad financial mismanagement in the mid-aughts that saw us (us!) plummet to the depths of League One, the latest iteration of the team is now, thanks to a Swiss owner and a German chairman, run essentially as a Premier League version of Ajax — nurture the extremely strong youth academy, build those players up, let them play a few years for the senior team, sell them to Liverpool. Use that money to buy good players from the Dutch league, let them play a few years, sell them to Liverpool.
https://www.youtube.com/watch?v=X0ldtr71Q_8
That may sound like a joke, but I assure you it isn't. Four ex-Southampton players start for Liverpool right now. Over the past month I've watched two of them score multiple stunning goals against Leicester and Chelsea. But it's not just Liverpool. Through the years, Southampton has essentially been a training academy for many of the big five, selling off Rickie Lambert, Adam Lallana, Dejan Lovren, Nathaniel Clyne, and Sadio Mane to Liverpool, Luke Shaw and Morgan Schneiderlin to Manchester United, Alex Oxlade-Chamberlain, Calum Chambers and Theo Walcott to Arsenal, Victor Wanyama and some unknown Welsh dude named Gareth Bale to Tottenham (and losing former manager Mauricio Pochettino to Spurs as well), and old school legend Wayne Bridge to Chelsea. This past offseason, our beloved Dutch manager of the last few years, Ronald Koeman, took his talents (and his near-doppelgänger brother-cum-assistant coach) to Everton, despite the fact that the Saints finished five places ahead of them in the table and the Toffeemen don't even have Tim Cahill anymore.
In some weird ways, stocking the top Premier League clubs with ex-Saints players is like watching an indie band you used to follow sign to a major label and become a household name. You pathetically and paradoxically want people (especially supporters of their new big club) to know you're already well acquainted with this player they're just now making up songs about, because all you can really take away from this interaction is a deluded sense of hipster pre-knowledge superiority. Meanwhile, the big club walks away with the actual player scoring goals for their team and signing lucrative endorsement contracts with mid-tier English savory pie conglomerates.
What this means, really, is a somewhat radical adjustment of expectations when I'm rooting for my team. Of course, on the most basic level, I would love to see Southampton make a Leicester-esque run to the title, or at least compete for a spot in the Champions League. And the last few seasons have seen the Saints get as close as I've ever seen, even sitting in the top four past Christmas two years ago. But unlike other bigger clubs, which might look at a season finishing sixth and say "Damn, we're just a couple of players away from a Champions League finish," Southampton looks at that finish as leverage to sell off its most lucrative assets at their highest value.
On the macro-level, that is good business, a savvy way for a smaller club to remain financially healthy and vigorous and maintain that position for years to come. But fandom isn't about rationality and sound long term investment strategies. This isn't Accrington Stanley, for god sakes. You need to be able to believe that this might be your team's year, that there will be a new Matt Le Tissier or Rickie Lambert, or even a James Beattie who will come out nowhere and shine and give you untold glory and bragging rights and an excuse to buy another scarf.
But when you see the brightest lights from each season taken off your team's tree and passed along to a bigger tree that already has a shitload of lights on it, well, I've sort of lost the metaphor here. But dammit, Southampton, could you just be fucking impetuous one time? Sign a slightly washed up South American striker who everyone remembers from a World Cup three years prior? Keep a promising youth academy talent for an extra year or two? Stop selling Liverpool all of the players for whom I've already purchased jerseys?
Of course, I don't really think these things will happen. The Swiss-German financial pragmatism that is the club's North Star necessitates that I resign myself to smaller goals as a fan: rooting for the team to finish safely outside the relegation zone, maybe reach the knockout stages in the Europa League, and possibly find another person in Northern California who's interested in singing "Come On You Reds" and sharing Dusan Tadic memes.
Until then, if you need me, I'll be the guy in the 2013 Rickie Lambert jersey at the end of the bar, asking the bartender if he can find the Saints match against West Brom, and assuring him that, against all odds, that isn't actually a joke.

Contributors
Howler
TAGS
WELL, IT DEPENDS ON WHAT YOU MEAN BY "FREE."
Enter your best email for full access to the site.